Current Jackpot $ 31,000,000
Mega Millions Overview



MegaMillions is one of the two largest Multi State Lottery games that takes place in the U.S.A. - the other one and its main rival being Powerball.
This massive USA lottery began in 1996 but was then known as The Big Game. It wasn't until 2002 that its name was changed to the now well known Mega Millions.
This game is one of America's biggest jackpot lotteries and has the honor of having produced the largest Jackpot in the history of all lottery games – an incredible US$ 656 MILLION which was won on March 30th 2012.
There are now 45 separate US State Lottery companies that now combine to take part in this massive USA Lottery.
Draws for the Mega Millions lottery take place on Tuesday and Friday from Atlanta, Georgia at 11pm EST with the occasional draw taking place in Times Square, New York City when the Jackpot exceeds US$ 200 MILLION.
Millions of players not only in the USA but right around the world take part twice every week in the MegaMillions Lottery.
Mega Millions Cross-Over Sales...
On January 31st 2010 Mega Millions and its biggest rival – Powerball from the Multi State Lottery Association (MUSL) – began offering each others lotteries in many US States under an historic cross-selling agreement.
This increased the number of State Lottery companies that offered Mega Millions from 12 to 35 in January 2010 with 8 more Powerball States joining between March and October 2010.
November 2011 saw the Louisiana Lottery join and with the long awaited addition of the Florida Lottery in May 2013 - this means that you are now able to play Mega Millions right across America in a total of 45 different US States & districts as well as from overseas when you play MegaMillions online.
Similarly – at the very same time on January 31st 2010 – the Powerball game began to be offered in Mega Millions jurisdictions – raising the total number of USA State Lotteries to be offering Powerball from 33 to 43 in January with the Ohio Lottery joining in April 2010 and the California Lottery in April 2013. This means that you are now able to play Powerball as well as Mega Millions in a grand total of 45 different US States & districts as well as overseas when you play Powerball online.
MegaMillions - How It Works...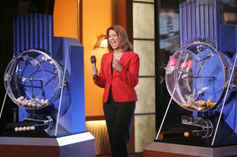 Mega Millions players need to select 5 different main numbers from white balls drawn, numbered from 1 to 75 and also 1 number (the Mega Ball) from gold balls drawn numbered 1 to 15.
The other option players have is to select Easy Pick whereby the numbers are automatically generated for you similar to the Lucky Dip option in the UK National Lottery or EuroMillions in Europe.
The Mega Millions jackpot starts off at US$ 15 MILLION and increases in size by at least US$ 5 MILLION each time the top prize is not won by way of a rollover.
There is also a guaranteed US$ 1 MILLION to be won on the 2nd Mega Millions prize level which can be boosted up to US$ 5 MILLION using the MegaPlier feature (see below).
With 7 further ways to win Mega Millions prizes in addition to these - the odds of coming away with something are very high indeed.
It costs just US$ 1.00 for each line on a Mega Millions ticket.

You can either select your own Mega Millions lottery numbers yourself or choose to have the MegaMillions computer pick the numbers automatically for you.
The lottery numbers are drawn from two separate drawing machines like most lotteries that use a powerball or bonus ball - the main white balls from one drum and then the gold Mega Ball from the second drum.
Mega Millions MegaPlier Feature



Similar to the PowerPlay option available with the Powerball game – there is an additional feature that can be activated when you play Mega Millions for just an extra US$1.00 per entry.

This optional add-on is called the MegaPlier and as a player you have the choice to play MegaMillions with the inclusion of this very popular feature.
Very simply – the MegaPlier will multiply any non-jackpot winnings by either 2, 3, 4 or 5 times the amount – increasing your MegaMillions win considerably.
With the introduction of the x5 multiplier on October 19th 2013 - the significance of the MegaPlier option grew even stronger. The minimum US$ 1 MILLION 2nd prizes introduced at the same time can now be increased to anything between US$ 2 MILLION and US$ 5 MILLION meaning that you can become a Multi-Millionaire without even winning the jackpot.
For a long time it was only possible to use the MegaPlier option in the State of Texas but by January 2011 this important prize multiplier was made available to all participating States and Jurisdications apart from the California Lottery who have still to offer their players the MegaPlier feature.
The MegaPlier number is still drawn by the Texas Lottery who were the original State Lottery to offer the option.
Random Number Generator



Whilst the 5 main numbers and the Mega Ball are drawn in the traditional way with the lottery balls moving round in two rotating drums, the MegaPlier number is still drawn using a Lotto Number Picker – Random Number Generator (RNG) – by the Texas Lottery.
You are welcome to use our very own Lottery Number Picker
– Random Number Generator to select your own personal lottery numbers when you play Mega Millions.
USA MegaMillions "Easy Pick"
Random Number Generator - Click On the Button Below to Generate Some Numbers
Your numbers will open in the top left in a new small window. To generate more
numbers you
MUST
close "X" this small window first.
Javascript must be enabled in
your browser for this widget to work. The button below will not work unless it is.
MegaMillions - Who Can Play?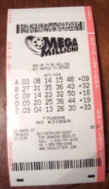 Historically, only resident citizens of any of the member states were allowed to play in the Mega Millions lottery.
Nowadays, however, you are able to choose your MegaMillions lottery numbers and buy lottery tickets from genuine and fully authorized online lottery ticket sales agents such as TheLotter or WinTrillions no matter where in the world you may be living.
Great news for all those who live outside the U.S.A. and would like to take part in another of the world's largest jackpot lotteries and guarantee their entry into the next big draw or just want to be able to easily and conveniently buy lottery tickets online.
You are also able to check the MegaMillions Results online to see if you have become one of the lucky lottery winners.
The minimum age for a player to eligible to purchase a MegaMillions ticket is 18 years across all participating states but in all states apart from Virginia persons younger than this are able to win on tickets that they receive as a gift.
Participating Mega Millions States



The following is a list of the U.S. States that take part in the MegaMillions Lottery along with the dates that they joined. There are currently 43 participating state members plus the District of Columbia and the Virgin Islands – making a total of 45 U.S. jurisdictions that sell MegaMillions tickets…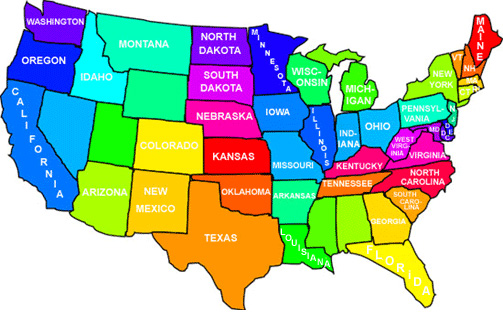 MegaMillions Information & Background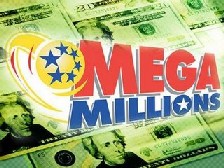 This Multi State Lottery started off with the name The Big Game.
Initially there were 6 States participating when tickets first went on sale back on August 31st 1996 – these pioneers were Georgia, Illinois, Maryland, Massachusetts, Michigan and Virginia.
The very first draw took place 6 days later on September 6th and every week thereafter on Fridays until the first Tuesday draw began on February 10th 1998.
In January 1999 the cash option was introduced whereby jackpot winners now had the choice to claim their winnings in cash.
New Jersey joined The Big Game in May 1999 and would be the only state newcomer prior to the name change to Mega Millions.
May 2002 saw the name change to the current MegaMillions with jackpots commencing at US$12 MILLION which then increased by way of a Jackpot Rollover when there was no jackpot winner, a practice that is now common among many lotteries worldwide.
Also in May 2002, New York and Ohio joined the multi-state lottery and the first drawing under the new image and name took place on May 17th 2002.
There were then 3 further states that joined forces, with Washington in September 2002, Texas in 2003 and then more recently California who joined in 2005 prior to the cross-selling expansion with the Powerball States in 2010 which eventually saw the number of Mega Millions States and jurisdictions rise to 45.
The matrix has changed slightly from time to time over the years from 5/50 + 1/25 then to 5/50 + 1/36 which was then revised to 5/52 + 1/52 before becoming 5/56 + 1/46 evolving to the current 5/75 + 1/15 on October 19th 2013.
MegaMillions Odds of Winning



There are a total of 9 different ways to win MegaMillions and as such there are many thousands of prizes won twice every week.

The lottery odds of you winning the Mega Millions jackpot prize are 1 in 258.89 million for correctly matching the 5 main MegaMillions numbers plus the Mega Ball.
2nd prize odds are 1 in 18.49 million for selecting the 5 main lottery winning numbers.
The odds of winning a 3rd level prize come in at 1 in 739,688 for matching 4 of the main winning lotto numbers plus the Mega Ball.
Prizes on the 4th tier have odds of 1 in 52,835 for selecting the 4 main winning lottery numbers with 5th level prizes carrying odds of 1 in 10,720 for choosing 3 of the main numbers plus the Mega Ball.
6th tier prizes offer lottery odds of 1 in 766 for correctly selecting 3 of the main winning MegaMillions numbers whilst 7th level prizes have odds of 1 in 473 for matching 2 of the main winning numbers plus the Mega Ball.
Prizes on the penultimate 8th level have odds of 1 in 56 for correctly guessing just 1 of the main numbers plus the Mega Ball and finally the 9th tier has prize odds of 1 in 21 for picking just the Mega Ball itself.
The overall odds of winning any Mega Millions prize are a very attractive 1 in 15.
MegaMillions Record Jackpots...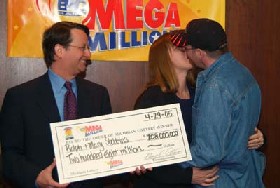 The biggest ever Mega Millions Jackpot to have been won to date has been the incredible amount of US$ 656 MILLION that was claimed by 3 very lucky winning tickets from Kansas, Illinois and Maryland on March 30th 2012.
This massive amount stands not only as the biggest Mega Millions jackpot win but also the biggest lottery jackpot win in the history of lottery games.

Prior to this – the largest ever jackpot won in the USA was provided by MegaMillions and won in March 2007 with 2 lottery winners splitting an advertised jackpot of US$ 390 MILLION – this stood for 5 years as the biggest lottery jackpot prize to have been won in the U.S.A.
More than 200 million tickets were sold (at US$1 per ticket) for this record US$ 390 MILLION jackpot.
There have been 5 more jackpots awarded by MegaMillions that have been greater than US$ 300 MILLION.
On January 4th 2011 – 2 lucky jackpot winners from Idaho and Washington won a MegaMillions Jackpot that reched a mouth-watering US$ 380 MILLION. This currently stands as the 3rd largest MegaMillions jackpot win of all time.

On August 28th 2009 – the MegaMillions jackpot soared to a dizzy US$ 336 MILLION and was won by 2 winners from California and New York – making them winners of the 4th biggest MegaMillions jackpot.
Winners from Maryland, New Jersey, Texas and Virginia shared a huge jackpot win of US$ 330 MILLION on August 31st 2007.
A jackpot winner from New York claimed the MegaMillions top prize of US$ 319 MILLION on March 25th 2011 – making them the overall largest single ticket winner of a MegaMillions jackpot.

November 2005 saw the largest single ticket jackpot win at the time take place. A whopping US$ 315 MILLION advertised jackpot was won from a single ticket in Anaheim, California.
In May 2000, 2 separate MegaMillions ticket holders won an advertised jackpot of US$ 363 MILLION making this the largest prize to date prior to The Big Game's name change to Mega Millions.
How is the MegaMillions Jackpot Paid?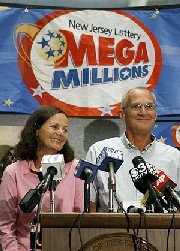 Mega Millions Jackpot prizes are paid in either 1 or 2 ways – as a cash lump sum or as an annuity payment which is paid each year in 30 annual installments.
The value of the cash lump sum paid against the annuity instalment amount varies but is approximately 60%.
There are a number of differences here among the various member states and jurisdictions as to how and when lottery winners need to choose how they wish to receive their jackpot or lower tier prize.
In New York, for example, MegaMillions players need to choose whether they wish to receive their jackpot prize as a lump sum or an annuity at the time they purchase their lottery tickets.
As in New York - players in Texas are required to make their choice of either an annuity or lump sum payment at the time of ticket purchase as opposed to after the actual win.
With New Jersey and Georgia, things change slightly – MegaMillions players are again required to make their choice of either lump sum or annuity at the time of purchase however – they are able, if they wish, to change an annuity ticket to a cash lump sum when claiming - a cash ticket though, cannot be changed for the annuity option.
Don't forget...if you buy lottery tickets from one of the authorized and accredited lottery ticket sales companies such as TheLotter or WinTrillions you will not have to be concerned about any of these details as the company will take care of everything for you when you play lottery online.
There are also some state differences regarding the amount of time lottery winners have to claim their prizes by.
Mega Million winners generally have 1 year to collect their jackpot prize or lower tier prize apart from in California where the time limit is 180 days.
In the states where players can choose either cash or an annuity after the actual draw (all those except New York and Texas), a jackpot winner needs to make their choice within 60 days from the draw or in some cases within 60 days from making their claim.
Click here to PLAY Mega Millions NOW with TheLotter