Current Jackpot € 3,500,000
Lottery Ireland

–

Ireland Lotto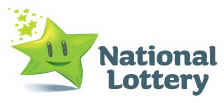 The National Lottery Ireland was created by the National Lottery Act in 1986 and is run by the An Post National Lottery Company which is a subsidiary of the company that provides Ireland's postal service, An Post.
The An Post National Lottery Company has the license to run the Irish National Lottery on behalf of the Irish Minister for Finance who oversees the whole national lottery operation and is responsible for issuing the license to administer it.
The Irish Lottery began selling its very first lotto tickets back on March 23rd 1987 when it launched its inaugural scratch cards throughout Ireland.
Since it began back in 1987, the Irish National Lottery has raised more than €3.6 Billion for the good causes that it supports.
The Irish Lotto is so popular within Ireland that it is reported that two thirds of the country's population regularly play Irish National Lottery games.
There are many different games in the Irish National Lottery portfolio, including Daily Million, EuroMillions, Millionaire Raffle, Telly Bingo, Scratch Cards plus the Irish Lotto family of games – Lotto Plus 1, Lotto Plus 2, Lotto 5-4-3-2-1 with the primary game being the Irish Lotto itself which we will be looking at here…
Irish Lotto

–

Overview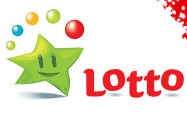 The Irish Lotto is the main offering from the National Lottery Ireland and is a traditional draw-based jackpot style lottery game that has undergone various changes since it began.
This Irish Lotto flagship game commenced back in 1988 with the very first draw taking place on April 16th and has remained a firm favourite amongst Irish Lottery players ever since.
Jackpots for the Irish Lottery – Irish Lotto – begin at a guaranteed € 2 MILLION and rollover each time the top prize is not won. These rollovers can occur up to an incredible 11 times making for some rather large jackpot figures.
The Irish Lottery is drawn twice a week on Wednesdays and Saturdays at 8pm GMT.
Irish Lotto

–

How It Works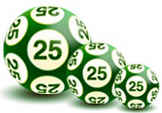 The Irish Lotto – uses what's known as a 6/47 matrix - which means that when playing the Lotto, you need to select 6 numbers out of a range of numbers from 1 to 47 – if you match all 6 numbers drawn then you will be a jackpot winner.
A Bonus Number is also drawn following the 6 main numbers – this is to determine winners on tiers 2, 4 & 6 of the prize structure.
In addition to the jackpot itself, there are 6 other ways in which you can win on the Irish Lotto meaning that there are thousands of prizes to be won twice every week.
A "Quick Pick" facility is available when playing the Irish Lottery - very much the same as the "Lucky Dip" option that is used in the UK National Lottery, Europe's EuroMillions plus most of the USA Lottery games – which means that you can ask the lottery retailer or computer to randomly select all your Irish Lottery numbers for you.
The minimum number of lines (or panels) you can have has always been 2 lines per draw in the Irish Lotto with each line costing €1.50 per line.
Irish Lotto

–

Who Can Play?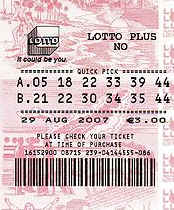 Like many other worldwide lotteries – previously only citizens living in the country or state where the lottery actually takes place were allowed to play in any of the lottery games of that country. Ireland was no exception. You used to have to purchase your Irish Lottery tickets from an authorized retailer based in Ireland itself.
Today however – with reputable online lottery ticket sales companies such as TheLotter available who are both authorized and genuine – you are able to select your Irish Lottery numbers online and purchase your tickets from anywhere in the world that you may be living.
This is good news of course if you live outside of the Republic of Ireland but want to play the Irish Lotto and ensure your entry into the next draw or just want to have the convenience of being able to buy lottery tickets online.
You will need to be 18 years of age to be eligible to purchase a ticket or claim a prize for any of the Irish National Lottery games including the Irish Lotto.
Click here to PLAY the Irish Lotto NOW
Irish Lottery Results

–

Irish Lotto Numbers

The Irish Lotto is drawn twice every week by the Irish Lottery on Wednesdays and Saturdays at 8.00pm GMT and there are various ways you can check the Irish Lottery Results to see if you have become one of the lucky winners.
The winning Irish Lotto numbers will be published in certain newspapers and you can watch the draws live at approximately 7.55pm GMT on RTE1 TV plus they will be displayed on the official Irish National Lottery website – lottery.ie.
You can also come back to Global Lottery Review at any time to catch up on the very latest Irish Lotto Results which will be shown shortly after each draw.

Irish Lotto

–

Odds of Winning

The odds of winning on the Irish Lotto are competitive when compared to many Euro lottery or US Lotteries, especially in comparison to the multi-national games such as the EuroMillions.
The chances of winning an Irish Lotto jackpot for matching the 6 main winning numbers are 1 in 10,737,573 – for these odds you could be an Irish National Lottery jackpot winner.
For one of the prizes on the second level for matching 5 of the main winning numbers plus the Bonus number the odds come in at 1 in 1,789,595.
With 7 different ways in total of winning on the Lotto, there are a further 5 prize levels.
The likelihood of winning a third tier prize comes in at 1 in 44,740 for correctly guessing 5 of the main numbers and for a prize on the fourth tier the odds are 1 in 17,895 fpr picking 4 of the main numbers plus the Bonus number.
To win a prize on the fifth tier of the Irish Lotto, the odds come right down to 1 in 917 for selecting 4 of the main numbers with sixth tier odds being 1 in 688 for guessing 3 main numbers plus the Bonus number.
Your chances of a win on the 7th and final tier are 1 in just 55 for correctly guessing just 3 of the main winning numbers.
Irish Lotto

–

Record Jackpots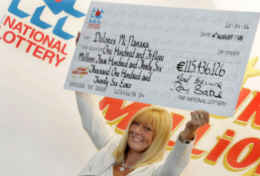 On November 21st 1996, a record jackpot for the Irish Lotto was won when it reached £7.48 MILLION – equivalent to €9.50 – this record lasted for over 10 years.
The lucky winners of the record jackpot for a single ticket win on the Irish Lotto were Paul and Helen Cunningham from Cork who scooped a massive €16.18 MILLION on July 28th 2007.This is the second largest overall jackpot won on the Lotto to date.
The third highest jackpot won on the Irish Lotto was scooped by a family from Clondalkin in Dublin on April 27th 2008 – the top prize had reached €15.65 MILLION.
The biggest ever Irish Lotto jackpot since the game began was won on June 28th 2008 by the Dan Morrissey group, a sixteen strong syndicate from a quarry and concrete plant in Bennekerry, Carlow. They won a huge Lotto jackpot of € 18,963,441 – equivalent to US$ 29.7 Million at the time.
This was beaten again on January 15th 2021 when the record Irish Lotto jackpot of € 19,060,800 was won by a single ticket.
The largest ever lottery jackpot in Europe at the time was won on July 31st 2005 and went to lucky Irish lottery player Dolores McNamara, a part-time cleaning lady from Garryowen in Limerick. She won an incredible € 115,436,126 on the EuroMillions lottery.
Irish Lotto

–

How Prizes are Paid?

Any prize that you win on the Irish National Lottery including Irish Lotto jackpot prizes, will be paid to you in the form of a tax free cash lump sum.
You will have 90 days from the date of the actual lottery draw taking place to claim your prize.
The importance of this time frame is illustrated by the £2,713,334 (€3,445,934) that went unclaimed on September 26th 2001. This is still the largest unclaimed jackpot prize on the Lotto to date – not the kind of win that you would want to miss out on.
Any prize of up to €100 can be claimed from any lottery retail agent, prize claim centre agents and at the Irish Lotto HQ.
You can claim any prize from €101 to €2,500 from a lottery retail agent with their discretion, all prize claim centre agents and at the Ireland Lottery HQ.
If you have won a prize of between €2,501 and €14,999 – you will need to make your claim at one of the prize claim centre agents or at the HQ of the Ireland Lotto.
For all prizes of €15,000 and over – you will need to make your claim at the Irish Lottery HQ.
If you buy lottery tickets online with an accredited lottery ticket sales agency though, such as TheLotter or WinTrillions however, you will not have to be concerned with any of this as they will take full care of all the details for you as you play lottery online.
Irish Lotto

–

Where the Money Goes

It is a role of the Minister of Finance in Ireland to decide where Irish Lottery proceeds should go and which organizations should benefit.
Revenues are paid into the National Lottery Fund and from this account, proceeds are dealt out to various projects across the country.
Areas of good causes to benefit from lottery funding are health and welfare, recreation, sport, national heritage, the Irish language and the arts.
Irish Lotto

–

Further Information

The Irish Lotto game has undergone various changes since its inception in 1988 and has also produced a couple of spin off games such as Lotto 5-4-3-2-1 which was launched in 1997 and Lotto Plus which stated in the year 2000.
The Irish Lotto began with a matrix of 6/36 with six lottery balls being drawn from a lottery machine that contained 36 numbered balls. Jackpots in those early days began at £250,000 and draws took place once a week on Saturdays.
In May 1990, the Irish National Lottery introduced a second draw to the Lotto which takes place on Wednesday evenings bringing the weekly drawings to twice per week.
In August 1992, the National Lottery changed the Lotto's matrix to 6/39 and added a bonus number. The aim here being to increase the jackpot odds and double the starting jackpot figure to €500,000.
September 1994 saw another change to the Irish Lottery, the matrix this time becoming 6/42 with the aim of creating larger rollover jackpot sums. This matrix configuration remained in force for 12 years.
The Irish Lotto matrix was changed to 6/45 in November 2006 increasing the starting jackpot figure to € 2 MILLION. This change and the greater odds created several Lotto jackpots of more than €15 million within a short space of time.
On September 5th 2015 the Ireland Lotto matrix was changed again to that of its current 6/47 configuration.
As well as the regular Lotto drawings, the Irish National Lottery from time to time creates special prizes for certain Lotto draws. These have included sports cars, diamonds, holiday vouchers and monetary prizes.
On special occasions such as Christmas and Bank Holidays Lottery Ireland has also added extra money onto the Irish Lotto jackpot figures making for an even bigger win.
Click here to PLAY the Irish Lotto NOW