eLottery Syndicate – Our No.1 Choice

As we have mentioned, e-Lottery Syndicates from Virtual World Direct is definitely our number one choice when looking for a lottery syndicate to play in.

It has been run very successfully by a company called Virtual World Direct since April 2002 and has an impeccable track record with a solid and professional team of managers and office staff looking after the whole operation.

e Lottery is deservedly a very proud member of the Lotteries Council of Great Britain, the regulating body governing all lotteries in the UK.

VWD operate syndicates for 3 of the world's largest, tax free, lump sum lotteries in the world…………..
• The UK National Lottery

• EuroMillions
• The Spanish National Lottery

The Virtual World Direct e-Lottery syndicate system is one of the world's largest syndicates. Each person who plays either the UK National Lottery or Euromillions in one of their syndicates is part of either a 49 strong or 39 strong member group.
As we've heard before, there's strength in numbers! This is especially true when playing in an e-lottery syndicate as the lottery ticket buying power is huge.
Each Virtual World Direct - VWD - e-Lottery syndicate has its own personal set of numbers which is entered into the main British National Lottery draw on Wednesdays and Saturdays, the Euromillions draw on Fridays if you are part of one of the Euromillions syndicates and monthly into the Spanish Lottery Superdraws if you are part of a Spanish Lottery syndicate.
No Worries, Hassle Free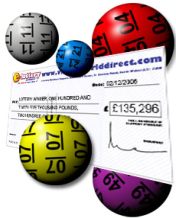 Every week the company (VWD) purchases these tickets for your lottery syndicate from the lottery organisers, Camelot or the Spanish Lottery and your syndicate plays with these unique numbers.
That is one of the beauties of playing in an e-lottery syndicate – you do NOT have to worry about having to purchase your own tickets each week – nor do you have the worry of the possibility that the syndicate organiser may forget to purchase the tickets.
This is all taken care of for you by elottery and Virtual World Direct.
Reasons For Joining

There are many other reasons why playing the lottery in an elottery syndicate is definitely "the smarter way to play" the UK National Lottery, Euromillions or the Spanish Lottery monthly superdraws.
The very first reason we all agree on here is that Virtual World Direct will actually match certain numbers for you before the draw even takes place! This is pretty unique in the world of lotteries and a huge advantage when playing.
This means that you have LESS numbers to match in each draw with eLottery so your chances of actually winning the lottery immediately increase right from the start.
The next big reason for playing this way is the number of lines that you will get as part of one of the syndicates.
You would be playing with 88 lines each week in the UK National Lottery and/or 36 lines each week in the massive weekly Euro Millions draw. This means 88 and/or 36 different chances of winning every single week.
All this equates to a healthy 733% greater chance of winning on the UK Lotto and a whopping 3600% better odds of winning on the euro-millions.
With the Spanish Lotto superdraws you would have 10 "decimos" which is equivalent to a full "serie".
The power of having so many lines is great and means that you are not only more like to win the lottery but you are also likely to win a lot more often, in many cases nearly every week!
Yes, indeed, there ARE people who play in these syndicates who do win pretty well every single week…….no that's not bad at all!
There is full flexibility when playing with VWD – you do not have to sign up to a monthly contract or tie yourself in for any length of time – you can simply play for just one week, or for as long as you wish.
All in all, you can win more each time by playing as part of one of these syndicates than you would if you had used the very same numbers but purchased the ticket yourself from a lottery ticket outlet.
Our Verdict…
We have not seen a better syndicate yet or indeed come across a better way to play the lottery.
Having thoroughly investigated this one we have come to the conclusion that if you are new to this or looking only to join one syndicate – THIS should be the one to go for.
To check out the latest lottery winners with eLottery just click on the game of your choice…


UK Lotto – Saturday 29th August 2009... EuroMillions – Friday 28th August 2009... UK Lotto – Wednesday 26th August 2009

UK Lotto – Saturday 22nd August 2009... EuroMillions – Friday 21st August 2009... UK Lotto – Wednesday 19th August 2009

UK Lotto – Saturday 15th August 2009... EuroMillions – Friday 14th August 2009... UK Lotto – Wednesday 12th August 2009

UK Lotto – Saturday 8th August 2009... EuroMillions – Friday 7th August 2009... UK Lotto – Wednesday 5th August 2009


This short but comprehensive video explains how to play the UK Lotto, Euromillions & the Spanish Lottery Superdraws in an eLottery syndicate and shows just why it is a "Smarter Way To Play"...