Golden Casket – Queensland Lottery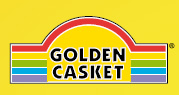 One of the major Australian Lotto organisations is the Queensland Lottery company – the Golden Casket Lottery Corporation which has operated Australian Lottery games in Queensland as far back as 1916.

Until June 2007 – Golden Casket was owned by the Queensland government until it sold the organisation to the another large Australian Lottery and Gambling company – Tattersalls.

The very first Queensland Lottery – the Golden Casket – draw was held on June 14th 1917 in Brisbane for the purposes of raising funds for World War One veterans and was watched by a packed audience at Festival Hall – now Brisbane Stadium.

The first prize back then was a "Casket" of gold because cash prizes at the time were not permitted – the "Casket" being worth £5,000 (equivalent to 30 years salary). The word "Casket" became synonymous with Queensland Lottery games hence the current name – Golden Casket.

Australian Lotto games marketed by Golden Casket include the Oz 7 Lotto, Powerball, the Pools (OzPools), Casket, Instant Scratch-Its, the weekend Golden Casket Saturday Lotto and the game that we will be taking a closer look at here – the Wednesday Gold Lotto…
Wednesday Gold Lotto – Overview

The Wednesday Gold Lotto is the midweek Australian Lotto game offered by the Golden Casket Lottery Corporation – Queensland Lottery. It is commonly known as the Queensland Gold Lotto.
The Australian Gold Lotto has been creating millionaires in Queensland since its introduction to the Golden Casket portfolio of games in May 1996.
Other Australian States have their own version of a Wednesday Lotto simply known as "Lotto".
The Wednesday Australia Lotto is particular popular in Queensland as it offers people a midweek chance to become a millionaire and can now be played around the world through online lottery ticket sales companies such as TheLotter.
From time to time the Gold Lotto au offers Superdraws and Megadraws – throughout the year on special occasions. Extra large jackpot prizes are there to be won in these draws and have offered jackpots ranging from AUS$ 18 Million to AUS$ 32 Million.
Draws for the Wednesday Golden Casket Lottery take place each week on Wednesday at 20.45 Queensland time and cut off times for purchasing your Gold Lotto tickets are 7.30pm on the day of the draw.
You can check the Gold Lotto Results each week here or by watching the live draw on Channel Seven in Queensland at 8.45pm on Wednesdays.
How It Works…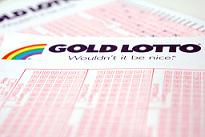 The Wednesday Gold Lotto uses what's known as a 6/45 matrix which means that when playing, you need to select 6 numbers out of a pool of numbers from 1 to 45 – if you match all 6 Gold Lotto numbers drawn then you will be a jackpot winner.
After the 6 main numbers are drawn, 1 extra number – known as a supplementary number – is then drawn, increasing the number of ways in which you can win on the Golden Lotto to 5 in total.
A "QuickPick" facility is available when playing the Golden Lottery similar to the "Lucky Dip" or "Easy Pick" options that are used in the UK National Lottery, EuroMillions or most USA lotteries – which means that you can get the computer terminal to select all your Golden Casket numbers for you if you wish.
So, playing the Wednesday Golden Lotto couldn't be easier…just select your own 6 numbers or let the computer generate them automatically for you with a "QuickPick". Whatever you decide to do, TheLotter makes this an easy and simple process for you if you make the decision to buy lottery tickets online with them.
Shared Jackpot…
A unique aspect of the Wednesday Gold Lotto is its Shared Jackpot feature – the Wednesday Gold Lotto QLD jackpot does not Rollover but instead is fixed at a guaranteed AUS$ 1 Million for up to 4 separate winners in each draw.
This means that if there are 4 or LESS jackpot winners – they will each receive a guaranteed AUS$ 1 Million each out of the AUS$ 4 Million Gold Lotto prize pool available.
Should there be 4 or MORE Jackpot winners – the AUS$ 4 million prize pool will be shared among them.
If there are any unclaimed jackpot prizes in a given week – these monies are used to fund future Golden Casket jackpot prizes or for further promotions.
Who Can Play?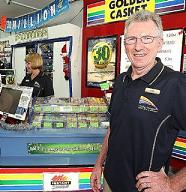 As with most world lottery games, you would normally have needed to live in the country concerned to actually take part in any of its games.
Now, however, with the welcome presence of authentic and authorized online lottery ticket sales companies such as TheLotter and OzLotteries, you are able to play most lotteries from the comfort of your own home no matter where in the world you live.
This applies to the Golden Casket – Wednesday Golden Lotto – and any of the other Australian Lottery games available and you can pick your Gold Lotto numbers online and purchase your tickets whether you live in Queensland, Australia or anywhere else around the world.
This is excellent news, of course, if you live outside of Australia and Queensland but want to play the Golden Casket Wednesday Lotto and guarantee your entry into the next draw or just simply wish to enjoy the ease and convenience of being able to buy lottery tickets online.
Once you have entered into the Wednesday Queensland Lottery game, you are then easily able to check the Gold Lotto results online to see how you have done and to find out if you have become one of the lucky lottery winners.
The age limit at which you can purchase tickets for any of the Australian Lottery games varies from state to state but will either be 16 years or 18 years of age.
Click here to Play the Golden Casket Wednesday Lotto Now

Information & Background
Each week the Gold Lotto Results will be shown on Channel Seven in Queensland on Wednesday at around 8.45pm.
Other ways to check your Gold Lotto numbers are by looking in the various Queensland newspapers which publish the results – local radio stations also broadcast the results – or by visiting one of the Golden Casket Lottery retailers.
The weekly Golden Casket results will also be shown here each week where you can also check up on any past Australian Lotto Results.
What Are the Odds?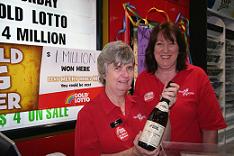 There are a total of 5 different ways in which you can win on the Wednesday Gold Lotto from Golden Casket ranging from the jackpot itself right through 4 further winning levels.
The chances of winning a Wednesday Lotto jackpot are 1 in 8.14 million for matching the 6 main numbers correctly – for these odds you could be one of the Wednesday Lotto jackpot winners.
For one of the prizes in the second division and correctly matching 5 of the main numbers plus the supplementary number, the odds come in at 1 in 697,000.
The likelihood of winning a third tier prize by matching 5 of the main numbers comes in at 1 in 37,000 and for a prize on the fourth tier matching 4 main numbers, the odds come right down to 1 in 733.
For a prize on the final level - the fifth division - by matching just 3 of the main numbers plus the supplementary number, you are looking at odds of just 1 in 211.
Record Jackpots...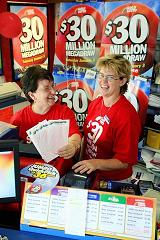 The jacckpot for the Wednesday Gold Lotto remains constant each week with a AUS$4 Million prize pool for up to 4 lucky winners to win AUS$ 1 Million each.
However – when Superdraws and Megadraws are held throughout the year – the jackpots can be much higher.
These Golden Casket AU jackpots tend to range from AUS$18 Million to AUS$ 25 Million with the record figure being the AUS$ 32 Million jackpot that was offered in the Megadraw of December 31st 2005.
How Are Prizes Paid?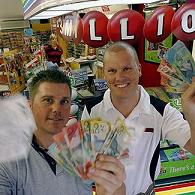 All Australian lottery prizes including any Golden Casket prizes on the Queensland Lottery – Gold Lotto are paid as tax free cash lump sums.
If you have won a Golden Casket Wednesday Lotto jackpot, you will be able to collect your winnings after a 14 day validation period that ends following the draw. You will need to present your winning ticket at the Golden Casket Lottery Corporation HQ in Woolloongabba, Brisbane.
You can collect any lower division wins from 08.30 on the next working day after the draw has taken place.
If you have won a Golden Casket prize up to AUS$ 1,500 you will be able to collect your winnings at any Golden Casket outlet that sells lottery tickets for Golden Casket QLD games.
If you have won a Golden Casket prize of more than AUS$ 1,500 you will be able to claim your prize at the Golden Casket Lottery Corporation HQ in Woolloongabba, Brisbane.
It is also possible to claim your Golden Casket Lottery winnings by either mail using a prize winners claim form or by telephone.
Of course, if you have purchased your lottery tickets from an online lottery ticket sales agent like TheLotter or OzLotteries, you will not need to be concerned with the above, as your agent will take care of all these details for you and ensure that you get your payment as soon as possible should you make the decision to play lottery online.
Where the Money Goes…

Monies raised from Queensland Lottery – Golden Casket – games including the Golden Lottery are used to benefit the population of Queensland supporting many varied community projects within the state.
Beneficiaries of Golden Casket – Golden Lotto – funding include the Australian Soldiers Repatriation Fund, the Motherhood, Child Welfare and Hospital Fund, The Brisbane Royal Women's Hospital and free public hospital services in general throughout Queensland.
Other organisations to benefit from Queensland Gold Lotto funding have been the Queensland Country Women's Association, Sister Elizabeth Kenny Polio Clinics, Surf Life Saving Association, the Red Cross, Queensland University and the Queensland Performing Arts Complex.
Children's health has been a major recipient of Queensland Lottery funding since 1992 – with AUS$ 1.5 million every year being shared between the Royal Children's Hospital Foundation, the Mater Children's Hospital Trust and a variety of other children's health projects throughout Queensland.