Washington State Lottery

–

WA Lottery

The Washington Lottery was formed in 1982 with a remit to generate some very welcome income for various state programs via monies it would raise from sales of its lottery tickets & is run by the government of the state of Washington.
In addition to this – the Washington State Lottery is an active participant in causes that help to raise awareness about the risks that are apparent due to problem gambling.
Washington State Lottery – along with others – is a valuable partner of the Washington State Patrol and helps support the Amber Alert Program across the state of Washington. The Amber Alert Program receives reports of missing or abducted children with the assistance and cooperation of lottery retailers and broadcasts this important information to the public.
As well as this – the Washington State Lotto partners with Page Ahead – a not-for-profit group that supports literacy at home for low-income families with children by providing donations of books.
The WA State Lottery is a member of the Multi-State Lottery Association (MUSL) that operate the huge Mega Millions lottery and offers MegaMillions as part of its overall portfolio of games.
Other games offered by the WA State Lottery include numerous scratch-offs, Keno, Hit 5, Daily Game, Match 4, Powerball and its own in-state Lotto which is the game we are looking at here...
Washington State Lotto

–

Overview

The Washington State Lotto is the main game in the Washington State Lottery product range. It is a traditional draw type, jackpot style game introduced by the WA Lottery back in July 1984.
Jackpots for the Washington Lotto begin at US$ 1 MILLION and rollover each time they are not won. The resulting increase is then added onto the following draw's jackpot which rises in size every game until somebody eventually wins the top prize. It will then revert to the starting jackpot sum of US$ 1 MILLION once again.
The size of the lotto jackpot rollover increases are dependent upon the number of lottery ticket sales – the more people who play and the more lottery ticket sales – the bigger the rollover jackpot.
The Washington Lotto uses a single matrix configuration of 6/49.
Draws for the Washington State Lotto take place three times per week on Monday, Wednesday & Saturday at 8pm Pacific Time.
Washington State Lotto

–

How it Works

The WA State Lottery Lotto uses what's called a 6/49 matrix for its Lotto game – which means that when you play the Washington Lotto you need to select 6 numbers out of a range of numbers from 1 to 49 – if you match all 6 of the lotto numbers drawn then you will win the Washington Lotto jackpot prize.
In addition to the jackpot itself – there are 3 more ways in which you can win this WA State Lottery – with prizes to be won on the Lotto if you correctly match 5 of the 6 winning numbers drawn, 4 of the winning numbers or even just 3.
A Quick Pick facility is available when playing the Washington Lotto very much the same as the Lucky Dip option that is used in the UK National Lottery or Europe's EuroMillions or many other USA Lottery games – meaning that you can ask your computer or retailer to randomly pick your Washington Lotto numbers for you.
2 Lines For Just US$ 1.00…
When playing the Washington Lotto you will need to select 2 sets of 6 numbers as you will receive 2 entries every time you play.
So – playing the Washington Lotto is simple – just choose your own sets of 6 numbers or use the random number generator Quick Pick option to have them automatically selected for you.
The cost of entry into the WA State Lottery – Lotto – US$ 1.00 and for this you get 2 separate plays meaning 2 chances of winning.

Washington State Lotto

–

Who Can Play?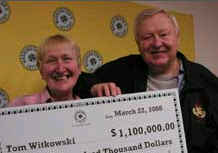 As with most USA Lottery games – previously only citizens living in the State of Washington were allowed to play in any of the Washington Lottery games including Washington Lotto – you used to have to purchase your WA Lotto tickets from an authorized lottery retailer based in Washington.
Nowadays though – there are a good number of online lottery ticket sales agencies such as TheLotter who are both authorized and accredited – you are easily able to select your Washington Lottery numbers online and purchase your lottery tickets without being concerned about what part of the world you may be living in.
This is great news of course if you live outside of Washington  & the USA but still wish to play the Washington Lotto & ensure your entry into the next drawing or just want to have the convenience & ease of being able to buy lottery tickets online for the WA Lotto.
Once you have entered into the Washington Lotto draw – you can then easily check the latest Washington Lottery results online to see if you have become one of the Washington Lottery winners.
You will need to be 18 years of age to be eligible to purchase a ticket for a WA State Lottery game including the Washington Lotto.
Some great news here for all USA Lottery players in Washington...

The Mega Millions consortium – who administer the MEGA MILLIONS game
– and the Multi-State Lottery Association (MUSL) – who administer the POWERBALL game – have entered into an historic cross-sales agreement across the USA. All US Lotteries that previously sold MEGA MILLIONS tickets can now ALSO sell POWERBALL tickets.

This means that with effect from January 31st 2010 – in addition to the existing
MEGA MILLIONS – USA Lottery players in Washington will now ALSO be able to buy lottery tickets for the POWERBALL. You can still buy lottery tickets online, of course, from anywhere around the world.
Click Here to Check the WASHINGTON LOTTO RESULTS

Click Here to PLAY Mega Millions NOW
Click Here to PLAY Powerball NOW
Washington Lotto

Results



You can check all Washington Lotto results from any retailer's Check-A-Ticket machine in the state or in the daily newspapers.
The winning Washington Lotto numbers and WA Lottery results will also be made available on the official Lottery WA website – walottery.com – very shortly after every draw has been made.
Washington State Lotto

–

Odds of Winning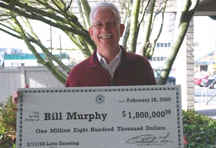 The odds of winning on the WA Lotto are extremely competitive when you compare them to many of the USA lotteries – especially the Multi-State Mega Millions and Powerball games.
The chances of winning a WA State Lottery jackpot are 1 in 6.99 million – for these odds you could be a Washington Lotto jackpot winner.
For one of the Washington Lotto prizes on the second level – the odds are 1 in 27.1 thousand for picking 5 of the winning numbers

The likelihood of you winning a third tier prize is 1 in 516 for guessing 4 of the winning lotto numbers drawn and for a prize on the fourth tier – your odds of winning are reduced right down to just 1 in 28.3 for successfully matching 3 of the winning numbers.
The overall odds of you winning any prize in this WA State Lottery draw are a very reasonable 1 in 27.1. These are good overall odds for a game that produces thousands of winners every single week.
Washington State Lotto

–

Record Jackpots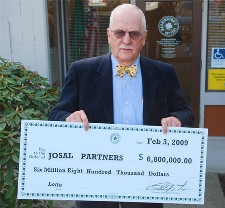 The largest jackpot won to date on the Washington Lotto has been a huge US$ 32 MILLION that was won on October 25th 2000 and split between 3 WA Lottery players.
US$ 9.7 MILLION stands as the 2nd highest WA Lotto jackpot won so far when winners from Everett struck lucky on July 26th 2008.
.On December 10th 2008 – the Washington Lotto produced its 3rd biggest jackpot payout when US$ 8.9 MILLION was won – once again by ticket holders in the Everett region of Washington State.
The Josal Partners achieved another big win on the WA Lotto on February 5th 2009 having scooped a cool US$ 6.8 MILLION.
Washington State Lotto

–

How Prizes are Paid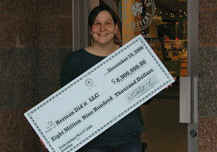 As the winner of a WA State Lottery jackpot – you would have a choice in how you would like to receive your prize money. You could choose to have either a single cash lump sum payment or the annuity prize option.
You will need to make the choice as to whether you wish to receive either the cash lump sum option or the annuity installment payments option within 60 days of making your winning claim. If you have made no decision – after the 60 day period the jackpot will automatically be paid as an annuity.
In terms of monetary value – if you had chosen to take the cash lump sum payment for your Washington Lotto jackpot win – you would receive approximately 50% of the annuity value that you would otherwise have been remunerated in yearly installments.
If you choose to receive your jackpot win as an annuity – it would be paid to you in yearly installments over a period of 25 years.
You need to make your claim within 180 days of the winning draw.
If your Washington Lottery win is up to US$ 600 – you will be able to claim your prize from any WA State Lottery retailer in the state.
If your win is more than US$ 600 – then you will need to claim your prize from any of the Washington Lottery regional offices.
If you are a jackpot winner – you will need to make your claim by calling a WA State Lottery office and arranging an appointment.
If you play lottery online however this will not be a concern for you as your accredited lottery ticket sales agency will take care of all these details – whether it is TheLotter or any other company.
WA State Lottery

–

Where the Money Goes

Many different bodies and programs benefit from funds generated by people buying tickets for the Washington State Lottery games.
Two areas that benefit from Washington State Lottery funding are public education and stadium construction. Other areas that benefit include the General Fund, King County (Safeco), Economic Development & Problem Gambling plus the Amber Alert program.
Click Here to Check the LATEST Washington Lotto NUMBERS