Play Responsibly - Sensible Lottery Strategies
"Only Spend What You Can Afford - Play Responsibly"
| | | | | | | |
| --- | --- | --- | --- | --- | --- | --- |
| <! --- = = = END LOVE MY LOTTO FLAG = = = ---> | <! --- = = = END LOVE MY LOTTO FLAG = = = ---> | <! --- = = = END MEGA MILLIONS FLAG = = = ---> | <! --- = = = END POWERBALL FLAG = = = ---> | <! --- = = = GLR BUTTON ON FB & TWITTER LOGOS ONLY = = = ---> | <! --- = = = END GLR BUTTON ON FB & TWITTER = = = ---> | <! --- = = = END GLR BUTTON ON FB & TWITTER = = = ---> | |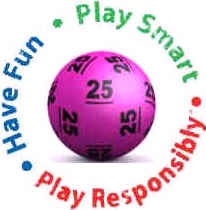 One of the very best lottery strategies that you can employ is to play responsibly when playing in any of the world's many lottery games.

Lottery games are designed to be a fun, low-cost form of entertainment. While most players enjoy the fun and entertainment of playing lottery games, for some, to play responsibly and gambling of any kind can be a problem.

National studies tell us that only a very small proportion of the population may be considered problem gamblers and do not adhere to the "Play Responsibly" maxim.

We at Global Lottery Review are committed to encouraging and promoting responsible online games practices and programs in order to reduce as much as possible any potential adverse social impacts of lottery systems around the world.

It is Global Lottery Review's aim that everyone who plays any offline or online lotteries to enjoy playing them but to play responsibly and in a sensible manner.

Most people look at the lottery statistics and take a chance on one of the games for fun. Most use a small amount of money they have in their budget for entertainment for a limited amount of gaming – bingo, horse racing, cards, a casino and most commonly – to buy lottery tickets.

However, a tiny percentage of adults experience gambling related problems. These people are not safely able to manage any kind of gambling, from larger amounts down to even the smallest of wagers. Unfortunately these people suffer from a recognized disease known as problem gambling.
Know Someone Who Requires Help?
There is, though, help for those who think they or someone they care about might have a problem with gambling. A number of organizations offer help and assistance for people with gambling problems. A few are listed here for you…
• UK – Gamblers Anonymous – London: 020 7384 3040 Manchester 0161 976 5000 Sheffield - 0114 262 0026 Birmingham - 0121 233 1335 Ulster - 0287 135 1329

• USA – Gamblers Anonymous – National Hotline - 888-424-3577

• Canada – Gamblers Anonymous – Calgary Hotline – 888-424-3577 Southern Alberta Hotline - 403-329-7467 Edmonton Hotline – 780-463-0892

• Ireland – Gamblers Anonynous – Dublin – (01) 872-1133 Cork – (01) 285-9552

• Australia – Gamblers Anonymous - (02) 9628 5065

• New Zealand – Gambling Helpline – 0800-654-655

• Europe – Gamblers Anonymous – http://www.gamblersanonymous.org/mtgdirTOP.html

Anyone with gambling problems and their families can find telephone support, information, counseling and assistance from any of the above organizations.
You can be quite successful at playing games of chance or skill but you could easily spend more than you originally intended unless you manage your money well when you do play the lottery.
Global Lottery Review recommends reading and adhering to the following responsible guidelines when playing any online games and prize games.
How Can I Play Responsibly?
• Play with your own money – never borrow money to play these games

• Calculate your weekly and monthly entertainment budget and don't exceed it – consider any gaming costs purely as entertainment costs

• Spend only what you know you can afford to lose when playing online games and any lotteries – this is to play responsibly

• Never rely on becoming a lottery winner to solve any money problems you may have. Instead, enjoy the excitement in taking a chance, in sometimes winning and having fun with your friends and family

• Play these games of chance with others, socially with friends, family or colleagues and not alone. Don't let gambling or playing the lottery become essential to having a good time

• Monitor the time you spend playing games of chance or any lotteries. Reductions in the frequencies and time spent in playing these games can reduce the risk dramatically of you becoming a problem gambler & help you to play responsibly

• Any form of wagering should be your choice alone. Don't be pressurized into entering into any form of playing online lotteries or gambling in general. If you are susceptible to any form of addictions it may be best that you don't play at all

• We strongly recommend that you don't use any form of alcohol or recreational drugs when placing wagers or playing lotteries of any kind. Your judgement can easily be affected and this can lead to you being too relaxed when aiming to stick to your carefully calculated spending limits
Should I Play The Lottery Or Not?
• Not if you are under the legal age for the country in which you are playing your chosen prize game. In the UK this is 16 and in the USA and most of the world it is 18 years of age
• Not if you suffer from or are in recovery from any gambling related illness or problem

• Not if you are suffering from or recovering from alcoholism or any chemical dependency related illness

• Not if you are prohibited from gambling of any kind by your employer's or organizations company policies
When Is It Best Not To Gamble?
• If you are feeling under stress, angry, lonely or depressed

• If you are trying to cope with the death or loss of a loved one

• If you are trying to cope with and solve any personal or family issues

• If you may be trying to impress other people.
Playing The Lottery Should Be Fun…
So…we hope you remember that borrowing money to play, spending above your affordable budget and using money which you have set aside for more essential purposes can lead to greater problems for yourself and your family.
Please Play Sensibly…
Global Lottery Review says…….when playing any lottery, please Play Sensibly and if you have any questions at all that relate to this information please get in touch with us via our "Contact Us" page.
Return To Home Page From Play Responsibly