| | | | | | | | | |
| --- | --- | --- | --- | --- | --- | --- | --- | --- |
| <! --- = = = GLR BUTTON ON FB & TWITTER LOGOS ONLY = = = ---> | <! --- = = = END GLR BUTTON ON FB & TWITTER = = = ---> | <! --- = = = END EUROMILLIONS BUTTON = = = ---> | <! --- = = = END EUROJACKPOT BUTTON = = = ---> | <! --- = = = END MEGA MILLIONS FLAG = = = ---> | <! --- = = = END POWERBALL FLAG = = = ---> | <! --- = = = END LOVE MY LOTTO FLAG = = = ---> | <! --- = = = END YOUPLAYWEPLAY FLAG = = = ---> | <! --- = = = END GLR BUTTON ON FB & TWITTER = = = ---> | |
EuroJackpot € 18,000,000
TIPOS Loto – L
oterie – TIPOS sk
– Loto TIPOS

Slovakia Lottery games date as far back as 1874 – which back then was Austrian-Hungarian – when a lottery was introduced to support the building of a grammar school in the town of Revúca in the region of Banská Bystrica Region, Slovakia.

Following the formation of the state of Czechoslovakia in 1918, there was another early Slovak lottery created called the Masaryk Aviation League – Masarykovu Leteckú Ligu – where an entry cost 3 crowns and players could win an incredible 90,000 crowns!
In 1953 it was decided that cash prizes were not permissible when Slovakia was then ruled by the Soviet-led Eastern Bloc, only in-kind lottery games were available. This led to underground and illegal betting operations which eventually resulted in the official Czechoslovakia State Lottery being formed in 1957 when it players were once again allowed to play for monetary prizes.
September 15th 1956 saw the launch of Sazka which then launched the first lottery – Sportka – on April 22nd 1957 being inspired by the success & popularity of Germany's Lotto 6 aus 49.
So, Sazka was the company now to be operating Czech Lottery games across the whole of Czechoslovakia between 1957 up until the country was dissolved & turned into 2 separate countries – the Czech Republic & Slovakia – with effect from January 1st 1993.
Once Slovakia had gained its independence in 1993, TIPOS was then registered as a company on January 28th 1993 to operate Slovakia Lottery games. TIPOS is wholly owned by the Slovak Republic's Ministry of Finance, part of of the Slovak government.
TIPOS was launched in 1993 with the games ŠPORTKA, ŠANCA, STÁVKA 5 ZO 40, SAZKA, SKÓRE and MATES. KENO 10, KLUB KENO, TIPOS BINGO were then introduced by TIPOS in 1995. 
 In 2002, some of the names of the TIPOS games changed – ŠPORTKA became the TIPOS LOTO, ŠANCA became the JOKER & MATES became what we now know as LOTO 5 z 35. 
The EUROMILIONY was introduced to the TIPOS Loto range of games in 2004 and on October 9th 2015 saw TIPOS join the consortium of countries across Europe to offer the multi-national european EUROJACKPOT lottery to its own country's players. 
So, currently the games to be offered by TIPOS SK to its players in Slovakia are: EUROJACKPOT, LOTO, LOTO 5 z 35, JOKER, EUROMILIONY, KENO 10 & KLUB KENO in addition to many other online games and scratch cards that are available online. 
You can buy lottery tickets online from the comfort of your own home & from anywhere in the world for the EUROJACKPOT game through authorised online lottery ticket agents such as TheLotter. 
If you go to a page via the links below, you will be able to read in much more detail how the lottery operates and what you have to do to be able to play lottery online. You can also visit our page on World Lotteries which details all the major global lottery games.
---
eTIPOS

–

EuroJackpot

–

5 z 35

–

EuroMiliony

EuroJackpot – Slovakia Lottery – Tipos
The EuroJackpot multi-national lottery was launched on March 17th 2012 in 7 different countries across Europe as a strong competitor to the biggest of the European lotto games – EuroMillions.
The founding member countries to offer EuroJackpot were Italy, Estonia, Finland, the Netherlands, Denmark, Germany & Slovenia.
Spain joined in June 2012 and on February 1st 2013 they were followed by Norway, Sweden, Iceland, Croatia, Latvia & Lithuania.
October 10th 2014 saw the Czech Republic and Hungary take up the option of joining EuroJackpot with Slovakia participating from October 9th 2015 and then latterly Poland in September 2017.
EuroJackpot with its 18 member countries has an even wider audience than EuroMillions due to the number of countries it is in.
The Euro Jackpot top prize starts off at € 10 MILLION & can climb right up to a huge € 90 MILLION which is the biggest jackpot to have been won – it has reached these heights on many occasions.
The biggest EuroJackpot SK win with TIPOS in Slovakia so far has been € 7,331,310,90 which was won on April 17th 2020 and at the time it was won, was the 4th highest win in Loto TIPOS history.
When you play EuroJackpot with TIPOS sk, you can increase your chances of winning further by playing the EuroJackpot JOKER.

The draw for the EuroJackpot SK takes place once every week on a Friday evening at 9.00pm from Helsinki, Finland.
Learn much more about Euro Jackpot by clicking the link above.
---
Tipos LOTO – Slovakia Lottery – Tipos

The TIPOS LOTO game was initially launched back in 1957 as ŠPORTKA when Czechoslovakia Lottery games were run and administered by Sazka.
ŠPORTKA continued when TIPOS took over the running of Slovak lottery games in 1993 and its name was altered to LOTO in 2002.
The TIPOS LOTO is a standard jackpot style draw lottery which uses a matrix of 6/49. This means that when playing LOTO with eTIPOS you need to make your choice of 6 numbers out of a range of numbers from 1 to 49. If you correctly match all 6 winning numbers drawn you will be the winner of a TIPOS LOTO jackpot.
LOTO TIPOS is drawn twice weekly on a Wednesday & Sunday.
In 2013, TIPOS introduced the BONUS and JOKER options for when you play LOTO. You can easily increase the size of your lottery win by playing LOTO with either of these additional options.
With 7 winning prize levels, the odds of winning a TIPOS LOTO jackpot are 1 in 13 983 816 for selecting all 6 winning numbers.
The biggest TIPOS LOTO jackpot to have been won so far has been € 11,002,674.93 which was won on January 18th 2009 by a ticket purchased online with TIPOS sk. At the time of writing, this still ranks as the biggest overall win in Slovakian Lottery history.
The 2nd highest win achieved on LOTO TIPOS so far has been a cool € 6,317,276.75 which was won by a lucky player in 2012.
---
LOTO 5 z 35 – Slovakia Lottery – Tipos

The LOTO 5 z 35 began its life in 1993 when TIPOS first launched. Back then it was known as MATES before TIPOS changed its name to LOTO 5z35 in 2002 at the same time as renaming various other games

The LOTO 5 35 is another typical jackpot style lottery where the top prize will rollover if it is not won. It offers much better odds of winning than the flagship LOTO game due to its lower pick range.

The 535 LOTO uses a matrix of 5/35 which means that when playing, you will need to pick 5 numbers out of a range of numbers from 1 to 35. Should you successfully choose all 5 of the main winning numbers drawn you will win a 5 35 LOTO jackpot prize.
You can increase your winnings easily when you play LOTO5 z 35 by using the JOKER option that is available for all players to use.
LOTO 535 is drawn twice per week on a Wednesday & Sunday.
There are 3 winning prize levels and the odds of winning a TIPOS LOTO 5 z 35 jackpot are 1 in 324 632 for matching all 5 winning numbers drawn & becoming a lucky winner on the top prize level.
The biggest LOTO 5z35 win achieved so far with TIPOS has been € 275,159.78 which was won on August 19th 2018 and was then shared between 2 lucky winners who had both hit the jackpot.
The biggest LOTO 5 z 35 jackpot win by a single ticket to date has been € 148,801.76 that was won on March 6th 2019 in Nitra.
---
EuroMiliony – Slovakia Lottery – Tipos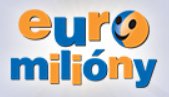 The EUROMILIONY was introduced to the TIPOS Loto range of games in 2004. The EUROMILIÓNY is not to be confused with the pan-European EuroMillions lottery and is a Euro Millions game that is particular to Slovakia itself and its own lottery players.
EUROMILIÓNY has similarities with its bigger cousin EuroMillions, in that it uses a dual matrix. The format of the EUROMILIONY is 7/33 + 1/6. This means that when playing EUROMILIONY you will need to choose 7 numbers from 1 to 33 and then 1 number from 1 to 6. If you correctly match all 7 of the main winning numbers plus the additional number, you will win the EUROMILIÓNY jackpot.
The EUROMILIONY jackpot starts off at € 1 MILLION minimum and will rollover each week it is not won until a winner is found.
The biggest EUROMILIÓNY jackpot won so far with TIPOS has been a huge € 8,997,697.75 that was won on January 25th 2020 by a ticket from Bratislava. The 2nd highest jackpot won to date on EUROMILIONY has been € 7,782,560.60 which was won in 2011. It had taken a full 7 years for this first EUROMILIONY jackpot to be won since the game was first launched back in 2011.
TIPOS conduct the EUROMILIONY draw twice every week on both Tuesdays and Saturdays. A similar draw with the same name is conducted for the Czech Lotto with Sazka every week.

There are 10 winning prize levels and the odds of winning a TIPOS LOTO jackpot are 1 in 25 632 288 for selecting all 7 of the main winning lottery numbers drawn plus the additional number.
---
Other Games – Slovakia Lottery – Tipos

Other games to be offered by the Slovakia Lottery – TIPOS – include KENO 10, KENO JOKER and KLUB KENO.
With KENO 10, you need to select between 1 and 10 numbers out of a total range of numbers that are drawn from 1 to 80.
20 winning numbers are drawn each time. You can increase your winnings even further by playing KENO with KENO PLUS option.
A further game – KENO JOKER – can be played which works in conjunction with KENO 10. This can be played either as an addition to the KENO 10 game or as a separate game in itself.
With KLUB KENO, you will need to choose 7 numbers out of a range of numbers from 1 to 80. As with the KENO 10 game, a total of 20 numbers will be drawn each time. Before the KLUB KENO numbers are drawn, a 1x, 2x, 3x, 5x or 10x multiplier will be drawn. If playing with the multiplier, you need to mark "Yes" on your ticket and if you win, your KLUB KENO prize will be multiplied by the amount of the multiplier number that has been drawn.
The betting period for KLUB KENO is every 4 minutes after which the winning lottery numbers are drawn by TIPOS and this occurs throughout each day from 6.00am right through to 11.00pm.
---
If you would like to read more about any of the Slovakian Lottery games from Tipos, click on the link and it will take you to a page with much more detais about your favourite lotto from Tipos sk.
If any new lotteries are introduced by Tipos in the future we shall write about them and cover them in this Slovakia Lottery section. 
For now, we hope you enjoy reading about the main Tipos Loto games from Loterie Slovakia. Don't forget to check on the latest EuroJackpot results here or at the Tipos sk / eTipos sk websites.


© Copyright 2009 - 2020 - Global-Lottery-Review.com All Rights Reserved
<! --- START WORLD LOTTO DROP DOWN BOX ---> <! --- END WORLD LOTTO DROP DOWN BOX --->
<! --- START WORLD LOTTERY RESULTS DROP DOWN BOX ---> <! --- END WORLD LOTTERY RESULTS DROP DOWN BOX --->
QUICK LINKS
<! --- === BUTTON 1 === ---> <! --- === BUTTON 2 === ---> <! --- === BUTTON 3 === ---> <! --- === BUTTON 4 === ---> <! --- === BUTTON 5 === ---> <! --- === BUTTON 6 === ---> <! --- === BUTTON 7 === ---> <! --- === BUTTON 8 === ---> <! --- === BUTTON 9 === ---> <! --- === BUTTON 10 === --->