Click here to PLAY Mega Millions NOW
Click here to PLAY Powerball NOW
NJ Lottery

–

Information & Background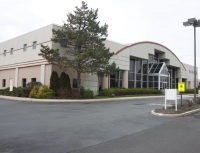 The Pick 6 Lotto was introduced into the New Jersey Lottery portfolio back in May 1980 with lottery tickets being sold from 2000 agents across the state.
Tickets cost US$ 1.00 per entry as they still do and back in the early days there was an added feature introduced in March 1981 of a grand prize bonus drawing offering cash prizes up to $100,000.
A US$ 1.8 MILLION cash prize made Manuel Collada of Hillside, New Jersey – the first Pick 6 Lotto millionaire in May 1981.
The NJ Pick 6 Lotto introduced its annuity payment option in October 1982 giving lottery winners the choice to have their winnings paid over a number of years.
The NJ Pick 6 started out with a 6/36 matrix and changed to a matrix of 6/39 in June 1984, increasing its pool of numbers by 3 and raising the bonus drawing prize to US$ 1 MILLION.
The matrix changed again in February 1986 – increasing to 6/42 at the same time as adding a 2nd lottery draw each week.
Total sales exceeded the US$ 1 BILLION mark in June 1986 for the Pick 6 Lotto.
Even Bigger Jackpots…
Once again the New Jersey Lottery Commission approved a matrix change for the Pick 6 Lotto in January 1989 – this time from 6/42 to 6/46 – giving the opportunity for even larger jackpots to be won.
In May 1995 the Pick 6 Lotto passed the $5 BILLION mark in total sales since it began.
The cash option was introduced in May 1997 meaning that Pick 6 Lotto jackpot winners could now choose to have their jackpot winnings paid in cash as opposed to receiving an annuity payment.
The annuity arrangement for jackpot winners of the Pick 6 Lotto was increased in September 1998 from 20 to 25 years.
In May 1999 – Lottery NJ joined the multi-state lottery game known at the time as The Big Game – now called Mega Millions.
The cash option began in 1997 – however it applied only to the jackpot.
In the year 2000 the NJ Lottery discontinued its grand prize bonus drawing.
The Pick 6 Lotto matrix was changed again in September 2000 from the 6/46 structure to the current structure of 6/49 at the same time as adding a prize for matching just 3 numbers.
As already mentioned – on January 15th 2015 the XTRA was added to the well established Pick 6 Lotto – providing a further prize category and a new exciting prize multiplier option.
The NJ Pick 6 Lottery is responsible for creating more Millionaires in New Jersey than any other game.
NJ Lotter

y

–

Pick 6 Lotto

–

Odds of Winning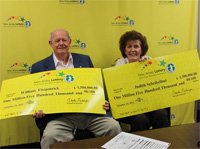 The odds of winning on the NJ Lottery Pick 6 Lotto are good when compared to many of the lotteries out there in the world.
The chances of matching all 6 numbers and winning a Pick Six XTRA jackpot are 1 in 13,983,816 – for these odds you could be one of the NJ Lotto jackpot winners.
For one of the prizes on the 2nd level – the odds come right down to 1 in 54,201 for matching 5 of the winning lotto numbers.
The likelihood of winning a 3rd tier prize comes in at 1 in 1,032 for selecting 4 of the winning numbers and your chances of a prize on the 4th level – the odds are reduced right down to just 1 in 57 for picking just 3 of the winning Pick Six numbers.
The 5th and final prize category offers odds of only 1 in 8 for successfully matching just 2 of the winning numbers drawn.
Overall odds of winning any prize when you play Pick Six XTRA are 1 in 54 – or when playing with the XTRA option just 1 in 7.
NJ Lottery

–

Pick 6 Lotto

–

Record Jackpots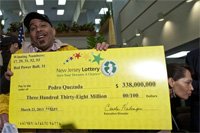 The New Jersey Lottery produced its first millionaire winners way back in March 1971 when Edward and Kathleen Henry of West Caldwell were the lucky ones.
In May 1983 the 100th Millionaire winner was named by the NJ Lottery.
The largest Pick 6 Lotto jackpot in NJ Lottery history was won in February 2001 by James and Eileen Rath of Union County when they scooped a wonderful US$ 48.9 MILLION.
The largest single ticket win in NJ Lottery history occurred in September 2005 when US$ 258 MILLION was won by Harold and Helen Lerner of Bergen County on the Mega Millions game.
This record was broken again in March 2007 when Harold and Elaine Messner of Cape May County, New Jersey won a whopping US$ 390 MILLION again on the Mega Millions.
NJ Lottery

–

How Prizes are Paid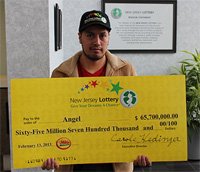 As an NJ Lottery Pick 6 Lotto jackpot winner, you would have a choice in how you wish to receive your winnings. You could choose to have either a single cash lump sum payment or an annuity prize.
You will need to make the choice as to whether you wish to receive the cash lump sum option or the annuity installment payments option at the time you purchase your NJ Pick 6 Lotto ticket.
If you choose to receive the jackpot as an annuity, it would be paid to you in equal yearly installments over a 30 year period.
In terms of value – if you chose to take the cash lump sum payment as an NJ Lottery jackpot winner – you would receive approximately 50% of the annuity value that you would be paid in installments.
If you win a prize of any value up to US$ 599.50 – you will be able to claim your lottery winnings in cash at any New Jersey Lottery retailer.
For amounts over US$ 599.50 you can claim your prize either at a lottery retailer or from the NJLottery Headquarters – you will need to fill in a claim form for this first.
If you are one of the lucky jackpot lottery winners you will need to contact the NJLottery Headquarters in Lawrenceville and present your ticket to them.
If you play lottery online however – whatever your win – this will not be a concern for you as your accredited lottery ticket sales agency will take care of all this for you, whether it is TheLotter or whichever company you may use.
NJ Lottery

–

Where the Money Goes


In the year 2006 alone – the NJ Lottery raised in excess of US$ 2.4 BILLION and so contributed in excess of US $844 MILLION to New Jersey state to help with financing education and various institutions.
Over US$ 15.6 BILLION has been provided by the NewJerseyLottery to a multitude of programs across the state since it began.
This in turn has benefited millions upon millions of citizens in New Jersey over the years with bodies who have received funding including educational opportunity programs, the Department of Human Services, the Department of Military and Veteran Affairs, the School Nutrition Program and the Marie Katzenbach School For The Deaf.
Lottery New Jersey also plays a key role in supporting thousands of small businesses right across the State.
So…even though it's the aim of all lottery players to win – it just goes to show how important these New Jersey lotto games are to the well being and development of their state or nation as a whole.
Click here to PLAY the Pick 6 Lotto NOW
Click here to See the LATEST NJ Lottery RESULTS
Click here to See PAST New Jersey Lottery RESULTS

Click here to PLAY Mega Millions NOW