Current Jackpot € 65,000,000 / £ 77,000,000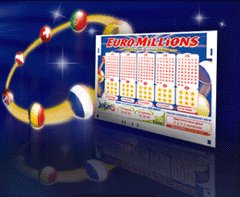 Euro Millions boasts the fact that it is one of the largest tax-free, lump-sum lotteries in the world. This European Lottery is a relatively recent offering that includes many countries across Europe.
It was first launched back on February 13th 2004 with the inaugural draw taking place at the EuroMillions HQ in France making it only the second truly Multi-National lottery following in the footsteps of the smaller Viking Lotto from Scandinavia which had begun operations in 1993.
In the beginning there were just three countries involved, with the UK, France & Spain in a collaborative effort. A few months later however, in October 2004, Austria, Belgium, the Republic of Ireland, Luxembourg, Portugal & Switzerland also joined the list of countries participating in the Euro Millions.
Nowadays this great European Lottery is also offered for sale in Andorra, the Isle of Man, Liechtenstein and Monaco.

More European countries are bound to follow suit in due course especially as there will be more and more countries who elect to join and are accepted into the ever growing European Union.
The EuroMillions Lottery pools the monies accumulated from lottery ticket sales from all of the Euro Millions participating nations and this naturally results in particularly massive jackpots being created which are often some of the largest to be found in the world of lottery games.
As more countries join over the years, it is almost certain that these Euro Millions Jackpot prize funds will continue to rise in value further still.
EuroMillions (or the Euro Lottery as it is sometimes known) draws are held every Tuesday and Friday evening at 8.45pm CET and are hosted in Paris.
How do I Play the EuroMillions Lottery?

The cost of entry to Play Euro Millions is £2.00 sterling in the UK and either €2.00 or CHF 3.00 in the other countries involved with this hugely popular European Lottery.
If you decide to play Euro Millions, you will first need to select your 5 MAIN numbers (from 1 to 50) and then 2 "LUCKY STAR" numbers (from 1 to 12).
The mechanics of the Euromillions draw are like this……… firstly the 5 main balls are drawn from 50 numbers (1 to 50) and then the 2 balls (known as "Lucky Stars") are drawn from 12 numbers (1 to 12).
Firstly the 5 MAIN Euro Millions Numbers are drawn followed by the 2 "Lucky Star" numbers which are both drawn using a random number generator from 2 separate draw machines that contain the numbered balls.
Some exciting changes to the EUROMILLIONS took place on Sept. 24th 2016.
The starting jackpot has been increased to €17 Million / £14 Million

Euro Millions "Lucky Stars" now drawn from 1 to 12 and not 1 to 11

More frequent rollover draws producing a BIGGER EuroMillions Jackpot

EuroMillions jackpot cap can remain at €190 Million for up to 5 draws

EuroMillions Superdraw starting jackpot increased to €130 Million

2 Extra UK Millionaire Maker draws per week meaning 4 per week in total

€1 Million "The Million" EuroMillions Raffle introduced in Spain on Fridays

EuroMillions Millionaire draw several times per year with 25 x €1 Million
A Rollover Produces a MUCH LARGER Jackpot
An exciting part of the Euro Lotto is the Rollover. On any given week, if the correct winning Euro Millions numbers are not matched to win the Jackpot, the prize fund "rolls over" to the following week.
This means that the Euro Millions jackpot prize increases in value up to twice every week until the correct Euro Millions numbers drawn are successfully matched.
Laws instigated in February 2007 limited the number of "rollovers" that can take place to eleven which, naturally, produced some very large Euro Millions jackpots indeed – most notably the Euro Millions jackpot win of €126 Million / £110 Million won by a 25 year old from Spain on May 8th 2009 who elected to keep her identity private.
These Euro Millions rules were altered on November 7th 2009 when the Euro Millions jackpot cap was created which meant that the Euro Millions jackpot would now rollover until it reached or went higher than the enormous amount of €185 Million. At this point any additional Euro Millions prize money that rolled over would be filtered down to prize levels below the jackpot itself.
Once a Euro Millions jackpot that had been capped had been won the top prize limit would then be raised by €5 Million producing the next Euro Millions Jackpot cap of €190 Million and so forth.
During this period the Euro Millions jackpot reached the lofty heights of €185 Million (£161,653,000) when it was won by Colin and Chris Weir from Largs in Scotland making it the biggest Euro Millions win of all time to date.
Euro Millions decided to change the jackpot cap ruling again on January 12th 2012 when it introduced a permanent Euro Millions jackpot limit of €190 Million which if not won after two draws would be distributed amongst the next winning prize level.
This limit was reached on August 10th 2012 when Adrian and Gillian Bayford from Suffolk, England won the absolutely staggering sum of €190,000,000 (£148,656,000) making them the biggest ever Euro Millions winners so far.
Just think how huge the Euro Millions jackpot could become, though, if the cap on this great European Lottery had no limit – the same as the US Powerball or Mega Millions. This could well happen with further "Rollover" and "Jackpot Cap" rule changes.

Click Here to PLAY Euro Millions NOW
Up to €190 Million to be won on Euro Milions!
The Euro Millions Jackpot has reached its limit of a staggering €190 Million after rolling over for the maximum of thirteen times and eventually being won on Friday 10th August 2012 by Adrian and Gillian Bayford from Haverhill, Suffolk, UK. In Sterling their record win amounted to £148.65 Million and at the time this was the biggest Euro Lottery win ever prouduced.
The Euro Millions once again reached its €190 Million limit on October 24th 2014 when it was won by an anonymous ticket holder from Castelo Branco in Portugal. When converted to Sterling this win was equivelent to £149.75 Million thus making it an even bigger jackpot than the record win in August 2012.

The odds of winning the Euro Millions Jackpot are 1 in 116 million but the nature of this is that the draw results in frequent rollovers and hence, much larger jackpots. For comparison, the UK National Lottery Jackpot odds are 1 in 14 million but the jackpots on offer will be substantially less.
These rollovers mean much higher Euro Millions jackpot prizes to be won and of course, greater lottery tickets sales resulting also in a much greater number of prizes available on lower tiers of the entire Euro Millions prize fund.
So…..the overall odds of winning a prize in the Euromillions draw come right down to a very respectable 1 in 13.
There are ways you can increase chances of winning lottery games such as the Euro Millions and UK National Lottery, however and we have written in much greater detail about this on other pages.

Can Anyone Play EuroMillions?
If you are 18 years of age or over (16 years in the UK) you are able to take part in this great European Lottery.
In the past you would have had to be a resident citizen in one of the participating Euro Millions countries to take part – but with the advent of online lottery ticket sales you can now very easily buy Euro Millions tickets from fully authorised and accredited lottery ticket sales companies from absolutely anywhere in the world.

Click here to PLAY the Euro Millions NOW
Read About the EuroMillions in 3 Other Countries...