Current Jackpot € 350,000
Greek Lottery
–

Greek Lotto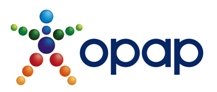 Greek betting games go back in time as far as 1958, when OPAP was first established on December 12th that year – and these days the largest betting firm in the whole European continent is the Greek Organization of Football Prognostics.
The first game to be offered by the newly formed company was PROPO in 1959 – the prediction of football scores – with Greek Lottery games not being launched much later on until 1990. 

The Greece Lottery is fully controlled and regulated by the Greek Government who awarded a 20 year license, giving OPAP – ΟΠΑΠ – the exclusive rights to operate Greek Lotteries.
There are many games offered by OPAP and the Greek Lottery including the Greece Joker (ΤΖΟΚΕΡ) Kino, Proto (ΠΡΟΤΟ), Propo (ΠΡΟΠΟ), Propogoal (ΠΡΟΠΟΓΚΟΛ), SUPER 3, plus EXTRA 5 and the Greek Lotto flagship game that we are going to look at in detail here – the very popular Greece Lotto – ΛΟΤΤΟ…
Greece Lotto

–

ΛΟΤΤΟ

–

Overview


The Greece Lotto – or ΛΟΤΤΟ – was introduced by OPAP back in 1990 with the first Greek Lotto draw taking place on December 5th.
The Greek Lotto game remained relatively unchanged since it first started up until 2009 when it underwent a makeover and a brand new prize category was then introduced to the game by OPAP.
From January 26th 2009 the number of prize categories were increased to 5 in total – with a new 2nd division prize level brought in for players who matched 5 of the main numbers plus a new "Additional Number" that would now also be drawn.
The Greece Lotto – ΛΟΤΤΟ – is a traditional jackpot, draw-style lottery game and is one of the most popular games offered by OPAP – ΟΠΑΠ – operators of the Greek National Lottery.
Each time that the Greece Lotto jackpot is not won – it will rollover and the increase will be added onto the figure for the following draw – making for an even larger jackpot to be won.
The draws for the Greek Lotto take place twice each week on both Wednesdays at 10.10pm & Saturdays at 10.00pm Greek Time.
We are very pleased to have reviewed the Greece Lotto – ΛΟΤΤΟ – and recommend taking a look at how it works below...
Greece Lotto

–

ΛΟΤΤΟ

–

How It Works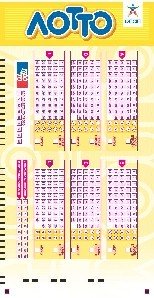 The Greece Lotto – ΛΟΤΤΟ – uses a single matrix of 6/49 which means that 6 main winning lottery numbers are first of all drawn out of a range of numbers from 1 to 49.

After the first 6 numbers have been drawn – an Additional Number is also drawn from the remaining 43 numbers. This is used to determine prizes on the 2nd prize level.
Therefore – when playing the Greek Lotto you will need to select your 6 main numbers out of that number range from 1 to 49.
If you match all 6 of the main numbers drawn then you will win the Greek Lotto jackpot – ΛΟΤΤΟ ΤΖΑΚ-ΠΟΤ.
In addition to the jackpot itself there are 4 other ways in which you can win on the Greece Lotto – which means that are many thousands of prizes to be won on the game twice every week.
A lottery number picker facility is available when playing the OPAP Lotto – ΟΠΑΠ ΛΟΤΤΟ – very much the same as the Lucky Dip option used in the UK National Lottery and the EuroMillions in Europe or the Quick Pick used with most USA Lottery games.
So – playing the Greek Lotto is simple. Select your own numbers or ask the retailer or computer to automatically choose all your Greece Lottery numbers using their random number generator.
Greece Lotto

–

ΛΟΤΤΟ

–

Who Can Play?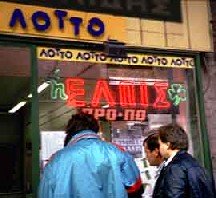 Previously only citizens living in Greece were allowed to play any of the games offered by OPAP including the Greece Lottery – ΛΟΤΤΟ – you had to buy your Greek Lottto tickets from a retailer situated in Greece.
Today though – this is not a problem as there are various online lottery ticket sales agencies like TheLotter who are both authorized and genuine – you are able to buy your tickets in your own home and from anywhere in the world.
This is great news, of course, if you live outside of Greece and want to participate in the Greek Lotto and ensure your entry into the next available draw or simply want to have the convenience and ease of being able to buy lottery tickets online.
OPAP require that you are at least of 18 years of age to be able to play any of their games including the Greek Lotto – ΛΟΤΤΟ.
Click Here to PLAY the Greece Lotto – ΛΟΤΤΟ – NOW
Greece Lotto Results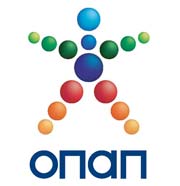 The draw for the Greek Lotto – ΛΟΤΤΟ – is made by OPAP twice every week on a Wednesday and Saturday evening at 9.00pm Greece Time. You can check the Greek Lottery results in various ways to see the winning lotto numbers drawn.

The latest Greek Lotto Results can be found on the Greek Channel STAR TV where they will be broadcast live from the OPAP TV studios.
The Greek Lottery results for both the Lotto (ΛΟΤΤΟ) and the Greece Joker (ΤΖΟΚΕΡ) will also be displayed on the official Greek Lottery website – opap.gr – soon after each draw and you will also be able to find them from all Greek Lotto retailers.
You can return here to Global Lottery Review at any time too where you can check the very latest Greek Lottery Results.

Greece Lotto

–

ΛΟΤΤΟ

–

Odds of Winning

The odds of winning on the Greek Lotto – ΛΟΤΤΟ – are very competitive when you compare them to many world lottery games and with 5 different ways in which you can win this means that there are thousands of prizes to be won twice every week.
The chances of winning a Greece Lottery jackpot – ΤΖΑΚ-ΠΟΤ – by matching the 6 main winning numbers are 1 in 13,983,816. For these odds you could be one of the ΛΟΤΤΟ jackpot winners.
For a second level prize – the odds come down to 1 in 2,330,636 for matching 5 of the main numbers plus the Additional Number.
The likelihood of you winning a third level prize is 1 in 55,491 for matching 5 of the main winning numbers and to win a prize on the fourth level the odds come down to only 1 in 1,083 for matching only 4 of the main winning lottery numbers drawn.
The chances of you winning on the fifth and final prize level are just 1 in 61 for matching just 3 of the main numbers drawn.
Greece Lotto

–

ΛΟΤΤΟ

–

Record Jackpots

The biggest Greece Lotto jackpot – ΛΟΤΤΟ ΤΖΑΚ-ΠΟΤ – to have been won so far has been €7.5 Million which was won by a lucky single ticket holder on January 20th 2010 who had purchased their ticket in the northern Greek town of Edessa – Έδεσσα – northern Greece. The winning numbers on this historic occasion were: 4, 7, 17, 24, 28, 37.
The 2nd largest Greek Lotto jackpot won to date has been the January 1st 2011 win of €7 Million which was also won by a single ticket holder with the numbers 8, 16, 18, 24, 36, 44.
The 3rd highest Greek Lotto jackpot so far has been the win on July 9th 2011 of €5.5 Million with numbers 4, 24, 31, 42, 43, 44.

Greece Lotto

–

ΛΟΤΤΟ

–

How Prizes are Paid

If you are the lucky winner of a Greece Lottery jackpot – OPAP will pay your winnings as a cash lump sum. In fact all Greek Lotto prizes are paid as cash.
For any prize that you have won on the Greek Lottery – you will need to make your winning claim within 3 months of the draw taking place before your claim will become invalidated.
Depending upon the amount you have won – you will be able to collect your winnings from either one of the OPAP retail outlets or from a participating bank upon production of a payment request.
Of course – if you are playing the Greek Lottery with a reputable online lottery ticket agency such as TheLotter you will not need to be concerned with any of these factors as they will take care of everything and pay you promptly when you play lottery online.
Greece Lotto

–

ΛΟΤΤΟ

–

Where the Money Goes

Proceeds from all Greece Lottery games go towards the assistance of many different aspects of life in Greece and end up benefiting a significant number of its population.
For example – since its very beginning – OPAP and the Greek Lottery have been the main providers of Greek sports funding contributing to numerous sporting facilities.
After the introduction of ΛΟΤΤΟ in 1990 lottery profits from OPAP games have also been used to encourage cultural development.
Click Here to PLAY the Greek Lotto – ΛΟΤΤΟ – NOW