IL Lottery

–

Lottery Illinois

The Illinois State Lottery was initially formed way back in 1974 and is run by the Illinois State government.
It is one of the most long established lotteries in America and in the days when it began – US Lottery companies were only really found in the north east and mid west regions of the country.
Illinois is the only state to have its State Lottery (as well as the Multi-State Mega Millions offering) televised right across the nation, via WGM America.
Revenue earned by the Illinois Lottery and any prizes that go unclaimed are used wisely to help and support schools and education right throughout the entire State of Illinois.
There are various different games that the Illinois Lottery runs including Pick 3, Pick 4, Lucky Day Lotto, Mega Millions and Powerball and there are also a number of scratch card games.
Illinois' main lottery game though – is the Illinois Lotto and is the game that will be concentrating on here and reviewing in full…
Illinois Lotto

–

Overview

Illinois' main lottery – the Illinois Lotto – is drawn on Mondays, Thursdays and Saturdays at 9.22 pm – one of the few US Lotteries to have 3 draws per week.
You can watch the Illinois Lottery draws take place on Chicago's WGN-TV channel during the stations' news bulletins and check the latest Il Lottery results which will be displayed on the official IllinoisLottery website – illinoislottery.com – very soon after each of the thrice-weekly draws have been conducted.
February 1983 saw the very first draw of the Illinois Lotto – a whole 9 years after the State Lottery was initially formed.
The Lotto matrix has been changed at various times over the years which we will write about in a bit more detail below.
The Illinois Lotto has created a few new records in its history for jackpot wins and is one of the larger of the US Lotteries – with a fantastic following of regular and new supporters each week.
Having fully looked into this particular lottery – we are very happy to recommend it as one to take part in if you are looking for a good one to play – and become one of the lucky Illinois Lotto winners.
Illinois Lotto

–

How it Works

The Illinois Lotto uses what's known as a 6/52 matrix which means that when playing the Lotto, you need to select 6 numbers from a pool of balls numbered 1 to 52 – if you match all 6 numbers drawn then you will be a jackpot winner.
The Illinois Lotto jackpot starts off at US$ 2 MILLION and for each draw that the top prize is not won – there is a rollover – meaning the jackpot will keep increasing in size until a winner is produced.
There are a total of 5 ways to win the Illinois Lotto – aside from the jackpot itself you will also win the lottery if you successfully match 5, 4, 3 or even just 2 of the winning lotto numbers drawn.

A Quick Pick facility is available when playing the Illinois Lotto similar to the "Lucky Dip" that is used in the UK National Lottery or Europe's EuroMillions – which means that you can ask for the computer terminal to select all your Illinois Lottery numbers for you automatically using its internal random number generator.
If you wish to play in this lottery – the cost is US$ 1.00 per entry.
Illinois Lotto – with EXTRA SHOT
For just a further US$ 1.00 per play you can spice things up and include the Illinois Lotto add-on – EXTRA SHOT – to your ticket.
Playing the Illinois Lotto with the EXTRA SHOT prize multiplier will give you 6 extra chances to win all non-jackpot prizes.
After the main draw has taken place the EXTRA SHOT number will then be drawn out of a range of numbers from 1 to 25.
If the EXTRA SHOT number randomly printed on your lottery ticket matches the number drawn – your winnings and your odds of winning a non-jackpot lotto prize will automatically be increased.
Illinois Lotto

–

Who Can Play?

As with the majority of lottery games in the U.S.A. – in the past – only citizens living in the State of Illinois were allowed to play in any of the Illinois Lottery games including the Illinois Lotto. You would have had to purchase your lottery tickets from an authorized retailer based in the State of Illinois itself.
Now however – with the welcome presence of authentic online lottery ticket agencies such as TheLotter you are able to select your Illinois Lottery numbers online and purchase your Illinois Lotto tickets and it doesn't matter where in the world you may live.
This is brilliant news if you live outside of Illinois and the U.S.A. and want to play the Illinois Lotto and guarantee your entry into the next draw or just simply want to enjoy the convenience and simplicity of being able to buy lottery tickets online.
Once you have entered into the Illinois Lotto –  you are then easily able to check the Illinois Lottery results online to see how you have done and to find out if you have become one of the IL Lottery lucky winners.
You must be 18 years of age to be eligible to purchase a ticket for any of the Ill Lottery games including the Illinois Lotto.
Some great news here for all USA Lottery players in Illinois...

The Mega Millions consortium – who administer the MEGA MILLIONS game
– and the Multi-State Lottery Association (MUSL) – who administer the POWERBALL game – have entered into an historic cross-sales agreement across the USA. All US Lotteries that previously sold MEGA MILLIONS tickets can now ALSO sell POWERBALL tickets.

This means that with effect from January 31st 2010 – in addition to the existing
MEGA MILLIONS – USA Lottery players in Illinois will now ALSO be able to buy lottery tickets for the POWERBALL. You can still buy lottery tickets online, of course, from anywhere around the world.
Click Here to Check the Latest ILLINOIS LOTTO RESULTS


Click here to Play the MEGA MILLIONS Now
Click here to Play the POWERBALL Now
Illinois Lotto

–

Information and Background


The very first Illinois Lottery tickets went on sale in July 1974 and the first draw took place in August that year.
The game that we are reviewing here – the Illinois Lotto – was introduced in February 1983 and used a 6/40 matrix meaning that you had to select 6 numbers from a pool of numbers from 1 to 40.
In February 1984 the Illinois State Lottery introduced its own "Quick Pick" option meaning that you could choose to have your numbers randomly selected for you by the computer.
The Illinois Lotto matrix was altered from 6/40 to 6/44 in May 1984 – meaning that the pool of balls to choose from had now been increased by 4 numbers.
The feature "Advance Play" was introduced by Ill Lottery in December 1985.
A 2nd Draw…
In January 1986 the Illinois Lotto began having draws on a Wednesday.
The matrix for the Illinois Lotto was changed again in May 1988 – this time from 6/44 to 6/54 – meaning that players now needed to select 6 numbers from a pool of balls numbered 1 to 54.
August 1990 saw the Illinois Lotto expanded to twice-weekly drawings which were held on both Wednesdays and Saturdays.
A Mistake That Paid Very Well…
A simple but fortuitous mistake made John Mattinen the first Illinois Lotto player to win the Lotto jackpot twice on the same ticket when he bought a ticket with 2 of the very same selection of numbers which were copied in error! He won US$ 20.8 MILLION in March 1992.
The Illinois Lotto produced its one hundredth jackpot of US$ 10 MILLION or more in December 1992 when the lottery jackpot reached US$ 15 MILLION.
On September 6th 1996 the Illinois Lottery was one of the innaugural USA Lottery companies to sell lottery tickets for The Big Game – a huge multi state lottery which was to become what we now know as the USA Mega Millions in May 2002.
The Illinois Lotto's matrix was again changed in April 1999 – from 6/54 to 6/52 – meaning that players now have to pick 6 numbers from a pool of 52 balls. This matrix is still in operation today.
A 3rd Draw…
A third draw was added to the Illinois Lotto in April 2005 – taking place on Mondays - taking the total number of weekly draws to three – Mondays, Wednesdays and Saturdays.
January 31st 2010 saw the Illinois State Lottery begin selling tickets for the USA Powerball as a result of the cross-elling agreement between Mega Millions and Powerball States.
An additional playing option was added to the Illinois Lotto on October 28th 2012 called Extra Shot. This add-on to the Illinois Lotto allows players to increase their non-jackpot prize wins as well as increasing the number of non-jackpot prizes to be won.
July 14th 2013 saw the IL Lottery increase the number of winning levels to the IL Lotto with a prize for matching just 2 numbers.
Illinois Lotto

–

Odds of Winning

The odds of winning on the Illinois Lotto are very favorable when compared to many of the lotteries out there – especially the Multi-State lotteries such as Mega Millions and Powerball.
The chances of winning an Illinois Lottery – Illinois Lotto – jackpot are 1 in 20,358,520. For these odds you could be one of the Illinois Lotto jackpot winners by matching 6 of the winning numbers.
For one of the prizes on the second level the odds come right down to 1 in 73,763 for selecting 5 of the winning lottery numbers.
The likelihood of you winning a third tier prize is 1 in 1,311 for choosing 4 of the winning Illinois Lotto numbers.
Fourth level prize winning odds are 1 in 67 for matching 3 of the winning numbers and for a fifth level prize – the lottery odds come in at 1 in 8.32 for selecting just 2 of the winning numbers drawn.
The overall odds of you winning any prize on the Illinois Lotto are a very reasonable 1 in just 7.36.
Illinois Lotto

–

Record Jackpots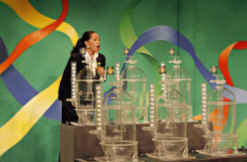 The IL Lottery's very first million dollar lottery winner was a lady called Irene Halley who struck lucky back in October 1974.
Then in September 1984 – a record was created when Michael Wittkowski became the winner of the largest lottery jackpot awarded to a single winner in North America when he won a US$ 40 MILLION Illinois Lotto Grand Prize.
Another record was set in April 1989 when the Illinois State Lottery produced the highest ever North American lottery jackpot at the time which was US$ 69.9 MILLION. It was shared between 4 lottery winnersand still stands as the record Illinois Lotto jackpot win to have been achieved to date.
The record for the largest lottery prize ever awarded so far to a single winner was broken in August 1989 when the Madigan Partnership enjoyed a win of US$ 42 MILLION in the Illinois Lottery.
This record for the largest amount ever won by a single lottery winner in history to date was equalled in May 1990 when the Sherwin Family Partnership won US$ 42 MILLION on the Illinois Lotto.
Rollovers = Much Bigger Jackpots…
Illustrating how powerful a rollover can be – a US$ 65.5 MILLION jackpot was produced by 8 consecutive draws with no jackpot winner in October 1991 and was shared by 3 winners. This has been the second highest jackpot ever won so far.
As a result of a 7 times rollover run – the Illinois Lotto created its third highest jackpot of US$ 61.5 MILLION in March 1991. It was won and shared out between 3 lucky lottery winners.
Yet another record was created by the Illinois Lotto in June 1995 when Arthur and Julia Britton became the lucky couple to win a US$ 45 MILLION jackpot – the largest ever to date to be won on a single lottery ticket.
Aside from the Illinois Lotto – the largest ever win to date in the history of the Illinois Lottery has been the US$ 265 MILLION win on the Mega Millions on January 16th 2015 by Jesus Davila Jr.from Naperville, IL.
Illinois Lottery

–

How Prizes are Paid

As an Illinois Lotto jackpot winner you would have a choice in how you are able to receive your winnings. You could choose to have either a single cash lump sum payment or an annuity prize.
Should you win the lottery jackpot with Illinois Lotto and choose to receive an annuity as opposed to a lump sum – the winnings would be paid to you in 26 annual installments over 26 years.
In terms of value – if you chose to take the cash lump sum payment as an Illinois Lottery jackpot winner – you would receive 50% of the annuity value that you would be paid in installments over the 26 year period.
If choosing to receive the cash lump sum option instead of the annuity payments for a jackpot win – you need to exercise this option within 60 days of the actual draw taking place – if you do nothing then your winnings will automatically be paid to you in the form of the annuity with annual payments.
For prizes worth up to US$ 600 – you can collect your Illinois Lottery winnings in cash from any lottery retailer.
If you have won anything from US$ 600 up to US$ 1 MILLION – you can complete a claim form whilst validating your ticket at any Ill Lottery retailer and send it in the mail.
Your win will then be mailed to you by check within 4 to 6 weeks.
If you should win any prize greater than US$ 1 MILLION – you will need to call the IllinoisLottery Claims Office to make your winning claim.
If you play lottery online however, you need not be concerened with any of the above information as you accredited lottery ticket sales company – such as TheLotter – will take care of all these details for you.
Click Here to Check the LATEST Illinois Lottery RESULTS