Current Jackpot

US$ 17,000,000



CA Lottery

–

Lottery CA


The California Lotto run by Lottery California commenced operations in November 1984 after the citizens of the state voted in favour of the creation of a State Lottery.
The CA Lottery was created with the intention of providing at least 34% of its revenues to go towards public education, giving schools with much needed additional resources to tap into.
It was agreed that 84% of turnover would be passed back to the public either in the form of money for education or in prizes so with the education percentage now allocated, that leaves 50% that returns to the public in prize money.
That leaves 16% of turnover remaining which is used for the running and administering of the California Lotto.
The CA State Lottery runs numerous different lottery games including the tv game show Make Me A Millionaire, various instant lottery scratch card games, Daily 3, Daily 4, Daily Derby, Fantasy Five, Hot Spot and the one which we're going to be reviewing here…Super Lotto Plus.
CA Lottery

–

Super Lotto Plus

–

Overview

The Super Lotto is one of many different games that California Lottery has to offer and is their primary lottery game – it is another lottery that we have taken pleasure in reviewing and we are happy to recommend to anyone wishing to take part in.
The Super Lotto has more players than any state lottery in the U.S.A. and offers jackpots which are pretty difficult to beat.
Super Lotto PLUS is a game played in a similar way to Mega Millions and began in the year 2000 succeeding its predecessor California Super Lotto.
The SuperLotto is drawn every Wednesday and Saturday at 7.57pm PST.
The minimum jackpot payout is set at US$ 7 MILLION and this increases every time the lotto is not won when it will rollover and increase in size every draw until a winner is produced.
CA Lottery

–

Super Lotto Plus

–

How it Works
Super Lotto PLUS players are required to select 5 main numbers from a number range of 1 to 47 and then a MEGA NUMBER out of a separate range of numbers from 1 to 27.
To win the CA Lotto jackpot you will need to match all 5 of the main winning numbers plus the MEGA NUMBER.
The other option you have as a player when picking your SuperLotto Plus numbers is to use the QuickPick box and allow the computer terminal to automatically select either your main 5 numbers, your MEGA NUMBER or both.
This is very similar to the way the Lucky Dip works with both the UK National Lottery and Europe's EuroMillions.
 California - Super Lotto Plus "Quick Pick"  
Random Number Generator - Click On the Button Below to Generate Some Numbers
Your numbers will open in the top left in a new small window. To generate more
numbers you
MUST
close "X" this small window first.
Javascript must be enabled in
your browser for this widget to work. The button below will not work unless it is.
CA Lottery

–

Super Lotto Plus

–

9 Ways to Win
There are 9 separate ways in which you can match numbers and win on this lucrative CA Lotto.
Apart from the jackpot itself, other prizes are there to be won for matching all 5 main numbers, 4 main numbers or 3 main numbers.
You also win if you match 4 main numbers plus the "Mega Number", 3 main numbers plus the "Mega Number", 2 main numbers plus the "Mega Number" and even when matching just 1 main number plus the "Mega Number".
You even win when you match only the "Mega Number" and no main numbers.
It costs US$ 1.00 to play the California Lottery Super Lotto Plus.
CA Lottery

–

Super Lotto Plus

–

Who Can Play?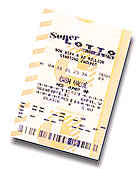 As with most US Lottery games, in the past, only citizens living in the State of California were allowed to play in any of the California Lottery games including the Super Lotto and tickets had to be purchased from a California based authorized retailer.
Now, however, you are able to pick your Super Lotto numbers online and purchase your tickets from online lottery ticket sales companies such as TheLotter no matter where in the world you happen to live.
Fantastic news, of course, if you live outside of California and the U.S.A. but wish to play the Super Lotto, guarantee your entry into the next draw or just simply want to enjoy the convenience of being able to buy lottery tickets online.
Once you have entered into the lottery, you are then easily able to check the California Lottery Results online to see how you have done and to find out if you have become one of those lucky lottery winners.
The minimum age for a player to be eligible to purchase a California Lottery ticket is 18 years and this applies to any of the games available including the Super Lotto Plus.
"Cross-Over" sales information for all USA Lottery players in California…

The Mega Millions consortium – who administer the MEGA MILLIONS game – and the Multi State Lottery Association (MUSL) – who administer the POWERBALL game – have recently entered into an historic cross-sales agreement across the USA. All US Lotteries that previously sold MEGA MILLIONS tickets can now ALSO sell POWERBALL tickets and vice versa.

This came into effect on January 31st 2010 – but as yet the California Lottery has not
entered into the cross-over sales arrangement. This position may change, of course, in future months but in the meantime – USA Lottery players in California and around the world are STILL able to buy lottery tickets online for the POWERBALL as WELL as the existing MEGA MILLIONS.
Click here to PLAY the SUPER LOTTO PLUS NOW
Click here to Play MEGA MILLIONS Now
Click Here to Play POWERBALL Now

CA Lottery

–

Information and Background

California Lottery has offered a number of Jackpot type games over the years starting off in 1986 with the 6/49 game which saw a few changes and became a 53 number game in 1990 and included a 7th "bonus" number.
It then changed to a 51 number game and remained so until the year 2000 when the current format was created.
So…that brings us up to date and the present matrix which is curently 1 from 47 and 1 from 27 which was formed in the year 2000.
The new and latest game format was called the California Super Lotto which has since been renamed the Super Lotto Plus.
All California Lottery prizes need to be claimed within 180 days of the draw taking place so you need to make sure that you do this within that time-frame.
If your prize is under US$ 600, you can collect this from either a lottery retailer or from the California Lottery itself. Any prize that is over US$ 600 will need to be collected direct from the lottery.
Tax-wise, state tax is not applicable on California Lottery winnings. They are eligible for federal tax though which is paid at the rate of 25% for U.S. citizens and 30% for non U.S. citizens.
You can watch the Super Lotto Plus draw unfold twice per week on your local television channel – it is broadcast by many stations where you can see the latest Super Lotto PLUS Results.
Super Lotto Plus
–

Odds of Winning
The odds of you winning the Super Lotto PLUS jackpot for matching all 5 of the main winning numbers plus the Mega Number are 1 in 41,416,353 – when this is compared to the winning odds on for the multi-state lotteries it is quite favorable.
The likelihood of winning one of the 2nd tier prizes comes down to 1 in 1,592,937 for selecting just the 5 main winning numbers.
3rd tier prize odds standing at 1 in 197,221 for matching 4 of the main winning numbers plus the Mega Number whilst odds on the 4th level are 1 in 7,585 for guessing only 4 of the main winning numbers.
Odds of a 5th tier prize are 1 in 4,810 for choosing 3 of the main numbers plus the Mega Number and 6th level prizes carry odds of 1 in 185 for matching just 3 of the main winning numbers.
Your chances of winning a prize on the 7th level are 1 in 361 for selecting 2 of the main winning numbers plus the Mega Number and 8th level prize odds are 1 in 74 for picking 1 of the main lotto numbers plus the Mega Number.
You can even win on the 9th level of prizes by matching 0 of the main numbers but just the Mega Number – odds here are 1 in 49.
The overall odds of winning any prize in the SuperLotto PLUS are a very respectable 1 in 23. Not bad at all...
Super Lotto Plus
–

Record Jackpots
The minimum jackpot offered every draw is US$ 7 MILLION but this often reaches much higher figures due to the amount of times the lottery can rollover when the top prize is not won.
On February 16th 2002, the California Lottery's Super Lotto produced a record jackpot of of US$ 193 MILLION which was won after "rolling over" 11 times by three winning tickets.
Quite frequently the Super Lotto Plus creates the largest jackpot available in any U.S.A. State Lottery on a given week such as on April 17th 1991 when it was won at US$ 118.8 MILLION by 10 winning tickets.
April 8th 1998 saw a jackpot of US$ 104 MILLION won by 3 winning tickets and on June 9th 1999 a jackpot of US$ 87 Million was won by Salvador Gonzalez .
In February 2009 the CA Lottery Super Lotto Plus jackpot reached US$ 76 MILLION and was won by a single ticket holder.
California Lottery

– How Prizes are Paid



California Lotto jackpot winners have a choice in how they are able to receive their winnings. They can choose to have either a single cash lump sum payment or an annuity prize.
Should you win the lottery jackpot with Super Lotto Plus and choose to receive an annuity as opposed to a lump sum, the winnings would be paid to you in 26 graduated payments over a 26 year period.
In terms of value, the lump sum payment that you would receive as a Jackpot lottery winner would generally be roughly 50% to 60% of the total that you would receive if you had chosen to take the annuity option of the yearly payments.
Increasing Annuities…
The annuity option differs from many other USA Lottery companies in that the payments are not equal each year but are graduated. Every year the payment is slightly higher than the previous year – ending up with the penultimate 25th payment being double that of the first.
If you are lucky enough to win the California Lottery jackpot, you will need to make the choice as to whether to take the lump sum or the annuity within 60 days of selecting the correct winning lottery numbers.
This changed back in 2005 as a benefit to players as prior to that, the choice of lump sum or annuity would have had to been made at the time you had purchased your ticket.
Needless to say, if you use online lottery ticket sales companies such as TheLotter to buy lottery tickets, you will not need to be concerned with any of the above as they will take care of everything for you when you play lottery online.

Click here to PLAY the CA Lottery - Super Lotto Plus NOW