Mass State Lottery

–

MA Lottery

The Massachusetts Lottery (Massachusetts State Lottery) was created in 1971 once the General Court had legalized state gambling.
When forming the MA Lottery – the overall aim was generate funds to be made available to towns and cities within the state of Massachusetts at the same time as providing an exciting and entertaining range of lottery games.
The Massachusetts Lottery is operated and administered by a five member commission that includes the Treasurer and Receiver-General of Massachusetts state.
The very first lottery tickets to be sold by the Mass Lottery were for "The Game" – a twice weekly lottery launched in March 1972.
The Mass State Lottery led the way in May 1974 by producing the very first scratch-off game to be seen in the USA when it introduced "The Instant Game" with a 1st prize of US$ 10,000.
These days the Mass Lottery brings out between 24 and 48 new instant games each year and is not only a national leader in sales but is truly one of the most popular US State Lottery companies.
The Mass Lottery is one of the US States that offers the massive Multi-State Mega Millions lottery. As well as this – other games include numerous scratch-offs, the US Powerball, The NUMBERS Game, Mass Cash, Lucky for Life, All or Nothing, KENO and the state's main jackpot lotto game that we will be looking at in much more detail right here – the MEGABUCKS DOUBLER…
Mass Megabucks Doubler

–

Overview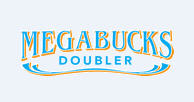 Megabucks is the Massachusetts Lottery flagship lottery game and is a traditional-style, jackpot lotto game. It was originally introduced into the range back on November 16th 1982 before changing to the enhanced Megabucks DOUBLER in April 2009.
The Mass Megabucks Doubler uses a game matrix of 6/49 and the lottery jackpot always starts off at the sum of US$ 500,000.
If this jackpot figure is not won – the amount will be added onto the next Megabucks Doubler jackpot in a rollover and it will increase in size like this every draw until it is finally won. This aspect of the MA Lottery results in some sizeable jackpot figures to be won.
The Mass Lottery Megabucks Doubler is drawn twice per week on both Wednesdays and Saturdays at 11.20pm local time with the Mass Lottery results aired on WCVB-TV Channel 5.
We are very pleased to have reviewed in detail the Mass Lottery Megabucks Doubler game here and would recommend taking a good look at what you can win and just how it works below…
Mass Megabucks Doubler

–

How it Works

The Massachusetts Lottery Megabucks Doubler uses a 6/49 matrix which means that when playing the Megabucks – you need to select 6 numbers out of a range of numbers from 1 to 49. If you match all 6 numbers drawn then you will be a jackpot winner.
There are 3 further prize levels with cash with prizes to be won – if you match 5 of the 6 numbers drawn, 4 numbers or even just 3.
A Quick Pic facility is available when playing the Mass Lottery Megabucks Doubler similar to the Lucky Dip option used in the UK National Lottery or Europe's EuroMillions plus most of the other State Lottery games. This means you can save time by asking the lottery retailer or computer to select your numbers for you.
So – playing the Megabucks Doubler is simple – just select your own 6 numbers or request them to be randomly selected for you.
Each entry into the MA Lotto Megabucks Doubler costs US$ 1.00.
Mass Megabucks

–

Random Number Generator

Unlike many of the USA lottery companies today that tend to use a Random Number Generator (RNG) to make their draws – the Massachusetts Lottery still uses the traditional method of numbered lottery balls to draw their Megabucks lottery game.
Before each Mass Megabucks live draw takes place – three test drawings are undertaken to ensure everything is working correctly.
Mass Megabucks Doubler

–

Who Can Play?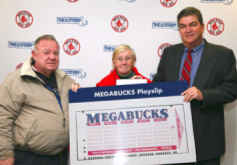 As with most USA Lottery games – previously only citizens living in the State of Massachusetts were allowed to partake in any of the Massachusetts State Lottery games including the Megabucks Doubler. You used to have to purchase your Mass Lotto tickets from an authorized retailer based within Massachusetts State.
Nowadays though – there are a good number of online lottery ticket sales agencies such as TheLotter who are both authorized and genuine – you are able to select your Massachusetts Lottery numbers online without worrying about where in the world you live.
This is great news of course if you live outside of Massachusetts and the U.S.A. but want to play the Megabucks Doubler & ensure your entry into the next draw or just want to have the convenience & ease of being able to buy lottery tickets online from home.

Once you have entered into the Megabucks draw you can then easily check your chosen Massachusetts Lottery results online to see how you have done and to find out if you have become one of the latest in the long line of lucky Mass Megabucks winners.
Like nearly all other US lotteries – in Massachusetts you will need to be a minimum of 18 years of age to be eligible to purchase a ticket for any of the MA State Lottery games including Megabucks.
Some great news here for all USA Lottery players in Massachusetts...

The Mega Millions consortium – who administer the MEGA MILLIONS game
– and the Multi-State Lottery Association (MUSL) – who administer the POWERBALL game – have entered into an historic cross-sales agreement across the USA. All US Lotteries that previously sold MEGA MILLIONS tickets can now ALSO sell POWERBALL tickets.

This means that with effect from January 31st 2010 – in addition to the existing
MEGA MILLIONS – USA Lottery players in Massachusetts will now ALSO be able to
buy lottery tickets for the POWERBALL. You can still buy lottery tickets online,
of course, from anywhere around the world.
Click Here to Check the MASS MEGABUCKS RESULTS


Click Here to PLAY Mega Millions NOW
Click Here to PLAY Powerball NOW
Mass Megabucks

–

Information & Background

Since it was first introduced back in November 1982 the Mass Lottery Megabucks game has undergone a few changes – including to its name – but primarily to the lottery matrix it uses.
In the beginning it was a 6/30 lotto game with players needing to select 6 numbers out of a range of numbers from 1 to 30.
The matrix was changed on May 7th 1983 when it was increased from 30 to 36 numbers giving the Megabucks a 6/36 matrix.
This was changed again on March 24th 1991 when the range of numbers used increased further to 42 to increase the size of jackpots and the Megabucks remained a 6/42 game for 18 years.
The popular Mass Megabucks game was given a transformation in April 2009 and renamed the Megabucks Doubler. A matrix of 6/49 was used and the starting jackpot raised to US$ 500,000.
You can check on any Mass State Lottery results either at the lottery retailers, in newspapers and on TV at WCVB-TV Channel 5 or from the online agency where you purchased your tickets from.
The Mass Lottery results will also be published on the MassLottery official website – masslottery.com – very soon after every draw.
Mass Megabucks Doubler

–

Odds of Winning

The odds of winning on the Mass Lottery Megabucks Doubler are very competitive when compared to many world lotteries and USA Lottery games – especially when considering the massive Multi-State offerings like the USA Mega Millions and Powerball.
The chances of you winning a Massachusetts Lottery Megabucks jackpot are 1 in 13,983,816 – for these odds you could be one of the MA Lottery jackpot winners by matching all 6 of the numbers.
For one of the prizes on the second level – the odds come in better at 1 in 54,200.84 for selecting 5 of the winning numbers.
The likelihood of you winning a third tier Megabucks prize comes in at 1 in 1,032.40 for choosing 4 of the winning numbers and for a prize on the fourth tier – the lottery odds are reduced right down to just 1 in 56.66 for picking only 3 of the Megabucks numbers.
Mass Megabucks

–

Record Jackpots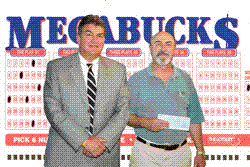 A national record was produced by the Massachusetts Lottery in February and March 1984 when the Mass Megabucks jackpot was not won for 3 draws & the top prize rose right up to the sum of US$ 18.2 MILLION. This win was eventually shared by 6 lucky winners during a time the media termed "Megamania".
Also in 1984 on July 14th – the Mass Megabucks jackpot reached US$ 15.61 MILLION which was won by Marcia Sanford from Westfield. This remains the biggest single ticket win to date.

The biggest ever Mass Megabucks jackpot in history so far has been the US$ 21.71 MILLION won on January 8th 1986 which was shared between 4 lucky winning ticket holders.
In April 1999 – Maria Grasso became the winner of the largest jackpot in Massachusetts State Lottery history when she scooped a whopping US$ 197 MILLION on the Big Game lottery which was later to become well known as the multi-state Mega Millions.
This figure was beaten in July 2004 when Geraldine Williams from Lowell, MA, won a Mega Millions jackpot of US$ 294 MILLION – becoming the largest single-ticket winner in USA lottery history.
Mass Megabucks

–

How Prizes are Paid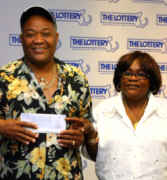 The Massachusetts State Lottery does not offer choices for jackpot winners to receive their winnings as either cash lumps sums or annuity payments. So if you win a Mass Lottery Megabucks Doubler jackpot you will automatically be paid your lottery winnings in the form of an annuity payment.
This annuity would be paid to you by the Mass Lottery in yearly payments over a 20 year installment period.
You will need to claim any Massachusetts Lottery prize – including the jackpot if you are a winner – within 365 days of the draw.
If your MA Lotto win is up to US$ 600 – you will be able to claim your prize from any of the thousands of MA Lottery retailers, agents or Mass Lottery offices across the state of Massachusetts.
If your win is between US$ 600 and US$ 49,999 – you will be able to claim your prize at any of the MA State Lottery regional offices.
If you are the lucky winner of any prize of more than US$ 50,000 – or a Megabucks Doubler jackpot – you will need to make your claim at the Massachusetts State Lottery HQ in Braintree.
Of course if you play lottery online – whatever your win – this will not be a concern for you as your lottery ticket sales agency such as TheLotter will take care of all these details for you.
Mass Lottery

–

Where the Money Goes

The State of Massachusetts and its citizens benefit greatly from the activities and funds generated by the Massachusetts Lottery.
Funds are provided for the Local Aid Fund and given back to the towns and cities across Massachusetts in the form of local aid.
Along with other lotteries, the Mass Lottery partners with the state police in helping with the search for and recovery of abducted children through the AMBER alert program right across the State.
Click Here to Check the LATEST Mass Lottery NUMBERS