USA Hot Lotto

–

Overview


The Hot Lotto is one of the main games offered by the MUSL and is a traditional, jackpot-style lottery game which was introduced on the 10th anniversary of Powerball lottery back in 2002.
The very first HotLotto drawing took place on April 10th 2002.
The idea behind this game was to give some of the smaller USA States the opportunity to create larger sized jackpots that are enjoyed by the main single-State lotteries such as the California Lottery, NY Lotto and FL Lottery.
Jackpots for the HotLotto begin at $1 Million and Rollover each time they are not won. That figure is then added onto the following draw's jackpot and increases in size each draw by a minimum of $50,000 until somebody wins it when it will revert to the starting jackpot sum of $1 Million once more.
This Multi-State lottery  uses a double matrix of 5/47 and 1/19.
The draws take place on Wednesdays and Saturdays at 9.59pm Central Time – the same days as drawings for the Powerball.
We are very pleased to have reviewed this interesting game and recommend that you take a good look at how it works here before having a go yourself…
MUSL

–

Multi State Lottery Association


The USA lottery game – Hot Lotto – is run and coordinated by the Multi-State Lottery Association (MUSL) a non-profit, government-benefit association formed by an agreement with its member US lottery companies.
The MUSL was formed in 1987 to administer multiple-State USA Lottery games across the Unites States of America.
The MUSL itself is also owned and operated by 33 participating US State Lotteries and manages the finances for each game. It also provides other games to its member lotteries including Powerball, Wild Card2 and 2by2.
Each individual State lottery retains all profits made which are used to fund projects approved by the State legislatures.
As well as the existing 33 USA Lottery members of the MUSL – there are 11 further US Lottery companies that are now licensed to sell MUSL lottery tickets for the flagship Powerball game.
MUSL Cross-Over Sales...
On January 31st 2010 the MUSL entered into a truly historic cross-selling agreement with the Mega Millions consortium meaning that US States that sold MUSL Powerball tickets could now also sell tickets for the Mega Millions game and those states that sold the Mega Millions tickets could now also sell tickets for the Powerball game.
This increased the number of USA State Lottery companies offering the Powerball from 33 to 42 in January 2010 with the Ohio Lottery and Arizona Lottery joining in April 2010 and finally the California Lottery in April 2013. This means you can now play Powerball across America in 45 different US States & districts as well as from overseas when you play Powerball Online.
Similarly – at the same time on January 31st 2010 – the rival Mega Millions began to be offered in Powerball jurisdictions – raising the total number of USA State Lotteries to be offering Mega Millions from 12 to 35 in January with 8 more Powerball States joining up between March and October 2010 followed by the Louisiana Lottery in November 2011 and the Florida Lottery in May 2013. This means that you are now able to play Mega Millions in a total of 45 different US States & districts as well as overseas when you play Mega Millions Online.
In theory – this should mean that all USA State Lotteries that are members of the Mega Millions consortium and sell Mega Millions tickets should now ALSO be able to sell tickets for the Hot Lotto. At the moment, however, it is not known whether Mega Millions consortium members will be doing this. If they DID begin to offer the HotLotto it would take the number of US States and districts where you could buy HotLotto Tickets from 16 (currently) to 28.
Hot Lotto

–

How it Works


The Hot Lotto uses what's called a double matrix of 5/47 (white balls) and 1/19 (orange balls) - which means that when playing, you need to select 5 main numbers out of a pool of white balls numbered from 1 to 47 – and then 1 "Hot Ball" out of a pool of orange balls numbered from 1 to 19.
If you match all 5 main numbers plus the "Hot Ball" drawn then you will be a jackpot winner.
If no-one successfully matches the winning Hot Lotto numbers then the jackpot will rollover each draw and increase in size by a minimum of US$ 50,000 until it is won.
In addition to the actual jackpot itself, there are 8 further ways in which you can win on the HotLotto, giving you many more chances to win than the average in-state USA lottery game offers.
A Quick Pick facility is available when playing the HotLotto, very much the same as the Lucky Dip option that is used in the UK National Lottery or Europe's EuroMillions or many other USA lottery games – which means that you can ask the lottery retailer or computer to randomly select all your HotLotto numbers for you.
This automatic selection procedure can apply either to the 5 main lottery numbers – to the "HOT Ball" on its own or to both.
So, playing this Lottery is very simple…just select your own 6 main numbers or request the computer to generate them for you with its Random Number Generator by selecting Quick Pick/Easy Pick.
The cost of playing the HotLotto is the standard entry fee of $1.00.
Hot Lotto SIZZLER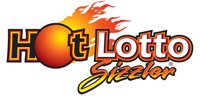 The Hot Lotto Sizzler is a multiplier option introduced in January 2008 where you can choose to increase your winnings on every level except the jackpot itself when you play HotLotto.

The Sizzler is a prize multiplier that will enhance the amount of your win on all of the 8 non-jackpot prize tiers – all you have to do is ask for the Sizzler option when you buy your Hot Lotto ticket.
Quite simply the Hot Lotto Sizzler will treble your winnings – there is no random number generator used here – just a cool and straightforward 3x multiplication of whatever prize you have won.
For example – if you win a HotLotto 2nd prize of US$ 30,000 - you will take home a much healthier US$ 90,000 if you have played using the Sizzler option which only costs an extra US$ 1 per entry.
The Sizzler option was initially not available to DC Lottery and Idaho Lottery players but is now offered by all 16 States and Jurisdictions that participate.
Hot Lotto

–

Random Number Generator

Whereas the Multi-State Lottery Association uses the more traditional ball-drawing method for Powerball – the main numbers here are drawn using a Random Number Generator (RNG).
Hot Lotto

–

Who Can Play?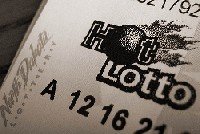 Like most USA Lottery games, previously only citizens living in the States that participate in these MUSL games were allowed to play in any of the lotteries that they offered – including the HotLotto – you used to have to purchase your tickets from an authorized retailer based in one of the participating US States.
Nowadays, though, there are a good number of online lottery ticket sales companies such as TheLotter, WinTrilions and Congalotto who are both authorized and genuine – you are able to select your Hot Lotto numbers online and purchase your tickets from pretty much anywhere in the world.
This is good news of course if you live outside of the USA and want to play the game and ensure your entry into the next drawing or just want to have the convenience and ease of being able to buy lottery tickets online.
You will need to be 18 years of age to be eligible to purchase a ticket for this popular USA Lottery game except in the state of Iowa where you will need to be 21.
Click here to Play HOT LOTTO Now

Hot Lotto

–

Participating States

The following is a list of the current U.S. States that are members of the Multi-State Lottery Association (MUSL) and participate in the Hot Lotto along with the dates that they joined. There are currently 16 members…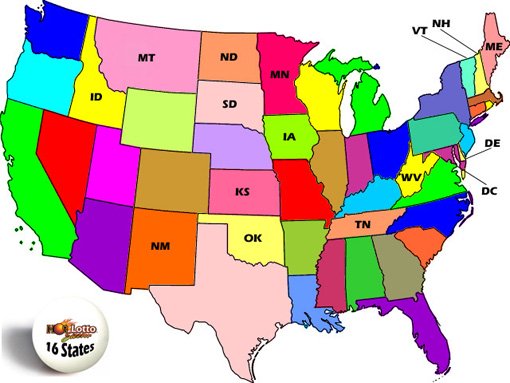 Winning Hot Lotto Numbers



The HotLotto is drawn at 9.59pm Central Time right after the Powerball is drawn every Wednesday and Saturday evening.
Draws for the Multi-State Lottery Association HotLotto game take place in the Iowa HQ of the MUSL which is where the Powerball was drawn until it moved to Florida in 2009.
You can find out the winning HotLotto numbers in numerous ways to see if you have become one of the lucky winners.
The Hot Lotto results will be published in various newspapers throughout the 16 member States and will also be displayed on each of the websites of the participating USA Lottery companies.
You can also check the latest HotLotto Numbers right here at Global Lottery Review where they will be shown after the draw.
Hot Lotto

–

Odds of Winning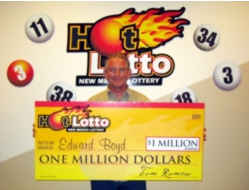 The odds of winning on the Hot Lotto are extremely competitive when compared to many of the US lotteries, especially the other huge Multi State Lottery games of Powerball and Mega Millions.
The chances of you winning the Hot Lotto jackpot prize for correctly matching the 5 main winning lottery numbers plus the Hot Ball are 1 in 29.14 million.
For one of the prizes on the 2nd level, the odds come in at a better 1 in 1.6 million for matching the 5 main numbers.
The likelihood of winning a 3rd tier prize comes in at 1 in 138,785 for matching 4 of the main numbers plus the Hot Ball and for a prize on the 4th tier the winning odds are reduced right down to just 1 in 7,710 for matching just 4 of the main numbers drawn.
5th tier prize odds are 1 in 3,385 for matching 3 of the main numbers plus the Hot Ball with odds for a 6th level prize win dropping down to just 1 in 188 for matching only 3 main numbers.
With so many different ways to win, there are also prizes to be had on levels 7, 8 and 9 – with odds for a 7th tier win being 1 in 254 for matching 2 of the main numbers plus the Hot Ball and the odds of an 8th tier prize coming in at just 1 in 52 for correctly choosing just 1 of the main winning lottery numbers plus the Hot Ball.
Finally the odds of a 9th tier prize are just 1 in 34 for matching just the Hot Ball – yes – you can win by matching only 1 number!
The overall odds of you winning any HotLotto prize are very good at 1 in 17. See below for a full table of Hot Lotto Odds & Prizes...


HOT LOTTO ODDS & PRIZES

Prize Level

Number of Matches

Winnings

Winnings with SIZZLER

Odds of Winning

1

5 Main + HOT Ball

Jackpot

Jackpot

1 in 29,144,841

2

5 Main

$ 30,000

$ 90,000

1 in 1,619,158

3

4 Main + HOT Ball

$ 3,000

$ 9,000

1 in 138,785

4

4 Main

$ 100

$ 300

1 in 7,710

5

3 Main + HOT Ball

$ 100

$ 300

1 in 3,385

6

3 Main

$ 6

$ 18

1 in 188

7

2 Main + HOT Ball

$ 6

$ 18

1 in 254

8

1 Main + HOT Ball

$ 3

$ 9

1 in 52

9

HOT Ball ONLY

$ 2

$ 6

1 in 34

OVERALL odds of winning ANY prize are 1 in 17

Hot Lotto

–

Record Jackpots


John Hall from Indianola, Iowa holds the honour at the present time for winning the largest ever Hot Lotto jackpot to date when he scooped US$ 19.97 Million back on January 13th 2007.

The 2nd biggest HotLotto jackpot to have been won so far has been the US$ 16.69 Million top prize won on August 22nd 2009 by an unnamed lottery player from the State of Delaware.

On July 4th 2007 – Lori Boyle from Independence, Kansas – won what is the 3rd highest jackpot to date of US$ 12.9 Million.

A jackpot of US$ 12.2 Million was won on November 29th 2008 by a Wichita player – also in Kansas – the 4th largest to date. 

Other big HotLotto jackpot wins include the US$ 10.8 Million won on September 15th 2004 in Minnesota – the biggest at the time.


Also – the second highest HotLotto jackpot at the time was won on June 15th 2005 by Shirley and Luverne Vehle from Sioux Falls, South Dakota after it had reached a cool US$ 9.13 Million.

Hot Lotto

–

How Jackpots are Paid


As a Hot Lotto jackpot winner you would be paid your winnings in the form of a cash lump sum. Up until May 11th 2013 an annuity option for jackpot wins was available but this was discontinued from the draw on May 15th.


Depending upon which State you purchase your Hot Lotto ticket in – you will need to claim your prize within a period that ranges from 90 days to 1 year from the date of the draw taking place.

Winning HotLotto tickets bought with the New Mexico Lottery will need to be claimed within a period of 90 days from the draw.


North Dakota Lottery, South Dakota Lottery, Oklahoma Lottery, Idaho Lottery, Tennessee Lottery, West Virginia Lottery and Washington DC Lottery players must redeem their winning tickets within 180 days of the date of the winning draw taking place.


For Montana Lottery players – the time limit for claiming HotLotto prizes is a straight period of 6 months from the date of the draw.

Players with the Delaware Lottery, Iowa Lottery, Kansas Lottery, Maine Lottery, Minnesota Lottery, New Hampshire Lottery and Vermont Lottery have the longest period of up to 365 days from the date of the draw taking place to claim their HotLotto prize.

If you play lottery online however – whatever your win – none of this will not be a concern for you, as your authorized lottery ticket sales company such as WinTrillions will take care of everything.




Click here to PLAY HOTLOTTO NOW

Click here to Check the LATEST HotLotto NUMBERS

Click here to Check PAST HotLotto NUMBERS

Click Here to Read abut the MUSL












© Copyright 2009 - 2020 - Global-Lottery-Review.com All Rights Reserved

<! --- START WORLD LOTTO DROP DOWN BOX ---> <! --- END WORLD LOTTO DROP DOWN BOX --->

<! --- START WORLD LOTTERY RESULTS DROP DOWN BOX ---> <! --- END WORLD LOTTERY RESULTS DROP DOWN BOX --->

QUICK LINKS
<! --- === BUTTON 1 === ---> <! --- === BUTTON 2 === ---> <! --- === BUTTON 3 === ---> <! --- === BUTTON 4 === ---> <! --- === BUTTON 5 === ---> <! --- === BUTTON 6 === ---> <! --- === BUTTON 7 === ---> <! --- === BUTTON 8 === ---> <! --- === BUTTON 9 === ---> <! --- === BUTTON 10 === --->