Jackpot

US$ 7,000,000



Cash 4 Life

–

NY Lottery

The New York State Lottery was one of the earliest pioneers in first offering US State Lottery games – being only the 2nd State to do so back in 1967 – following in the footsteps of the New Hampshire Lottery which had started just 3 years earlier.

      The New York Lottery is such a huge concern that its sales outstrip that of the majority of other US Lottery companies making it one of the largest USA Lottery companies in existence.

      From the ouset – the primary purpose of the New York State Lottery was to raise much needed capital for the State education system and it is towards this area that over US$ 51 Billion has been raised since the NY Lottery first commenced operations.

    The NY Lottery has a wide portfolio of games from which players can choose to play – including in-State New York Lotto, the Multi-State games of Mega Millions and Powerball and the replacement for the now-retired New York Lottery Sweet Million – Cash4Life – which we shall be taking a closer look at here...

New York Lottery Cash4 Life

–

Overview


Cash4Life is one of the latest additions to the New York Lottery range of games – with Cash 4 Life tickets being first put on sale by the NY Lottery on June 13th 2014 and the inaugural draw taking place on June 16th of that year.

 The NY Cash4Life was introduced as a natural follow-on for the Sweet Million Lottery which was retired by the New York Lottery on June 12th 2014.

Cash 4 Life is a Multi State Lottery – initially being offered by both the New York State Lottery alongside the New Jersey Lottery. The Pennsylvania Lottery joined forces in selling Cash4Life tickets on April 7th 2015 followed by the Virginia Lottery on May 3rd and the Tennessee Lottery on November 1st the same year.
On January 26th 2016 the Mayland Lottery came on board with the Georgia Lottery joining on August 29th and last but not least the Indiana Lottery on September 19th of the same year.
So now there are a grand total of 8 separate US State Lottery companies that offer their players the chance to play CASH4LIFE.

Draws for the NY Lottery Cash4Life take place twice every week on both Mondays and Thursdays at 9.00pm EST.

      We are happy to have carried out a thorough review of the Cash4Life New York and would encourage you to see just how it works in comparison to other USA Lottery games by reading on...

New York Lottery Cash4Life

–

How it Works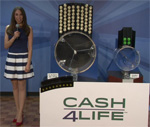 The NY Cash4Life uses a dual matrix of 5/60 and 1 /4 which means that when playing you will need to first choose 5 main numbers out of a range drawn from 1 to 60 and then pick 1 green Cash Ball out of a range from 1 to 4.
Should you correctly select all 5 of the main winning lottery numbers plus the Cash Ball you will be the winner of the Cash 4 Life jackpot which differs from other jackpot lottery games in that it does not rollover if not won but is a fixed amount.

If you are the only jackpot winner you will be paid either a one-off lump sum of US$ 7 MILLION or US$ 7,000 every week for the rest of your life. The 2nd prize is also paid in a similar manner – either as a lump sum of US$ 1 MILLION or US$ 1,000 each week for the rest of your life.

The New York Lottery uses a random number generator to draw all 5 of the main Cash 4 Life numbers plus the Cash Ball.

      You can use the Quick Pick option that is available at all retailers and online agents to select your numbers automatically – this means that the retailer's or agent's computer will choose your numbers automatically using its lottery number picker.
The cost of each play on Cash4Life is US$ 2 and 55% of all lottery ticket sales for the game go towards making up the prize fund.

New York Lottery Cash4 Life

–

Who Can Play?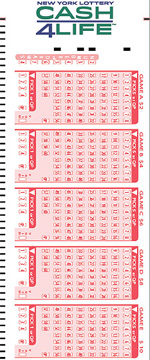 Historically – only US Lottery players were permitted to take part in any of the hundreds of US State Lottery games and Multi State lottery games available – you would have had to buy lottery tickets from a retailer or agent who was actually situated in New York State.

These days it is possible to play Cash4Life from pretty much anywhere in the world no matter where you live due to the presence of online lottery ticket sales companies such as TheLotter.
If you come from outside of New York State and would like to play Cash 4 Life this is very good to know as you can now at any time easily buy lottery tickets online for this and other New York Lottery games swiftly and efficiently.

The New York State Lottery require that all players be a minimum of 18 years of age to participate in any of the New York Lottery games including Cash4Life.

Click Here to PLAY NY Lottery Cash4Life NOW

New York Lottery Cash4Life Results



The New York Lottery carry out the draws for Cash4Life each week on a Monday and Thursday at 9.00pm EST and you can check the NY Lottery results in various different ways to see if you have been fortunate with the winning New York Lottery numbers.
            
  The latest Cash4Life Results will be available on Global Lottery Review after each draw by clicking the link right here – just save the page to return to the latest NY Lottery results at any time.  
You can also watch the Cash4Life draw live by tuning into the livestream on the official NYLottery website – nylottery.ny.gov – where you can check the latest winning Cash 4 Life numbers.

If you would like to see any past NY Lottery Results for Cash4Life – these are also readily available here – simply click
the link and select the date that you wish to check the results for.

New York Lottery Cash4Life

–

Odds of Winning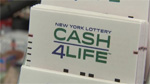 With 9 separate ways of winning a prize on Cash4Life – you will have many different chances of selecting one of the correct winning combinations and securing yourself one of the thousands of prizes on offer twice every week.    
You have a 1 in 21,846,048 chance of winning the top prize / jackpot by successfully matching the 5 main winning numbers plus the Cash Ball. For these winning lottery odds you could be the winner of US$ 7,000 a week for the rest of your life or be a cool US$ 7 Million better off right away by choosing the lump sum option available.

For a 2nd prize of either US$ 1,000 a week for the rest of your life or a US$ 1 Million lump sum you have odds of 1 in 7,282,016 for matching the 5 main Cash4Life winning numbers.

3rd division prizes carry odds of 1 in 79,440 for correctly picking 4 of the main winning lottery numbers plus the Cash Ball whilst prizes on the 4th level for choosing 4 of the main winning numbers have odds of 1 in 26,480.

The odds of you winning a prize on the 5th level are 1 in 1,471 for correctly matching 3 of the main winning lotto numbers plus the Cash Ball with 6th division prizes having odds of 1 in 490 for selecting 3 of the main winning Cash4Life numbers.
7th division prizes can be won with odds of 1 in 83 by choosing 2 of the main winning numbers plus the Cash Ball with prizes on the 8th level offering odds on 1 in 28 for picking just 2 of the main Cash 4 Life winning numbers.
You can even win the lottery by matching only 1 of the main Cash 4 Life numbers plus the Cash Ball – odds for a win on the 9th and final prize category are just 1 in 13. 

NY Lottery Cash4Life

–

How Prizes are Paid

The way this particular New York Lottery is paid differs slightly to that of most US State Lottery games because – as its name implies – it offers you the exciting option of being paid Cash For Life.

For jackpot prizes or 2nd level prizes you have the option of choosing to receive Cash For Life or a one time lump sum payment. You will need to make this important choice within 60 days of claiming your prize.

For all NY Lottery prizes – your ticket will become invalid if you do not make your winning claim within 365 days of the draw date.

Any prize that you have won up to US$ 600 – you will be able to claim from any New York Lottery retailer.

Prizes of anything from US$ 601 and US$ 1/2 Million will need to be claimed at one of the NYLottery Regional Customer Service Centers.

Any prize win of more than US$ 1/2 Million including a Jackpot prize can also be claimed at a NY Lottery Regional Customer Service Center which will then be sent to the Schenectady Prize Payment Unit for payment.

You will not need to be concerned with these points on claiming prizes if you play lottery online, however, as your authorized and genuine lottery ticket sales agent – such as TheLotter – will take care of everything for you and ensure that you are paid promptly.

NY Lottery Cash4Life

–

Where the Money Goes

Nothing has changed since 1966 when 66% of the voting public approved the New York Constitution which agreed that all profits from New York Lottery games would be directed towards funding education within the State of New York.
Today the same applies with 100% of all proceeds generated by the sales of New York State Lottery games – including Cash4Life – being used for the support of education in New York State.
Click Here to PLAY the NY Lottery Cash4Life NOW

Click Here to Check the LATEST Cash4Life RESULTS
Click Here to Read about the NEW YORK LOTTO

Click Here to PLAY the New York Lotto NOW
Click Here to Check the LATEST New York Lotto RESULTS
Click Here to PLAY the New York Powerball NOW