Lottery Tennessee

–

Tennessee Cash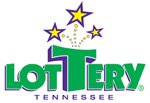 The Tennessee Lottery is a more recent addition to the USA state lottery scene.
It is operated by the Tennessee Education Lottery Council (TELC) – & was formed by the Tennessee General Assembly in June 2003.
Like the name implies – the Tennessee Education Lottery Council is designed to act in the very best of interests for the citizens of the state of Tennessee – the principal aim being to use lottery revenue generated to provide funding towards education in Tennessee.
The Tennessee Lottery is also a valued member of the Multi-State Lottery Association (MUSL) and as such – participates in the US Powerball lottery.
The Tennessee Lottery sold its very first lottery tickets as recently as January 2004 and has roughly 5,000 lottery retailers situated right throughout the State of Tennessee.
There are numerous different games that the TN Lottery offers including Cash 3, Cash 4, Cash4Life, Hot Lotto, Mega Millions, Powerball and there are a number of instant scratch off games.
This State Lotteries' main in-state game is the Tennessee Cash & this is the lotto that we shall be looking at in more detail below…
TN Lottery

–

Tennessee Cash

–

Overview

The Tennessee Lottery introduced the Tennessee Cash game into its lotto portfolio on October 3rd 2010 replacing Tennessee Lotto PLUS.
The Tennessee Cash lotto is a typical draw style, jackpot lottery game that makes use of a two matrix configuration of 5/35 + 1/5.
Tennessee Cash is drawn every week on Monday, Wednesday and Friday evenings with the drawings taking place at 10.30pm Central Time (11.30pm ET) and the Tennessee Lottery results will be displayed on the official Lottery TN website – tnlottery.com – very shortly after the 3 weekly drawings have been conducted.
The jackpot for the Tennessee Cash starts at US$ 200,000 and will rise every time it is not won. The size of the jackpot increase will depend upon how many lottery tickets have been sold and this will then rollover onto the prize fund for the following TN Cash draw.
We would recommend any potential players of the Tennessee Cash Lottery to take a more detailed look at how it works below...
TN Lottery

–

Tennessee Cash

–

How it Works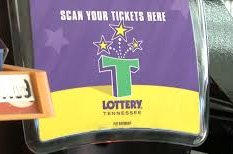 Tennessee Cash uses what is known as a 5/35 + 1/5 matrix – which means that when playing – you need to pick 5 numbers out of a number range from 1 to 35 and then 1 CASH BALL out of a range of numbers from 1 to 5. When you select all 5 of the winning numbers plus the CASH BALL then you shall be a TN Lotto jackpot winner.
As well as the jackpot there are 7 further ways you can win – by matching the 5 main winning numbers without the CASH BALL or 4, 3 or 2 of the main numbers with or without the CASH BALL.
Every time the Tennesee Cash jackpot is not won it will rollover to the next draw. Starting off at US$ 200,000 this will rise in size each draw – up to 3 times per week – until someone correctly matches all 5 of the main winning lottery numbers plus the CASH BALL.
A Quick Pick facility is available when playing Tennessee Lotto games similar to the Lucky Dip that is used with the UK National Lottery or Europe's EuroMillions – which means you can get the computer to randomly select all your Tennessee Lottery numbers.
So – playing the Tenn Lottery Tennessee Cash is simple – just select your own 5 numbers plus the CASH BALL or ask for the retailer or computer to generate them automatically for you.
Each entry into the Tennessee Cash game costs just US$ 1.00.
TN Lotter

y

–

Random Number Generator

Since July 2007 – the Tennessee Lottery has moved away from drawing its lottery numbers in the traditional way – ie. balls rotating in a drum – to now using a Random Number Generator (RNG).
TN Lottery

–

Tennesee Cash

–

Who Can Play?

As with most lotteries in the U.S.A. – in the past only citizens living in the State of Tennessee were allowed to play in any of the TN Lottery games – including the Tennessee Cash and tickets had to be purchased through an authorized lottery ticket retailer or venfor that was situated in Tennessee.
Now however – with the welcome presence of authentic online lottery ticket sales agencies like TheLotter you are able to pick your Tennessee Lottery numbers online and purchase your tickets and it doesn't matter where in the world you live.
This is excellent news if you live outside of Tennessee and the U.S.A. but want to play the Tennessee Cash and guarantee your entry into the draw or simply want the convenience of being able to buy lottery tickets online.
Once you have entered into the Tennessee Cash – draw  you are easily able to check the latest TN Lottery results online to find out if you have become one of the latest lucky TN Lottery winners.
You must be 18 years of age to be eligible to purchase a ticket for any Tennessee State Lottery game including Tennessee Cash.
Some great news here for all USA Lottery players in Tennessee...

The Multi State Lottery Association (MUSL) – who administer the POWERBALL game – and the Mega Millions consortium – who administer the MEGA MILLIONS game – have entered into an historic cross-sales agreement across the USA. All US Lotteries that had previously sold POWERBALL tickets will now ALSO be able to sell MEGA MILLIONS tickets.

This means that with effect from January 31st 2010 – in addition to the existing
POWERBALL – USA Lottery players in Tennessee will now ALSO be able to buy lottery tickets for the MEGA MILLIONS. You can still buy lottery tickets online, of course, from anywhere around the world.
Click Here to PLAY Powerball NOW

Click Here to PLAY Mega Millions NOW
TN Lotto

–

Tennessee Cash

–

Odds of Winning

The odds of winning on the Tennessee Cash are very reasonable when you compare them to many of the USA Lotteries – especially the Multi-State games like Powerball & Mega Millions.
The chances of winning a Tennessee Cash jackpot are 1 in 1,623,160 – for these odds you could be one of the TN Cash jackpot winners by successfully matching the 5 main numbers plus the CASH BALL.
For one of the TN Lottery prizes on the second level – the odds are 1 in 405,790 for selecting just the 5 main winning numbers.
The likelihood of winning a third tier prize comes in at 1 in 10,821 for matching 4 of the main numbers plus the CASH BALL and for a prize on the fourth tier the lottery odds are 1 in 2,705 for correctly selecting 4 of the main winning Tennessee Cash numbers drawn.
For a fifth level prize – the odds are 1 in 373 for selecting 3 of the main winning numbers plus the CASH BALL and a sixth tier prize carries winning odds of 1 in 93 for picking 3 of the main numbers.
Seventh level prize odds are 1 in 40 for choosing 2 of the main winning numbers plus the CASH BALL whilst eighth level odds are 1 in 10 for selecting just 2 of the main winning lotto numbers.
The overall odds of winning a Tennessee Cash prize are 1 in 7.
TN Lottery

–

How Prizes are Paid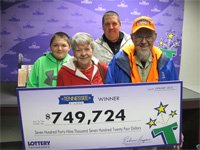 As a jackpot winner – you would have a choice in how you are able to receive your winnings. You could choose to have either a single cash lump sum payment or an annuity prize.
You will need to make the choice as to whether you wish to receive the cash lump sum option or the annuity instalment payments option within 60 days from the date of becoming a jackpot winner.

If you choose to receive your jackpot as an annuity, it would be paid to you by the Tennessee State Lottery in equal yearly instalments over a 30 year period.
In terms of value, if you chose to take the cash lump sum payment as an TN Lottery jackpot winner, you would normally receive approximately 50% of the annuity value that you would be paid in installments. The above information applies to Mega Millions an Powerball jackpot wins.
Claiming Other Prizes...
The rules with any of the Tennessee Lottery darwing games mean that you need to claim your prize within 180 days of the draw taking place.For Instant Tickets the time limit is 90 days.

If you win a TN Lottery prize of any value up to US$ 599.99 – you will be able to claim your lottery winnings in cash at any Tennessee Lottery retailer, Lottery Office or by mail.
For amounts of between US$ 600 to US$ 199,999 – you can claim your prize either at any of the Tennessee State Lottery district offices, at the TN Lottery Headquarters, or by mail.
If you have won any prize of more than US$ 200,000 – you will need to claim your winnings at the Tennessee Lottery Mashville HQ.
A vaild form of ID will also be required to claim any winnings of more than US$ 599.00. This is in order to confirm your name, address and socialsecurity number.

Tax-wise – only Federal income tax is due on winnings – the State of Tennessee does not deduct any taxes from your TNLottery winnings.
If you play lottery online however, whatever your win, this will not be a concern for you, as your accredited lottery ticket sales agency will take care of all this for you, whether it is TheLotter or whichever company you may use.
TN Lottery

–

Where the Money Goes

Most citizens win with the Tennessee State Lottery – especially families and students right across the State.
The Tennessee Lottery Scholarship started in 2004 introducing lottery-funded scholarships and grants which became available to students in Tennessee who were attending public or private colleges or universities within the State.
Lottery monies are put into a special education account by the Tennessee Education Lottery Corporation and the Tennessee Student Assistance Corporation administers all lottery funded grants and scholarships under the HOPE scholarship program.
As well as scholarships, the Tennessee Lottery benefits various pre-kindergarten and after-school programs by providing lottery revenue funding.
Click Here to PLAY Powerball NOW