Current Jackpot

US$ 5,500,000



Indiana Lottery

–

Lotto Indiana


The Hoosier Lotto of Indiana is operated by the State of Indiana and is the only USA lottery that uses its state nickname as its lottery name, as opposed to the actual name of the state itself.
The Indiana State Lottery started when state citizens voted in November 1988 in favor of having a lottery. This was passed into law in May 1989 and the very first Hoosier lottery tickets went on sale on Fri.13th October 1989.
Friday the 13th…
Friday the 13th! They must have been feeling lucky!
The first tickets sold were scratch-off tickets and on that very first day, 8.19 million of them were sold.
Indiana like to offer a good return and so sixty one cents out of every $1.00 spent on its lotteries goes right back to the players.
The Hoosier Lottery offers various different games in its overall portfolio including the Multi-State Powerball of which the state is a member, Daily 3, Daily 4, Lucky 5, Mix and Match, scratch-offs and its primary jackpot lotto game which we will be looking at in more detail here….the Hoosier Lotto.
Hoosier Lotto

–

Overview


The Hoosier Lotto is a traditional lotto style jackpot game and is the main Indiana State lottery game of the week.
The Hoosier Lottery's first lotto style game was Lotto Cash which started in April 1990 with the initial draw taking place on May 5th.
The current Hoosier Lotto replaced Lotto Cash back in September 1994 and is one of the most innovative lotteries in the USA. It is designed to have more winners and large jackpots and to this end it is the only USA Lottery to offer a prize for matching just 2 out of 6 numbers.
The Hoosier Lotto offers five different ways in which to win – 2 or more numbers matched will win you a prize.
The Hoosier Lottery jackpot begins at $1 million and remains at that figure for the first 2 draws before increasing by half a million dollars each time that the top prize is not won.
The Indiana State Lottery makes draws for the Hoosier Lotto twice per week on Wednesday and Saturday evenings at 10.40pm local time and you can check the winning Indiana Lottery numbers on the official website – hoosierlottery.com.
Hoosier Lotto

–

How it Works

The Hoosier Lotto uses what's known as a 6/48 matrix which means that when playing, you need to select 6 numbers from a pool of numbers from 1 to 48 – if you match all 6 numbers drawn then you will be a Hoosier Lotto jackpot winner.
A Quick Pick facility is available when playing Hoosier Lottery games similar to the "Lucky Dip" that is used in the UK National Lottery or Europe's Euromillions – which means that you can get the computer terminal to select all your Indiana Lottery numbers for you if you wish.
Win With Just 2 Numbers!
There are other cash prizes to be won too, if you match either 5 of the numbers drawn, 4 numbers, 3 numbers and the Hoosier Lotto is the only jackpot lotto game in the USA where you can also win by matching just 2 numbers!
So, playing the Indiana State Lottery Hoosier Lotto is simple…just select your own 6 numbers or let the computer generate them automatically for you.
Each entry on the Hoosier Lotto game will cost you just $1.00.
Each time the jackpot is not won, it "rolls over" to the next draw. So…the jackpot will begin at a value of $1 million and each time there is no jackpot winner it will increase by a minimum of $500,000 per "rollover" and this aspect of the Hoosier Lotto results in some very sizeable jackpot figures.
Hoosier Lotto

–

Who Can Play?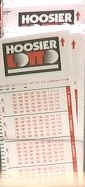 As with nearly all of the USA lottery games, in the past, only citizens living in the State of Indiana were allowed to play in any of the Hoosier Lottery games including the Hoosier Lotto and tickets had to be purchased from an authorized lottery ticket retailer based in Indiana.
Now, however, with the welcome presence of authentic and authorized online lottery ticket sales agencies such as TheLotter you are able to pick your Indiana Lottery numbers online and purchase your tickets and it doesn't matter where in the world you live.
This is excellent news if you live outside of Indiana and the U.S.A. but want to play the Hoosier Lotto and guarantee your entry into the next draw or just simply wish to enjoy the convenience of being able to buy lottery tickets online.
Once you have entered into the HoosierLottery, you are then easily able to check the Hoosier Lottery results online to see how you have done and to find out if you have become one of the lucky Indiana Lotto winners.
You must be 18 years of age to be eligible to purchase a ticket for any of the Indiana State Lottery games including the Hoosier Lotto.
Some great news here for all USA Lottery players in Indiana...

The Multi State Lottery Association (MUSL) – who administer the POWERBALL game – and the Mega Millions consortium – who administer the MEGA MILLIONS game – have entered into an historic cross-sales agreement across the USA. All US Lotteries that previously sold POWERBALL tickets are now ALSO eligible to sell MEGA MILLIONS tickets.

This means that with effect from January 31st 2010 – in addition to the existing
POWERBALL – USA Lottery players in Indiana will now ALSO be able to buy lottery
tickets for the MEGA MILLIONS. You can still buy lottery tickets online, of course,
from anywhere around the world.
Click here to Play the HOOSIER LOTTO Now
Click here to Play POWERBALL Now
Click here to Play MEGA MILLIONS Now
Hoosier Lotto

–

Odds of Winning

The odds of winning on the Hoosier Lottery are very reasonable indeed when compared to many of the US lotteries, especially the Multi-State offerings such as Mega Millions or Powerball.
The chances of winning a Hoosier Lotto jackpot are 1 in 12.27 million – for these odds you could be one of the Hoosier Lotto jackpot winners.
For one of the prizes on the second level, the odds come in at 1 in 46.69 thousand.
The likelihood of winning a third tier prize comes in at 1 in 950 and for a prize on the fourth tier the odds are reduce right down to just 1 in 53.
2 Balls Win Every Time…
The Indiana Lottery - Hoosier Lotto can boast to be the only jackpot lottery in North America to let you win when you match just 2 numbers and the odds for this are an incredible 1 in 7!
Hoosier Lotto

–

Record Jackpots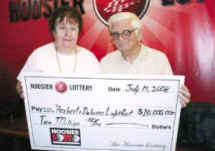 The largest jackpot ever won with Lotto Indiana on the Hoosier Lotto was drawn on November 7th 2007. A whopping $54.5 million was collected by Peter Gilbert of East Chicago and he elected to take the cash option instead of the 30 year annuity.
The previous Hoosier Lotto jackpot record was set in June 1999 and was $42 million.
In July 1998 the largest USA lottery jackpot to date was won by 13 Ohio machine shop workers who had bought an Indiana Powerball lottery ticket in Richmond, Indiana. The record win was $295.7 million.
An overall amount of $65 million was won in 2006 by seven Hoosier Lottery jackpot winners.
Another Indiana Power Ball record was created in August 2007 when approximately $314 million came out of yet another win from Richmond, Indiana.
Indiana Powerball lottery winners actually outnumber those from any other US state with 39 in total as at January 2009.
Hoosier Lotto

–

How Prizes are Paid

As a Hoosier Lottery jackpot winner, you would have a choice in how you are able to receive your winnings. You could choose to have either a single cash lump sum payment or an annuity prize.
You will need to make the choice as to whether you wish to receive the cash lump sum option or the annuity instalment payments option within 60 days of your winning draw being made.
If you choose to receive your jackpot as an annuity, it would be paid to you by the Indiana Lottery in equal yearly instalments over a 30 year period.
In terms of value, if you chose to take the cash lump sum payment as an Indiana Lotto jackpot winner, you would normally receive approximately 50% of the annuity value that you would be paid in installments.
The rules with any of the Indiana State Lottery games mean that you need to claim your prize within 180 days of the draw taking place.
If you win a prize of any value up to $599, you will be able to claim your lottery winnings in cash at the majority of Hoosier Lottery retailers.
For winnings of $600 to $50,000 you can claim your prize either at any of the Indiana State Lottery regional offices or the Indiana State Lottery Headquarters.
If you have won any prize of over $50,000, again you will need to claim your winnings at the Indiana Lotto Headquarters.
Of course, if you play lottery online you will not have to be concerned with any of the above information as your lottery ticket sales company such as TheLotter or any other acrredited agent that you use will take care of all this for you.
Hoosier Lottery

–

Where the Money Goes

Since the IN Lottery began in 1989, it has provided in excess of $3.4 billion to the state of Indiana for various organizations including the Police and Fire Pension Relief Fund, Build Indiana Fund and the Teacher's Retirement Fund.
Click here to PLAY the Hoosier Lotto NOW