Current Jackpot 383,000,000 Ft

Lotto Hungary

–

Lotto.hu

The history of Hungary Lottery games goes as far back as 1770 when the first Hungarian Lotto draw took place in the city of Buda.

In more recent times the National Savings Bank – Országos Takarékpénztár – was in charge of organising and running traditional Hungary Lotto games and pools.

Today – the company responsible for the administration and overseeing of all Lottery Hungary games is Szerencsejatek –
which literally translates into English as meaning 'gambling'.

Szerencsejáték was first formed by the government in 1991 to look after the interests of all Lotto.hu games and this State owned company is the biggest provider of gaming services in Hungary.

Almost two thirds of the entire adult population of Hungary take part in the Hungarian National Lottery games that are offered by Szerencsejáték through its 3600 or more retail outlets plus online lottery ticket sales which were introduced in November 1998.

The portfolio of lotto games provided by Szerencsejatek includes the EuroJackpot, Hatoslottó – lottó 6 – Skandináv lottó, Joker, Keno, Luxor, Puttó, Sorsjegy, Toto, Tippmix and GolToto plus its most popular game of Ötöslottó – lottó 5 – which we shall be looking at in more detail here...

Szerencsejatek Otoslotto

–

Overview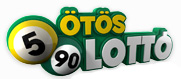 The Ötöslottó – otherwise known as the lottó 5 – is by far the most widely played out of all Lotto Hungary games offered by Szerencsejáték having first been introduced back on March 7th 1957 and is still as popular today.

The flagship OtosLotto game from Szerencsejatek is drawn once every week on a Saturday between 6.30pm and 7.30pm Budapest time and is notable for the fact that not only will its jackpot rollover when there are no winners but also the 2nd 3rd and 4th prizes.

An important game change was made to the Ötös lottó back on November 6th 1993 when the Joker option was introduced giving players even more chances of winning some of the great prizes.

We have studied the Ötöslottó in great detail and hope you get as much pleasure in reading about how it works as we have in writing about it...

Szerencsejáték Ötöslottó

–

How it Works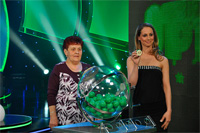 The Ötöslottó uses a single matrix of 5/90 which means that 5 winning lotto numbers are drawn each week out of a total range of numbers from 1 to 90.

Therefore when you play Otoslotto you will need to select your 5 numbers out of that number range from 1 to 90. If you correctly match all 5 of the numbers drawn you will be the winner of an Ötöslottó jackpot.
          
The Ötös lottó jackpot starts off at 60,000,000 Ft and will rollover – increasing in size each time it is not won until a winner is produced. These top prize accumulation rollovers can carry on for up to 1 year at which time the jackpot prize money will then roll down to the lower prize levels if there is still no winner.

An unusual aspect of the Otos Lotto game is that in addition to the jackpot – the prizes on levels 2, 3 and 4 will also rollover and increase in size in line with the top prize.

You can choose to have your numbers selected for you when you play the Szerencsejáték Ötöslottó – simply request that the
computer or retailer uses their random number generator to automatically select your lottery numbers for you.

Ötöslottó Joker


When you play Otos Lotto – you also have the option of playing with the Joker add-on which means that your chances of winning a prize on this lottó 5 game from Szerencsejáték are that much greater.

Following the main draw – the Ötöslottó Joker numbers are drawn which make up a 6 figure number drawn out of a range of numbers from 0 to 9.

You will win on the Otoslotto Joker if you successfully match the last 2, 3, 4, 5 or all 6 of the Joker numbers drawn.

To play Ötöslottó with the Joker all you need to do is mark the 'Joker' box on the Otoslotto playslip.

The cost of playing Ötös Lottó is 225 Ft for a basic game and an extra 200 Ft to include the Joker facility.
Szerencsejatek Otoslotto

–

Who Can Play?

In previous years – you would have needed to be living in Hungary to be able to take part in any of the games offered by Szerencsejáték – Hungary Lotto tickets could only be purchased from a local retail outlet situated within the country of Hungary.

These days this is no barrier to you playing as online lottery ticket sales companies such as TheLotter – which is both legitimate and fully authorised – offer lotto ticket purchasing services allowing you to play Ötöslottó from almost anywhere in the world.

This is incredibly useful if you are living outside of Hungary and wish to participate in Szerencsejatek games – including the Otoslotto – or simply want to enjoy the convenience of being able to buy lottery tickets online.

All players will need to be a minimum of 18 years of age before they can purchase any tickets for the Szerencsejáték Ötöslottó.

Click Here to PLAY Ötöslottó NOW

Otos Lotto Results

–

Ötöslottó nyerőszámok

The Ötöslottó is drawn by Szerencsejáték throughout the year every Saturday between 6.30pm and 7.30pm Budapest time and you can find the Otoslotto Results – Ötöslottó nyerőszámok – in numerous ways to find out if you are a winning ticket holder.

The latest Ötöslottó Results will be available to see at all Szerencsejáték retail sales outlets plus they will be published
in the SzerencseMix newspaper and various other national newspapers across Hungary.

The Ötöslottó nyerőszámai – Otoslotto Winning Numbers – can also be found on Teletext page 871 and on the official website of Szerencsejáték – szerencsejáték.hu – where they will be published directly after each draw has taken place.

In addition to this you are welcome to return to Global Lottery Review at any time to check the latest Ötöslottó Results as well as any past Otoslotto Results – Ötöslottó eddigi nyerőszámai.

Szerencsejáték Ötöslottó

–

Odds of Winning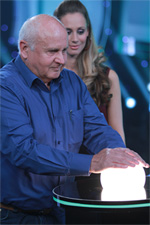 There are a total of 4 winning prize divisions on the Ötöslottó which means that there are thousands of prizes to be won every week. You can even win the lottery by selecting just 2 of the winning lottery numbers drawn.

The lottery odds of you winning an Ötös Lottó jackpot are 1 in 43,949,268 for correctly choosing all 5 of the winning lotto numbers.

For one of the 2nd prizes – the chances of you winning on the Otoslotto increase dramatically to 1 in 103,410 for successfully picking 4 out of the 5 winning numbers drawn.

To win one of the prizes on the 3rd level – you have winning odds of 1 in 1,231 for picking 3 out of the 5 winning numbers.

If you only choose 2 out of the 5 winning numbers you will still win a prize on level 4 – which offers winning odds of just 1 in 44.

The overall chances of you winning something on the Ötös Lottó are 1 in 43.

Szerencsejatek Otoslotto

–

Record Jackpots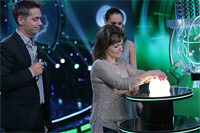 The biggest jackpot to have been won on the Ötöslottó to date has been a huge 6,431,516,010 Ft which was won by a very lucky single ticket holder on the draw of March 28th 2020.

The 2nd biggest Otoslotto jackpot won so far has been the massive amount of 5,092,890,758 Ft won by a lucky single ticket holder way back in the cdraw on November 29th 2003.

The 3rd biggest Otos Lotto jackpot won to date has been a massive 3,348,134,835 Ft on January 15th 2022.

The 4th highest Ötös lottó jackpot won so far has been the huge 3,177,138,790 Ft which was won on July 3rd 2010.

There have also been 2 other big wins of more than 3 BILLION Ft – the 3,087,029,290 Ft win of September 21st 2013 and the 3,054,187,380 Ft which was won on March 15th 2014.

In addition to these colossal Otoslotto jackpot wins – at the time of writing there have also been 7 other jackpot prize wins of more than 2 BILLION Ft plus 11 wins of more than 1 BILLION Ft.

Szerencsejáték Ötöslottó

–

How Prizes are Paid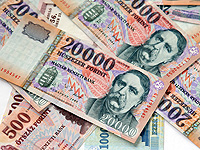 Should you become the lucky winner of an Ötöslottó jackpot – you will be paid your winnings by Szerencsejatek in the form of a cash lump sum. All prizes won are paid as cash into the winners' Hungarian based bank account.

You will need to make your lottery winning claim within 90 days of the draw taking place before your Szerencsejáték lottery ticket will become invalidated.

 If you have had any win on the OtosLotto up to 200,000 Ft – you will be able to claim your prize at all Szerencsejáték points of sale.

For wins of between 200,000 and 5,000,000 Ft – you will need to submit a request to Szerencsejáték or to your nearest lottery sales location with your prize claim submission along with proof of your identity and verification of your permanent address.

You will be required to telephone Szerencsejáték on number 06-30-511-64-44 to claim your winnings if you have won any prize amount between 5,000,001 Ft to 40,000,000 Ft.

If you have been lucky enough to win more than 40,000,000 Ft on the Otoslotto – you will need to telephone Szerencsejáték on number 06-20-933-06-30 to make your winning prize claim.
        
You will not need to be concerened with these prize claiming criteria if you play lottery online with one of the genuine and accredited lottery ticket sales organisations such as TheLotter as one of their primary tasks is to ensure that your winnings are paid out to you quickly wherever in the world you may live.

Szerencsejatek Ötöslottó – Where the Money Goes



Proceeds from the sales of all lottery tickets that have been sold by Szerencsejáték – including the Ötös lottó – will go towards
helping Hungarian society primarily in the areas of social welfare and cultural activities. 

Particular areas to have benefitted from lottery revenue generated by Szerencsejáték include the National Health System, schools – which have been the grateful recipients of new IT equipment – plus the important fields of cancer research and child health.

The Hungarian sporting arena has also benefitted greatly from Lotto Hungary profits – with financial aid being directed towards sports and leisure, supporting new generations of sportsmen and women plus contributing to the Hungarian Olympic movement. 
Click Here to PLAY Ötöslottó NOW