Current Jackpot 424,000,000 Ft
Lotto.hu

–

Hatoslottó

 The earliest records of a Lottery in Hungary occur way back in 1763 with the first truly Hungarian Lottery being held in the former capital city of Buda in 1770. The Hungarian Royal Lottery Board was then created in 1868.

1947 saw Lotto Hungary introduce the Pools whilst in 1957 the Ötöslottó – Lottó 5 – was launched as a brand new Hungarian Lottery game and is still one of the most widely played lotteries across the whole of Hungary all these years later.

During the post world war 2 years the OTP Országos Takarék Pénztár – National Savings Bank – looked after the interests of all Lotto Hungary games until 1991 when Szerencsejatek was formed to be the administrator of the Hungarian National Lottery.

Szerencsejáték zrt is wholly owned by the Hungarian State and is entirely responsible for the creation and administration of all current games of Hungarian Lottery.

There are a wide variety of games offered by Szerencsejáték including the multi-national EuroJackpot, and the national games of Ötöslottó – Lottó 5 – Joker, Keno, Puttó, Luxor, Tippmix, Skandináv Lottó, Sorsjegy, Toto, GolToto plus the game of Lottó 6 – Hatos Lottó – that we concentrate on in this section...

Szerencsejáték Hatos Lottó

–

Overview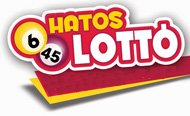 The inaugural Hatos Lottó draw took place on October 29th 1988 with the first tickets being sold on October 7th. The game is also known as the Lottó 6 and – alongside the Ötöslottó – is the most popular Hungary Lotto available.

The Hatos Lotto was initially drawn with a dual matrix of 6/45 + 1 – using a Bonus number to determine prizes on the 2nd level for those who matched 5 winning numbers plus the Bonus number.

This changed in July 2007 when Szerencsejatek removed the Bonus number giving Hatos Lottó the format that it has today.
     
Szerencsejáték make the draw for the Hatoslotto once each week on a Sunday between 3.50pm and 4.15pm Budapest time.
     
November 1993 saw Szerencsejáték incorporate a Joker option to run alongside the Hatos Lotto. This provides many more opportunities to win prizes when playing the Hatoslotto.

Having looked at the Hungarian Hatos Lottó in depth here – we hope you may find it useful to read on and find out all about the game and how it operates...

Szerencsejatek Hatos Lotto

–

How it Works

The Hatos Lottó is drawn using a single lottery matrix of 6/45 – meaning that out of a number range of 1 to 45 – 6 winning lotto numbers will be chosen.

So – when you are playing Hatos Lotto – you will first need to make your own choice of 6 numbers out of that range of numbers from 1 to 45 and you will win the Hatoslotto jackpot if you successfully choose all 6 of the winning numbers drawn.

The Hatos Lottó jackpot commences at 60,000,000 Ft and grows in size for every draw that there is not a top prize winner. This rollover will make the jackpot prize rise for up to 1 year until such time as a winner has been produced.

If after 1 year of rollover draws a Hatos Lotto jackpot winner has still not been created – the top prize fund will then rolldown and be paid out amongst the next winning prize divisions.

When you play Hatos Lotto you can either pick lottery numbers yourself or use the Quick Pick/Lucky Dip option and have them
automatically chosen for you – just ask the computer or retailer to use their random number generator to do this on your behalf.

Hatos Lottó Joker




 You also have the opportunity to use the Joker when playing Hatoslotto. This will provide you with even more chances of winning some of the great lottery prizes that are available.

The Hatoslottó Joker – which is drawn after the Hatos Lottó – is a number made up of 6 digits picked from a number range of 0 to 9.

To win on the Hatos Lottó Joker – your chosen Joker numbers will need to correctly correspond with any of the last 2, 3, 4, 5 or all 6 of the Joker numbers that have been drawn.
   
Just tick the box marked 'Joker' on the slip if you would like to play Hatos Lottó with the Hatos Lottó Joker additional game.

It costs just 225 Ft to play a standard game of Hatos Lotto and for the add-on game of Joker – the cost is just an extra 200 Ft.

Szerencsejáték Hatos Lottó

–

Who Can Play?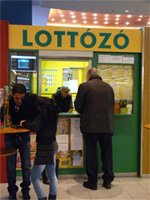 In the past – to play any Hungary Lottery games including the Hatos Lottó – players had to be resident in Hungary itself to be eligible to buy Szerencsejáték lottery tickets.

Today – you can play Hatos Lotto from pretty much anywhere across the world through online lottery ticket sales organisations like TheLotter – who are licensed, certified and authorised to offer a worldwide lottery ticket purchasing service making things easier for players from abroad.

This is great news of course if you do not live in Hungary but would still like to take part in the games offered by Szerencsejatek or would just like to buy lottery tickets online conveniently in your own time and from the comfort of your own home.

You must be at least 18 years old before you can buy lottery tickets for any Szerencsejáték game including the Hatos Lotto.

Click Here to PLAY Hatos Lotto NOW

Hatos Lotto Results

–

Hatoslottó nyerőszámok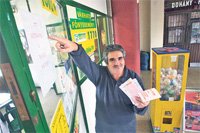 Szerencsejáték make the draw for the Hatos Lottó each week on Sundays between 3.50pm & 4.15pm Budapest time and there are plenty of methods you can use to see the Hatoslotto Results – Hatos Lottó nyerőszámai.
To begin with you can find the latest Hatos Lottó Results at any of the Szerencsejáték points of sale throughout Hungary and in national newspapers – including SzerencseMix – who will publish them after each draw.
The Hatos Lotto winning numbers – Hatos Lottó nyerőszámok – will also be displayed promptly on the official Szerencsejáték website – szerencsejáték.hu – shortly after the drawing plus they will be shown on page 871 of Teletext and broadcast live on the television station RTL Klub.

If you would like to check up on any past Hatos Lotto Results – Hatoslottó eddigi nyerőszámai – you can do this by returning to Global Lottery review at your leisure where you will find them alongside the latest Hatos Lottó Results. At any time just select the date of the particular results that you are looking to find.

Szerencsejáték Hatos Lottó

–

Odds of Winning

With 4 separate prize winning levels on the Hatos Lottó – you have a great chance of winning something – even more so when you are playing Lottó 6 with the Hatoslottó Joker option.

To win the Hatos Lotto jackpot – your odds of winning are 1 in 8,145,060 for successfully guessing all 6 of the lottery winning numbers drawn.

The odds of you winning a 2nd prize come right down to a much better 1 in 34,808 for selecting 5 out of the 6 winning numbers.

Prizes in the 3rd division carry odds of 1 in 733 for which you will need to correctly choose 4 out of the 6 winning lottery numbers.

The 4th and final prize category has odds of 1 in 45 for picking just 3 out of the 6 winning numbers and the overall odds of you winning any of the prizes on the Hatos Lottó are just 1 in 42.

Szerencsejatek Hatos Lotto

–

Record Jackpots

To date – the Hatoslotto jackpot record has been 2,958,307,350 Ft which was won by the holder of a single lottery ticket on September 21st 2008 with winning numbers 11, 18, 26, 42, 43, 45. This prize of nearly 3 BILLION Ft is the highest Hatoslotto prize won so far.

The 2nd biggest prize to have been won to date on the Hatos Lottó was the 1,491,506,710 Ft jackpot win on May 20th 2012. The winning numbers on this occasion were 1, 20, 29, 34, 36, 43 and again it was a single ticket holder who found themselves almost 1.5 BILLION Ft better off – a life changing event.

The 3rd highest Hatoslottó jackpot to have been claimed so far has been the August 4th 2013 win of 1,267,435,670 Ft – another top prize that was paid out to the holder of a single lottery ticket.

Szerencsejáték Hatos Lottó

–

How Prizes are Paid

Any prizes you win on the Hatoslottó – including the main prize jackpot – Szerencsejáték will pay out to you as cash into a Hungarian bank account.

If you do not make the claim for your winnings within a period of 90 days following the draw – your winning ticket will be deemed invalid.
Any prize you have won which is up to 200,000 Ft can be claimed from all of the 3,600 Szerencsejatek retailers located in Hungary.

If you have won any prize from 200,000 Ft to 5,000,000 Ft – you will have to make your winning claim to your nearest lottery sales location or directly to Szerencsejáték zrt. You will also need to provide confirmation of both your identity and your address.
           
For any big win you have had from 5,000,001 Ft to 40,000,000 Ft – you will need to call Szerencsejatek on their telephone number 06-30-511-64-44 to make your winning claim.

Should you have won any amount in excess of 40,000,000 Ft – the telephone number you will have to call Szerencsejatek on is 
06-20-933-06-30 to notify them of your claim for a very large prize.
These precedures for making a winning prize claim will not be an issue, however, if you play lottery online with a reputable lotto ticket sales company like TheLotter – because their main function is to see that you will receive your winnings smoothly and speedily in whatever part of the world you may be situated.

Szerencsejatek Hatos Lotto

–

Where the Money Goes

Many areas of life in Hungary benefit throughout each year from money generated by the sales of Szerencsejáték lottery tickets.

Cultural activities and social well-being are two of the principal aspects of Hungarian society to receive regular funding out of the lottery profits raised by Szerencsejáték and Lotto.hu.

Among these are schools – who have been purchased new IT equipment – along with research into cancer, support of the sports and leisure industry, the National Health System in general plus funding of the Hungarian Olympic Movement.
Click Here to PLAY Hatos Lottó NOW

Click Here to Check the LATEST Hatos Lotto RESULTS