Resultado Quina

–

Resultado da Quina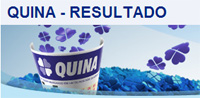 For 6 days every week – from Monday right through to Saturday – Caixa Economica conduct the draws of the Quina Loteria at 8.00pm Brasilia time.

There are plenty of separate ways in which you can discover the latest Resultado Quina – Quina Results – to find out of you are one of the successful prizewinners.

The Resultado da Quina will be published in certain newspapers and broadcast on various radio stations throughout Brazil as well as being shown on Network TV across the country.

Very soon after the draw has taken place the Caixa website – www.caxia.gov.br – will also display the latest Resultados Quina and you can return to Global Lottery Review at your own leisure to see the Resultados da Quina in addition to the Resultado da Mega Sena and Resultado da Dupla Sena.

Quina Loteria Brasil

–

Odds of Winning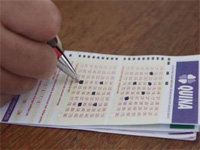 With the 3 prize divisions from which you can win on Loteria Quina and 6 draws per week there are certainly many thousands of prizes you can win every time that you participate.

By playing with the standard 5 numbers – your odds of winning a Quina Loteria jackpot by matching all 5 winning numbers are 1 in 24,040,016. For selecting 4 of the winning lotto numbers and a prize on the 2nd division you have odds of 1 in 64,106 whilst a 3rd level prize for picking just 3 of the winning numbers carrys odds of 1 in 866.

If you play Quina using 6 numbers – you can better your chances with jackpot odds of 1 in 4,006,669, then 2nd division prize odds being 1 in 21,657 and 3rd level prize odds of 1 in 445.

Playing the Loteria Quina with the maximum of 7 numbers increases your winnning odds further to 1,144,762 for a jackpot prize, 1 in 9,409 for a prize on the 2nd tier and for a prize on the 3rd level just 1 in 261.

Quina Loteria Brasil

–

Record Jackpots

 The biggest Quina jackpot so far has been R 32,686,894.02 which was won September 4th 2019 by 1 single winning ticket.
The 2nd biggest jackpot won on the Quina Loteria so far has been the R$ 18,669,331.02 which was won on August 14th 2021.

The 3rd largest Quina jackpot win to date has been the huge sum of R$ 17,546,418.05 which was won on March 29th 2019.

The 4th biggest Loteria Quina jackpot so far has been the huge R$ 14,956,974.60 which was won by a single ticket holder on June 24th 2014.
The 5th largest Loteria Quina jackpot won so far has been the R$ 14,562,702.24 top prize which was won and shared by two winning tickets in the draw on Wednessay May 17th 2017.
The 6th largest Quina jackpot that has been won so far has been a top prize of R$ 14,446,927.13 which was won by a lucky single winning ticket holder on February 9th 2015.
The Quina de São João special draw held on June 24th 2014 which was carried out in Campina Grande, Paraiba, made 7 lucky Loteria Brasil players R$ 14,956,974.60 richer when they spit a jackpot of R$ 104,698,822.20 – the biggest produced so far.

The Quina de São João special draw held on June 24th 2013 which was carried out in Campina Grande, Paraiba, produced a massive jackpot of R$ 97,576,210.35 that was shared equally between 15 lucky Brazil Lottery winners who each received a fantastic R$ 6,505,080.69.

Quina Loteria Brasil

–

How Prizes are Paid

If you have been fortunate enough to have won a Quina Loteria jackpot – your winnings will be paid to you as a cash lump sum.

A 90 day expiry rule applies to all winning lottery tickets purchased for Loteria Brasil games. This means that you will need to claim your winnings within 90 days of the draw date before your ticket becomes invalid and your prize will be awarded by the national treasury to the Fund Student Financing of Higher Education.

Any prize that you have won on the Caixa Quina up to the value of R$ 1,787.77 can be claimed from any Caixa Loterias shop or at one of the Caixa Federal agencies.   

All Loteria Brasil prizes of more than R$ 1,787.77 can only be claimed at one of the Caixa Federal agencies.   

If you have won a prize of R$ 10,000.00 or more – you will be paid after 2 days of presenting your winning ticket at one of
 the Caixa Economica Federal agencies.

None of these criteria will concern you if you play lottery with an authorized and lawful online lotto ticket sales company such as TheLotter as their job is to ensure that you are paid swiftly, correctly and without any complications.

Quina Loteria Brasil

–

Where the Money Goes

 Caixa Economica prides itself on supporting worthwile causes throughout Brazil and – prize money aside – this is exactly where profits go from the sale of tickets of Loteria Brasil games. 

Education, sports, the arts, safety and culture are all areas that benefit from lottery spend in Brazil so even when you don't win – you can be sure that the money you have spent on your lottery ticket will most definitely be benefitting Brazilian society.  
Click Here to PLAY Loteria Quina NOW