Current Jackpot R$ 7,500,000
Loteria Brasil

–

MegaSena


MegaSena – the largest game offered in the Brazilian Lottery portfolio – is administered and run by the Caixa Economica Federal bank.
Caixa have been in control of the Federal Lottery games in Brazil since 1961 and their aims are not only to stimulate dreams of a better life and wealth but also to raise substantial sums of money to enhance the quality of life in Brazil in particular areas such as education and development.
There are numerous Brazilian Lottery games offered by Caixa Economica Federal bank including Dupla Sena, Loteria Quina,  Lotogol, Lotofacil, Loteca, Loteria Federal, Lotomania, Timemania, Loteria Instantanea, Mega Sena da Virada and the flagship Brazilian Lottery that we will be looking at more closely here – the twice weekly jackpot game – Mega-Sena…
Mega Sena

Loteria –

Overview


The Brazilian Lottery – Mega-Sena – is a national institution in Brazil and is by far the most popular lotto game in the country and was first launched by Caixa Economica Loterias back in March 1996.
In fact – this Brazil Lotto is so huge and well known that it is also very popular among players from outside Brazil – with many lottery players worldwide also playing the Mega Sena.
MegaSena lottery draws take place on Wednesdays and Saturdays at 8pm Brazilian time giving you two chances each week to participate in one of the largest lotteries in the world.
The Mega-Sena uses a slightly unusual lottery matrix of 6/60 which spans a much wider range of numbers than most National Lottery games and has a lower number of prize divisions available but as a result of this offers larger prizes than normal to be won.
Mega Sena Loteria

–

How It Works

Until December 26th 2009 the Brazilian Lottery – Mega-Sena – was drawn slightly differently to most world lottery games with 2 spinning, spherical cages being used for producing 6 different two-digit numbers from 01 to 60.
Firstly – a ball was drawn from Cage 1 with numbers from 0 to 5 and then a ball was drawn from Cage 2 with numbers from 0 to 9.
The number drawn from Cage 1 was used as the 1st digit and then the number drawn from Cage 2 was used as the 2nd digit.
If the number 00 was produced – this was replaced by the number 60 for the draw.
With effect from December 31st 2009 – the draw procedure was simplified with the present-day use of just 1 drum now containing all of the lottery balls numbered from 01 to 60.
You need to pick 6 numbers out of the range of numbers drawn from 1 to 60 and if you match all 6 of the winning numbers you will be the winner of a Mega-Sena jackpot prize.
The MegaSena jackpot starts off at R$ 3 Million and each time it is not won it will rollover increasing in size each time until a winner is produced.
There are 2 further prize levels in which you can win by correctly matching either 5 or 4 of the winning lottery numbers.
As there are only 3 prize divisions – this means that the prizes to be won are normally quite large which encourages not only people in Brazil to play MegaSena but many from around the world.
You can choose your numbers yourself or use the Surpresinha – random number generator – option available to have your numbers selected for you automatically. This is exactly the same as the Quick Pick used in USA Lottery games or the Lucky Dip as used in both the UK National Lottery and EuroMillions.

Mega Sena Loteria

–

Who Can Play?

The same as with most lotteries worldwide – in the past only people living in Brazil itself were allowed to play in any of the Brazilian Lottery games including the Mega-Sena. You used to have to purchase your Mega-Sena tickets from an authorized retailer based in Brazil.
Today though – this is not a problem as there are a good number of online lottery ticket sales companies available such as TheLotter or WinTrillions who are both authorized and genuine – you are able to select your Mega-Sena numbers online and purchase your tickets from almost anywhere in the world.
This is good news of course if you live outside of Brazil and want to play the MegaSena Lottery and ensure your entry into the next draw or simply want to have the convenience and ease of being able to buy lottery tickets online.
You will need to be 18 years of age to be eligible to purchase a ticket for any of the Brazilian Lottery games including Mega-Sena.
Click here to PLAY the Brazil Mega Sena Loteria NOW

Mega Sena Result

–

Resultado Mega Sena

The Mega-Sena is drawn by Caixa Economica Loteria twice every week on a Wednesday and Saturday at 8.00pm.
There are numerous ways you can easily find out the very latest Mega Sena Result – Resultado Mega Sena – to see if you have become one of the lucky winners.
The latest Resultado MegaSena will be published in various newspapers across Brazil and is broadcast on certain radio stations as in addition to being shown live on Rede TV at 8.25pm on draw days.
The Resultado da Mega Sena will also be displayed on the official website of Loteria Brasil – www.caixa.gov.br – and you are welcome to come back to Global Lottery Review at any time to check the very latest Resultados da Mega Sena.
The latest resultado Dupla Sena and resultado Quina will also be available from any of the above mentioned sources.

Mega Sena Loteria

–

Odds of Winning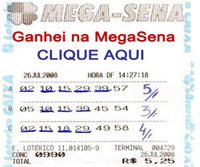 Due to the Mega-Sena being such a huge lottery and with a total of only three prize divisions in which you are able to win – the odds of winning may seem a little longer than in most lottery games – but be assured that the prizes are sure to be larger than usual.
The chances of you winning a Mega-Sena jackpot by matching all 6 of the winning lottery numbers are 1 in 50.06 million – for these odds you could be one of the Brazil Mega-Sena top prize winners.
For one of the prizes in the second division – the odds come right down to 1 in 154,518 for matching 5 of the numbers drawn.
For a chance of winning a third division prize – you are looking at odds of 1 in 2,332 for matching 4 of the winning lotto numbers.
The overall odds of you winning a Mega-Sena prize are approximately 1 in 2,298.
Mega Sena Loteria

–

Record Jackpots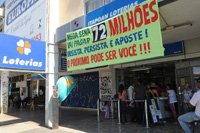 The biggest jackpot to have been produced by the Mega-Sena to date has been a massive R$ 289 MILLION in May 2019.
The 2nd biggest Mega Sena jackpot to be won so far has been the huge R$ 189.38 MILLION won on March 19th 2022 and was shared between 2 lucky winners.

The 3rd highest Mega Sena jackpot won to date has been the huge R$ 135.31 MILLION won on November 22nd 2014 by 2 winners from Cianorte and Rio.

The 4th biggest jackpot so far has been R$ 119.14 MILLION which was won on October 6th 2010 by a lucky player with a single MegaSena ticket in Fontoura Xavier.
The 5th biggest Mega Sena jackpot to have been won so far has been RS$ 104,545,829.37 from the draw on February 17th 2018.
The 6th highest MegaSena jackpot won to date has been the huge R$ 101,484,527.44 which was won on April 26th 2017.

The 7th largest Mega-Sena jackpot won so far has been a massive R$ 85 MILLION which was won on September 4th 2010.
The 8th biggest Mega-Sena jackpot to date occured in 1999 when a winner from Salvador (BA) won a huge R$ 64.9 MILLION.
Other big Mega-Sena jackpot wins include the R$ 53.1 MILLION won in July 2008 which was shared equally between 2 winners plus the January 2007 win of R$ 52.8 MILLION and the first draw of the year in 2009 which saw a jackpot win of R$ 45 MILLION.
Even these jackpot figures do not compare with the mighty end-of-year Mega Sena da Virada draw which is held every December 31st. The biggest ever jackpot to date on the Mega da Virada has been an astonishing R$ 306 MILLION which was won on December 31st 2017.
Mega Sena Loteria

–

How Prizes are Paid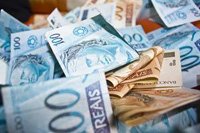 If you are the lucky winner of a MegaSena jackpot – you will be paid your winnings in the form of a cash lump sum. All Brazilian Lottery prizes are paid out as tax free cash prizes.
You will need to claim any MegeSena prize – including the jackpot if you are a winner – by presenting your ticket within a period of 90 days of the draw taking place before your win will become invalidated and your winnings will be added to the monies to be distributed amongst good causes.
If you have won any prize up to R$ 1,787.77 – you will be able to claim your prize at any Brazilian Lottery house or at one of the Caixa Economica Federal Bank agencies.
If you have won more than R$ 1,787.77 on the Loteria Brasil Mega-Sena – you will need to claim your prize at one of the Caixa Econômica Federal Bank agencies.
Any prize greater than R$ 10,000.00 that you have won will be paid to you following 2 days of you having presented your ticket at a Caixa Economica Federal agency.
Of course – if you have purchased your MegaSena lottery tickets from an authorized online ticket sales agent like TheLotter or WinTrillions all these details will be taken care of for you so you will not have to worry when you play lottery online with them.
Mega Sena Loteria

–

Where the Money Goes

46% of all monies spent on Loteria Brasil games is returned by Caixa Economica directly back to players in the form of prizes.

The MegaSena also provides much needed funding to enhance the quality of various aspects of life across Brazil and this is where the remaining 54% of lottery proceeds goes – less costs.
Revenue generated by the Brazilian Lottery is held by the National Treasury and from there it is invested into areas such as programs for education and social development, sport promotion and elementary education.
Some of the many areas to benefit from Brazil Lottery funding include grants for food aid and gas, grants for families with the view to the elimination of child labor in addition to monetary assistance for families suffering from extreme poverty.
Other recipients of funding from Brazil Lotto games are farmers in certain affected areas who receive minimum income guarantees plus the encouragement of productive activities in rural areas.
Click Here to PLAY MegSena NOW