| | | | | | | | | |
| --- | --- | --- | --- | --- | --- | --- | --- | --- |
| <! --- = = = GLR BUTTON ON FB & TWITTER LOGOS ONLY = = = ---> | <! --- = = = END GLR BUTTON ON FB & TWITTER = = = ---> | <! --- = = = END EUROMILLIONS BUTTON = = = ---> | <! --- = = = END EUROJACKPOT BUTTON = = = ---> | <! --- = = = END MEGA MILLIONS FLAG = = = ---> | <! --- = = = END POWERBALL FLAG = = = ---> | <! --- = = = END LOVE MY LOTTO FLAG = = = ---> | <! --- = = = END YOUPLAYWEPLAY FLAG = = = ---> | <! --- = = = END GLR BUTTON ON FB & TWITTER = = = ---> | |
Florida Lottery Lucky Money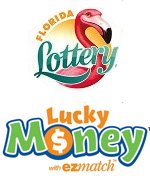 The origins of the Florida Lottery occurred in 1986 when the voting public agreed to the formation of a Florida State Lottery with ny profits accrued due to go towards the state education system.

As a result of the constitutional amendment allowing the sale of Florida Lotto tickets – sales first began on January 12th 1988 and the FL Lottery has gone from strength to strength ever since becoming one of the biggest and most popular US State Lottery companies.

All these years later – all lottery profits generated by the sales of Florida Lotto games is still going directly towards helping education throughout the state

The FLA Lottery has a wide range of Florida Lotto games in its portfolio including the huge multi-state games of Powerball and Mega Millions, plus the in-state games Florida Lotto, Fantasy 5, Play 4, Cash 3, Scratch-offs and the game that we will be looking at in more detail here – Lucky Money...

Florida Lotto Lucky Money

–

Overview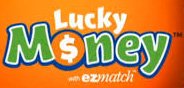 Lucky Money was first introduced into the Florida Lottery range of games on July 2nd 2014 with its debut draw taking place on July 4th.
Independence Day was chosen for the Lucky Money launch date with the game being a natural replacement for the very popular Mega Money game which was first launched back in February 25th 1998 and enjoyed its final drawing on July 1st 2014. 

The idea behind Lucky Money was to offer a game that was similar to Mega Money but one that would produce more winners each week and have better overall winning odds as well as an even larger 2nd prize to be won.
  
The Lucky Money game is a typical jackpot lotto style offering with a top prize that grows when not won up to a pre-determined fixed amount.

Draws for Lucky Money are carried out by the Florida Lottery twice every week on both Tuesdays and Fridays at 11.15 pm EST.
         
We are glad to have studied the Florida Lotto Lucky Money game thoroughly and would suggest learning further in the next section about just how it works.

Florida Lottery Lucky Money

–

How it Works


A double matrix of 4/47 + 1/17 is used by the Florida Lottery for their Lucky Money game meaning that when you play you will first need to select 4 main numbers out of a range from 1 to 47 and then 1 Lucky Ball out of range from 1 to 17.

If you correctly match all 4 of the main winning numbers drawn as well as the Lucky Ball – you will be the winner of a Lucky Money jackpot prize. The Lucky Money jackpot starts off initially at a cool US$ 1/2 MILLION and each time it is not won it will rollover and increase in size up to its maximum ceiling of US$ 2 MILLION until it is finally won.

If the top prize reaches its US$ 2 MILLION limit having still not been won – the prize money in the jackpot fund will then "roll down" and increase the winnings that are available on all of the lower prize levels approximately doubling their value.

In addition to the jackpot there are 7 further ways that you can win with the Florida Lottery Luck Money.

EzMatch     
An add-on to the Lucky Money Game is EzMatch which allows you to win an extra amount between US$ 2 and US$ 500 in addition to the normal winnings due for just an extra US$ 1 on top of the standard ticket cost. If you wish to play with the EzMatch option simply tick the Ez Match box on your Luck Money playslip.

If you play with Ez Match – 5 separate EzMatch numbers will be printed below your 4 main Lucky Numbers and Lucky Ball on your ticket along with corresponding Instant Prize amounts.

 You can instantly win the prize amount shown by matching any of the first 4 EzMatch numbers with any of the 4 main Lucky
      Numbers printed on your ticket and also by matching your Ez Match Lucky Ball with the Lucky Ball number on your ticket.        
A Quick Pick option is also available when you play Lucky Money which means that you can have all of your Lucky Money numbers chosen for you by the random number generator of the retailer or computer.         

For a standard Lucky Number entry the cost is just US$ 1 and for an entry with the additional EzMatch only US$ 2.

Florida Lottery Lucky Money

–

Who Can Play?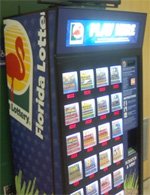 In previous years – you would have had to be living in Florida State itself to be able to purchase tickets for any games offered by the Florida Lottery. Tickets could only have been bought from an in-state FL Lottery retailer. 

Nowadays, however, this is not an issue with the existence of authorized and genuine online lottery ticket sales companies like TheLotter you can play Florida Lottery games – including Lucky Money and the Florida Lotto itself – from almost anywhere on the planet from the comfort of your own home.

This is well worth knowing if you reside outside of the State of Florida but would like to participate in the highly popular FL Lottery games of Lucky Money as well as the Florida Lotto. You can very easily buy lottery tickets online for both of these using the recommended online agents.

In line with the majority of State Lottery companies – the Florida Lottery requires that you be a minimum of 18 years old to be able to play any of its Florida Lotto games – including Lucky Money.

Florida Lottery Lucky Money Results



The Florida State Lottery carry out the draw for Lucky Money twice each week on a Tuesday and Friday evening at 11.15pm Eastern Time. You can check these FL Lottery results in numerous ways to see the winning Lucky Money numbers that have been drawn.

The latest Florida Lottery Results can be found here at Global Lottery Review right after each drawing. To make it easier to check future results you can bookmark the page and return to it any time.

The results for the Lucky Money and Florida Lotto will also be shown on the official FLA Lottery website – flalottery.com –
where you can watch videos of the most recent draw and see the winning Lucky Money Numbers and Florida Lotto numbers and you can also find them at all Florida Lotto retailers.
You may also like to see previous Florida Lottery Results to find out the winning Lucky Numbers for a previous draw. This is easily done – just use the link above to access the particular draw that you wish to see the numbers for.

Florida Lottery Lucky Money

–

Odds of Winning

With only 4 main Lucky Numbers to choose from – plus the Lucky Ball – the chances of you winning the lottery here are much greater than with most USA Lottery games and with a grand total of 8 different ways of winning there are a great number of prizes up for grabs twice every week.

To win the Lucky Money jackpot you have odds of 1 in 3,032,205 for correctly matching all 4 of the main winning numbers plus the Lucky Ball. For these odds you could be a top prize winner of anything between US$ 1/2 MILLION and US$ 2 MILLION.

For a prize on the 2nd level you face odds of 1 in 189,512.81 for matching the 4 main winning numbers drawn whilst 3rd division prize odds are 1 in 17,629.10 for selecting 3 of the main winning numbers plus the Lucky Ball.

Prizes on level 4 carry odds of 1 in 1,101.82 for picking 3 of the main winning Lucky Numbers and to win a prize on level 5 you have odds of 1 in 559.65 for correctly matching 2 of the main winning numbers plus the Lucky Ball.

6th Division prizes have odds of 1 in 61.43 for choosing only 1 of the main winning lottery numbers plus the Lucky Ball and prizes on level 7 carry odds of 1 in 34.98 for matching 2 of the main winning numbers.

You can even win with Lucky Numbers by matching just 1 number – the Lucky Ball itself – and for this 9th and final prize level you have odds of 1 in 24.57.

There are great overall odds of you winning a prize on Lucky Money at just 1 in 11.32.

Lucky Money Florida

–

How Prizes are Paid

 If you are the winner of a Lucky Money jackpot prize you will be paid your winnings in 1 of 2 ways – either as a one-off cash lump sum or as an annuity which will be paid to you in annual installments over 25 years.

You will need to make the choice as to whether you wish to be paid in the form of a lump sum within 60 days of the draw taking place. If you claim your prize after the 60 day period it will automatically be paid to you in annual installments.

For any Florida Lotto win – you will need to make your claim within 180 days of the draw before your ticket will become invalid.

If you have won any prize up to US$ 600 – you will be able to collect your winnings from any Florida Lottery retailer, district office or the FLA Lottery headquarters without having to complete a Florida Lottery winner claim form. 

  You will need to make your claim at a Florida Lottery district office or at the Tallahassee Headquarters for any prize that you have won between US$ 600 and US$ 250,000.

Any Lucky Money prize won which is more than US$ 250,000 – you will need to claim from the headquarters of the Florida Lottery in Tallahassee.

 You will not need to worry about any of the above criteria if you play lottery online with a reputable and authorized lottery ticket sales agency like TheLotter as part of their role is to look after all of this for you and, of course, pay you promptly.

Lucky Money

Florida –

Where the Money Goes

In common with many of the other US State Lottery companies – 100% of all profits generated by the ticket sales of all Florida Lottery games including Lucky Money, the Florida Lotto, Powerball and Mega Millions go towards helping to fund education thoughout the sunshine state of Florida.

In fact – since the FLA Lottery began back in 1988 – in excess of US$ 26 BILLION has been raised which has supported state education with, for example,  books, bonds, construction, technology or scholarships.
Click Here to PLAY Florida Lottery Lucky Money NOW

Click Here to Check the LATEST Lucky Money RESULTS

Click Here to PLAY Florida Lotto NOW
Click Here to Check the LATEST Florida Lottery RESULTS
Click Here to Read about the FLORIDA LOTTO
Click Here to Read about the Florida Lottery POWERBALL
Click Here to PLAY Florida Powerball NOW

Click Here to Check the LATEST Powerball RESULTS
Click Here to Read about the Florida MEGA MILLIONS
Click Here to PLAY Florida Mega Millions NOW

Click Here to Check the LATEST Mega Millions RESULTS
Click Here to Read about the Florida Lotto SYNDICATE
Click Here to PLAY in a Florida Lotto SYNDICATE

Click Here to Read about OTHER USA Lottery GAMES
Click Here to Read about STATE LOTTERY Companies

© Copyright 2009 - 2020 - Global-Lottery-Review.com All Rights Reserved
<! --- START WORLD LOTTO DROP DOWN BOX ---> <! --- END WORLD LOTTO DROP DOWN BOX --->
<! --- START WORLD LOTTERY RESULTS DROP DOWN BOX ---> <! --- END WORLD LOTTERY RESULTS DROP DOWN BOX --->
QUICK LINKS
<! --- === BUTTON 1 === ---> <! --- === BUTTON 2 === ---> <! --- === BUTTON 3 === ---> <! --- === BUTTON 4 === ---> <! --- === BUTTON 5 === ---> <! --- === BUTTON 6 === ---> <! --- === BUTTON 7 === ---> <! --- === BUTTON 8 === ---> <! --- === BUTTON 9 === ---> <! --- === BUTTON 10 === --->