CURRENT JACKPOT € 46,200,000
Super Enalotto

–

Enalotto SuperStar

It was way back in the early 18th century that Italy began to host its first lottery games which were of the typical sweepstake variety.

The Lottery of Tripoli was the first contemporary Italian Lotto to be played in the 1930s and along with the National Solidarity game of 1946 – all of these earlier offerings from Lotteria Itlalia were raffle type games.

Sisal – the company responsible for running Italy Lottery games – was formed in the same year and launched the Enalotto in the early 1950s. The Enalotto was modified in 1997 to become the world famous SuperEnalotto and has gone from strength to strength since and has produced some of the world's biggest lottery jackpots.

The impressive Lotteria Italia range of games offered by Sisal comprises of the SuperEnalotto, SiVinceTutto, Win for Life, Play Six, 10ELotto, Lotto, VinciCasa, EuroJackpot plus the add-on to the Super Enalotto – the SuperEnalotto SuperStar – that will be covered in more depth on this page...

SuperEnalotto SuperStar

–

Overview

The SuperEnalotto SuperStar is an exciting extension to the SuperEnalotto that Sisal introduced as an add-on to its premier game with the inaugural draw taking place back on March 28th 2006.

The purpose of the Super Enalotto SuperStar is to automatically increase your winnings on all of the SuperEnalotto prize levels
at the same as giving you many more chances of winning.

For example – a SuperEnalotto jackpot win will be increased by a further € 2 MILLION when playing with SuperStar – a 2nd prize will be increased by a further € 1 MILLION and all other prizes will be either be increased by 25 or 100 times or will be a fixed sum win othwerwise not available on the SuperEnalotto itself.   

 An extra 8 winning prize levels is also available when you play SuperEnalotto with the SuperStar – meaning that there are a total of 13 different categories of prizes to be won 3 times per week.

Sisal conduct the SuperEnalotto SuperStar draw from Rome on Tuesdays, Thursdays and Saturdays at 8.00pm local time.

To find out how you can benefit when you play SuperEnalotto using the SuperStar option – please carry on down the page. We think it's a great addition to the SuperEnalotto game and suggest further reading to learn more about how it operates...

SuperEnalotto SuperStar

–

How it Works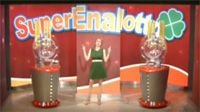 The drawing for the SuperEnalotto SuperStar is made at the same time as the SuperEnalotto game itself. Firstly the 6 main winning SuperEnalotto numbers plus the Jolly number are drawn and then – from a separate drawing machine – the winning SuperStar number is also drawn.

The Super Enalotto SuperStar uses a dual matrix of 6/90 + 1/90 meaning that the 6 main numbers plus the Jolly number are first drawn out of a range of numbers from 1 to 90 followed by the SuperStar number which is also drawn from the same number range of 1 to 90. 

So – when you are playing the Super Enalotto SuperStar you will first need to tick the 'SuperStar' box on your SuperEnalotto ticket and then select your 6 main SuperEnalotto numbers out of a range of numbers from 1 to 90 followed by your SuperStar number also from 1 to 90.

The same as with the SuperEnalotto – you get 2 lines of entry every time that you play the SuperEnalotto SuperStar.
If you successfully match all 6 of the main winning SuperEnalotto numbers plus the SuperStar number you will be the winner of the Super Enalotto SuperStar jackpot prize which will automatically be €2 MILLION bigger than the SuperEnalotto jackpot.     

As well as the jackpot prize available there are also another 12 separate winning levels on which you can win a SuperEnalotto SuperStar prize even if you do not even match any of the main numbers but just pick the SuperStar number alone. 
     
The SuperEnalotto SuperStar jackpot starts off at € 1.3 MILLION and will rollover when not won – increasing in size each time in line with the SuperEnalotto but if you should win the top prize playing with SuperStar – an extra € 2 MILLION will be added onto your winnings – or an extra € 1 MILLION if you win a 2nd prize.

If you would prefer not to select your own numbers when playing you can use the Quick Pick option and ask for the retailer's or computer's random number generator to pick them for you.  

The cost of playing the Super Enalotto SuperStar is the €1 charge for playing SuperEnalotto for a standard 2 lines plus an additional amount of €1 for also playing the SuperStar with 2 lines.

SuperEnalotto SuperStar

–

Who Can Play?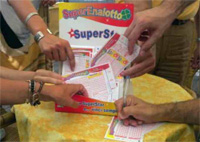 Previously – anyone who wanted to play Italian Lotto games needed to get their tickets from a Sisal ticket agent that was situated within Italy itself – in other words all players needed to be Italian residents in order to take part. 

Nowadays – anyone from almost any country in the world can participate in the SuperEnalotto SuperStar using online lottery ticket sales services like TheLotter and WinTrillions without having to be living inside Italy.

If you are living outside Italy but still wish to play SuperEnalotto games it is very useful to know that as there are now no geographical boundaries you can buy lottery tickets online 24 hours a day, 7 days a week from home.  

Anyone who is 18 years old or more is eligible to buy lottery tickets for any of the games sold by Lotteria Italia – including the SuperEnalotto SuperStar. 

Click Here to PLAY SuperEnalotto SuperStar NOW

SuperEnalotto Results

–

Risultati SuperEnalotto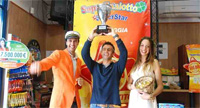 Sisal conduct the drawing of the Super Enalotto SuperStar directly after the main SuperEnalotto draw at 8.00pm local time in Rome every week on Tuesdays, Thursdays and Saturdays.

The SuperEnalotto SuperStar Results can be checked in the same way and at the same time as checking the main SuperEnalotto results – risultati SuperEnalotto – and there are plenty of methods you can use to see if you have correctly matched any of the numeri SuperEnalotto.

Shortly after the drawing has taken place the Lotteria Italia official websites of Sisal – superenalotto.it and sisal.it – will both publish the SuperEnalotto results. 

The SuperEnalotto results – SuperEnalotto Risultati – can also be found on Sisal TV where they will be broadcast after each draw as well as on Teletext and from any of the thousands of Sisal ticket retailers. 

You are also welcome to return to Global Lottery Review where you can find the latest SuperStar SuperEnalotto Results at any time – plus the main SuperEnalotto Risultati for the latest and all previous draws.   

SuperEnalotto SuperStar

–

Odds of Winning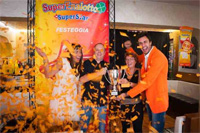 The SuperEnalotto SuperStar has the added benefit of 8 extra winning prize levels in addition to the 5 main prize categories of the SuperEnalotto draw making for a total of 13 prize tiers.
You can even win the SuperEnalotto SuperStar by selecting NONE of the main SuperEnalotto numbers – numeri SuperEnalotto – but correctly matching the SuperStar number alone.
The best way of showing all the differences in the prize structure and winning odds that you have when playing SuperEnalotto using the SuperStar option is by the table illustrated below.

Here you can easily see how much larger the prizes are if you use the SuperStar facility when you play SuperEnalotto as opposed to playing the SuperEnalotto without the SuperStar...

SuperEnalotto SuperStar PRIZES and ODDS of Winning
| | | | | |
| --- | --- | --- | --- | --- |
| Prize Level | No.of Correct Matches | Winning Odds are 1 in... | SuperEnalotto Prize | SuperEnalotto Prize WITH SuperStar |
| 1 | 6+SuperStar | 56,035,316,700 | Jackpot | Jackpot+€2 Million |
| 2 | 6 | 622,614,630 | Jackpot | N/A |
| 3 | 5+Jolly+SuperStar | 9,339,219,450 | €750,000 | €750,000+€1 Million |
| 4 | 5+Jolly | 103,769,105 | €750,000 | N/A |
| 5 | 5+SuperStar | 112,520,716 | €40,000 | €40,000x25 = €1M |
| 6 | 5 | 1,250,230 | €40,000 | N/A |
| 7 | 4+SuperStar | 1,071,626 | €320 | €320x100 = €32,000 |
| 8 | 4 | 11,907 | €320 | N/A |
| 9 | 3+SuperStar | 29,404 | €17 | €17x100 = €1,700 |
| 10 | 3 | 327 | €17 | N/A |
| 11 | 2+SuperStar | 1,936 | N/A | €100 |
| 12 | 1+SuperStar | 303 | N/A | € 10 |
| 13 | 0+SuperStar | 138 | N/A | € 5 |
SuperEnalotto Jackpot

–

Montepremi SuperEnalotto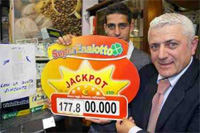 The biggest SuperEnalotto jackpot – Montepremi Superenalotto – that has been won to date on the SuperEnalotto has been € 177,729,043.16 – a really staggering amount that was won on October 30th 2010. This crazy sum at just under € 180 MILLION was the 3rd biggest jackpot in the history of European Lottery games at the time and was also the largest ever single ticket win to have been achieved so far – the winners being a 70 strong lotto syndicate.

The 2nd largest SuperEnalotto Jackpot – SuperEnalotto Montepremi – won so far has been the € 147,807,299.08 which was won on August 22nd 2009 by a single ticket holder from Bagnone in Tuscany.

SuperEnalotto SuperStar

–

How Prizes are Paid

Sisal will pay out all prizes that you may have won on the SuperEnalotto SuperStar as cash lump sums. 

If you claim your prize from one of the Sisal ticket retailers you will have to do so within 60 days of the draw. If you make your winning claim at one of the main Sisal offices in Rome or Milan you have an extra 30 days and must present your ticket within 90 days of the draw. After this your ticket will be invalid.

You can claim any prize you have won of no more than € 520.00 from any of the Sisal SuperEnalotto ticket agents across Italy.

You will be able to claim your prize at the SuperEnalotto retailer that sold your winning ticket if you have won any prize amount
from € 520.01 to € 5,200.00.

Prizes of € 5,200.01 to € 52,000.00 that you may have won can be claimed at a retailer that Sisal has authorized to pay out higher prize sums – Sisal can provide you with full details of these.

You will need to go to one of the main offices of Sisal in Rome or Milan to file your claim for any prize that you have won which
is greater than € 52,000.00.

Claiming your prize money need not be an issue, however, if you play lottery on the internet with online agencies like TheLotter and WinTrillions who are fully authorized to sell tickets and will pay your winnings quickly and without fuss.

SuperEnalotto SuperStar

–

Where the Money Goes

The biggest chunk of the funds produced by the sales of Sisal Italian Lotto tickets – 53.63% – is given to the Treasury in Italy with 34.64% being injected into the prize funds of future games.

The remainder is divided between the 45,000+ Sisal lottery ticket sales retailers across Italy – 8% – and Sisal who receive 3.73%.

A portion of the government's share is subsequently given over to various beneficial causes that help the Italian population.
Click Here to PLAY SuperEnalotto SuperStar NOW