Sisal

–

Si Vince Tutto


 The first recorded details of Italian Lottery games appear right back in the year 1735 when a lotto was created to facilitate the reclaiming of the Pontine Marshes in the Lazio area of Italy.

The first modern day Italy Lottery game occurred in 1932 and it was linked with a car race, so was called the Lottery of Tripoli.

The majority of the earlier games from Lotteria Italia were of the sweepstake variety & the raffle of the National Solidarity in 1946 was such a game launched to celebrate Italy becoming a republic.

The company entrusted with the administration of all Italy Lottery games today is Sisal which was formed back in 1946 and was responsible for reinventing the already highly popular Enalotto game – which first started in the 1950s – and turning it into the SuperEnalotto in 1997. The Sisal SuperEnalotto has now since become one of the most well known lotteries in the entire world.

Tickets for Lotteria Italia games from Sisal are sold at more than 45,000 retail outlets throughought Italy & are also available on the internet via various agencies offering sales of lottery tickets online.

Some of the games included in the portfolio of Lotteria Italia and Sisal include the EuroJackpot, SuperEnalotto, the VinciCasa, SuperEnalotto SuperStar, Win for Life, 10 e Lotto, Play Six, Lotto Italia (Lottomatica) plus the Italian Lottery game which we shall be looking at in much greater detail here – SiVinceTutto...

SiVinceTutto

–

Overview

 The SiVinceTutto was incorporated into the Lotteria Italia range of games by Sisal and launched on April 27th 2011 and the Italian name of the game translates into English as meaning 'Win it All'.
                   
The idea behind the Si Vince Tutto was to introduce a game that would compliment the SuperEnalotto but with a difference. There would be no rollover so prizes have to be won on the night of the draw – meaning that all the lower, non-jackpot prize divisions will benefit in the event of there being no top prize winners because the jackpot prize money would naturally roll down to these levels.
With effect from November 30th 2011 Sisal IT introduced a new 5th prize category to the SiVinceTutto which meant that you can now win the lottery by matching just 2 of the winning numbers.
Sisal IT made some major alterations to the SiVinceTutto game in September 2016. It was turned from a monthly lottery to a weekly one and the odds of winning were massively improved as players could now pick 12 numbers but only needed to match from 2 to 6.

The draw for the SuperEnalotto SiVinceTutto takes place every Wednesday at 8.00pm local time in the Sisal offices at Rome.

SiVinceTutto

–

How it Works

 The SiVinceTutto works in very much the same way as the SuperEnalotto does with an identical matrix of 6/90 being used from which the Si Vince Tutto winning numbers are drawn.

When the drawing is made – 6 winning numbers are selected from the total of 90 numbers available – and this is where the SiVinceTutto differs from the majority of world lottery games when you come to play.
Instead of choosing just 6 numbers as per normal, when you play the Si Vince Tutto, you will need to pick a total of 12 numbers out of the range of numbers from 1 to 90. Once you have chosen all your 12 numbers, all you then need to do is correctly match 6 of these winning numbers drawn to win the SiVinceTutto first prize.
All the Si Vince Tutto prize monies must be won on the evening of the draw so if there is no winner of the Si Vince Tutto jackpot prize, the prize monies will be distributed amongst the lower prize levels.
There are a total of 5 different ways you can win prizes on the Si Vince Tutto – for correctly matching all 6 of the winning numbers, 5 numbers, 4 numbers, 3 numbers and even with just 2 numbers.
A Quick Pick option is also available when you play the Si Vince Tutto. This means that you can ask for the retailer or computer to make the selection of your 6 numbers for you automatically using a random number generator – or automated drawing machine.  

The cost of playing 1 line of 6 numbers in the SiVince Tutto is € 5.

SiVinceTutto

–

Who Can Play?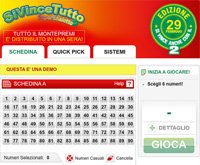 In previous years – it was only Italian residents living inside Italy itself who were eligible to take part in any of the Italy Lottery games – including the Si Vince Tutto. You would have needed to purchase all your lottery tickets from a Sisal SuperEnalotto retailer within Italy.

Today – not having Italian residency is not an issue due to the existence of fully authorized and lawful online lottery ticket sales companies such as TheLotter meaning that you can play in the majority of Italy Lotto games from anywhere across the world.
This applies to the SuperEnalotto, MillionDay and the Lotto Italia but unfortunately not the SiVincTutto which you will need to visit through the Sisal IT website but this can be done from abroad.

This is refreshing news for all those who live outside of Italy but would like to take part in Lotteria Italia games – now a truly global affair – you can comfortably buy lottery tickets online from your own home and very conveniently at any time that you choose.   

Sisal stipulate that you must be at least 18 years of age before you can take part in any of their Italian Lotto games – this is in line with most other European Lottery and USA Lottery companies.

Click Here to PLAY SuperEnalotto NOW

SiVinceTutto

Results –

Risultati SiVinceTutto

Every Wednesday the draw of the Si Vince Tutto is conducted at the State Customs and Monopolies Agency Headqurters in Rome at 8.00pm local time and is realised and guaranteed by Sisal IT.

There are various methods you can use to check up on the very latest SiVinceTutto Results – Risultati SiVinceTutto – and find
out whether you have become one of the latest lucky winners.

The Risultati SiVinceTutto will be displayed on the official Lotteria Italia websites – sisal.it, sivincetutto.it and superenalotto.it – very shortly after each of the weekly drawings have been carried out.

You will also be able to find out the Si Vince Tutto results in all of the Sisal SuperEnalotto retail outlets, betting shops, on Teletext plus on the television where they will be broadcast on Sisal TV.  

SiVinceTutto

–

Odds of Winning

The odds of winning a SiVinceTutto 1st prize are great when compared to most world lottery games that you can play.
To match all 6 of the winning numbers drawn & win a jackpot prize, the odds you are facing are just 1 in 673,825.
For a 2nd prize on the SuperEnalotto SiVinceTutto by matching 5 of the winning numbers drawn, your odds reduce to 1 in 10,079.
A prize on the 3rd level for successfully matching 4 of the winning numbers drawn gives you much better lottery odds of 1 in 419.
To win a SiVinceTutto 4th division prize by successfully matching only 3 of the winning numbers drawn you have odds of 1 in 37.
The final winning level for matching just 2 of the winning numbers drawn on the Si Vince Tutto 5th tier gives you odds of only 1 in 7.

The odds of winning any prize on the SiVinceTutto are just 1 in 6.

SiVinceTutto

–

Record Jackpots

 The biggest Si Vince Tutto jackpot ever played for to date was on April 27th 2011 when a huge € 24 MILLION was offered to mark the original introduction of the lottery by Sisal and Lotteria Italia.

For a number of years after, the SiVince Tutto jackpot had always remained at a constant level of € 2 MILLION each month as it was not designed to increase in size when the jackpot prize is not won.
Following the changes made in September 2016 which turned the SiVince Tutto from a monthly game into a weekly game, the first prize amounts have dropped but they are much easier to win.
The 1st jackpot win following the game's rule changes occurred on October 5th 2016 when € 270,576.81 was won by a syndicate of 20 players with a ticket that was purchased in a shop in Pesaro.

SiVinceTutto

–

How Prizes are Paid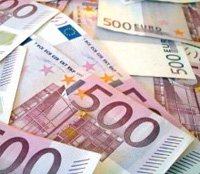 All prizes that you may win on the Si Vince Tutto will be paid out to you by Sisal in the form of cash or cheque.
   
You will have a maximum of 60 days in which to claim your Si Vince Tutto prize from any Sisal SuperEnalotto retailer or up to 90 days to make your claim from either the Milan or Rome Sisal offices.

If you have won any prize of up to € 520.00 – you will be able to claim your winnings from any of the 45,000+ Sisal retail outlets.

For any prize of between € 520.01 and € 5,200.00 that you have won – you can claim your prize at the Sisal SuperEnalotto retail outlet from where you had purchased your winning lottery ticket.

SiVince Tutto prizes of between € 5,200.01 and € 52,000.00 will need to be claimed from one of the Sisal retailers that have been
previously approved by Sisal to pay out larger winning anmounts.

If you have been lucky enough to win € 52,000.01 or more – you will need to present your winning ticket personally at one of the primary Sisal offices in either Milan or Rome to make your claim.
You will not have to think about these aspects on claiming prizes however if you play lottery online with respected and authorised companies like  TheLotter as they are duty bound to honour your winning claim very smoothly and make all payment to you briskly.

SiVinceTutto

–

Where the Money Goes

Money raised by the sale of tickets for all games in the Lotteria Italia range are distributed by Sisal IT in the following manner...
34.64% is returned directly to players as prize money.

53.63% goes towards the Italian Treasury to be divided between the government and various good causes.
8.00% is paid to the point of sale operators across Italy.
3.73% is returned to the Italian Lotto operator – Sisal.

Click Here to Read about the SUPERENALOTTO
Click Here to PLAY SuperEnalotto NOW