Current Jackpot US$ 4,900,000
Lottery Oregon

–

Oregon State Lottery


The Oregon State Lottery was brought into being when voters in the state agreed to the forming of a lottery in the 1984 general election.
The OR Lottery started up the following year in 1985 and in the beginning it offered two types of lottery game, scratch-it tickets and its very own jackpot lottery, Oregon Megabucks which is still going strong.
Oregon State is a member of the Multi-State Lottery Association (MUSL) that operates the huge Powerball lottery across the USA.
As a result of the cross-selling agreement between the Multi State Lottery Association (MUSL) with the Mega Millions consortium in late 2009, the OR Lottery also began selling lottery tickets for the other huge Multi State Lottery – Mega Millions in January 2010.
The Oregon Lottery has a number of different games within its product range including the Oregon Powerball lottery and the Mega Millions Oregon as mentioned above, Pick 4, Keno/K4, various scratch-its, Lucky Lines, Video Lottery & Raffle games.
However, the game we will be looking at in much greater detail here is the very popular in-state game – Oregon Megabucks…
Oregon Lottery Megabucks

–

Overview

The Oregon Megabucks is the state's own traditional jackpot lottery style of game & was its first introduced when the Oregon Lottery itself was orignally launched back in 1985.
The very first Oregon Megabucks tickets went on sale to the public on November 20th 1985 & the game was a big hit from the outset.
Often promoted as the flagship in-house game for the Oregon Lottery – it is widely referred to as Oregon's Game Megabucks.

The Oregon Lottery Megabucks is a simple but effective 6 number lottery game that uses a matrix configuration of 6/48 when drawn.
The Oregon Megabucks jackpot commences at US$ 1 MILLION and will rollover each time that the jackpot is not won. This means the top prize will increase in size each draw until somebody wins it then it reverts to the starting jackpot amount of US$ 1 MILLION.
Draws for the Oregon Lottery Megabucks take place three times every week on Mondays, Wednesdays & Saturdays at 7.29pm PST from the Oregon State Lottery main offices based in Salem.
We are pleased to have reviewed the Oregon Megabucks game & would recommend taking a detailed look at how it works below…
Oregon Lottery Megabucks

–

How it Works

The Oregon Lottery Megabucks uses what's known as a 6/48 matrix which means that when playing you need to pick your 6 numbers out of a range of numbers from 1 to 48 – if you should match all of the 6 numbers drawn then you'll be an OR Lottery jackpot winner.
In addition to the jackpot, there are 3 further ways that you can win on the Megabucks Oregon, if you correctly match either 5 of the 6 numbers drawn, 4 numbers or even just 3 of the numbers.
You can also include the Kicker option when you play Oregon Megabucks which will multiply your non-jackpot prizes up to 4x.
Every time you play you will get 2 sets of 6 numbers printed on your ticket for a single entry. That means that with just 1 entry per draw would give you 6 chances of winning the jackpot each week!

A Quick Pick facility is available when playing the Oregon Lottery Megabucks similar to the Lucky Dip option that is used in the UK National Lottery or Europe's EuroMillions and many other of the USA Lottery games. This means that you can request the lottery retailer or computer to randomly select all your numbers for you.
So playing the Oregon Megabucks is simple – just select your own 2 sets of 6 numbers or ask for them to be randomly picked for you.
The cost of each entry into the Oregon Lottery Megabucks is just US$ 1.00 plus an extra US$ 1.00 if you include the Kicker option.
Oregon Lottery

–

Random Number Generator

Along with just a few other USA Lottery games that make their draws using a Random Number Generator (RNG), the Oregon Lottery numbers are drawn this way too as opposed to the more traditional way of using lottery balls being drawn from a drum.
All the Oregon Lottery online games have their numbers drawn using an Automated Drawing Machine with the winning Oregon Lottery numbers shown after each draw at oregonlottery.org.
Oregon Lottery Megabucks

–

Who Can Play?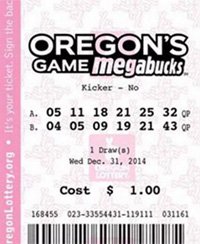 Just like most USA Lottery games, previously only citizens living within Oregon were permitted to participate in any of the OR Lottery games including the Oregon Megabucks – you needed to purchase your lotto tickets from an authorized retailer situated in Oregon.
These days, though, there are a good number of genuine online lottery ticket sales agencies such as TheLotter who are both authorized and genuine – you are now able to select your Oregon Megabucks numbers online & purchase your Megabucks tickets even if you don't live in Oregon.
This is fantastic news of course should you live outside of Oregon but would still like to play the Oregon Megabucks – even if you live in-state but would like the ease and convenience of being able to buy lottery tickets online within the comfort of your own home.
Once you have entered into the Megabucks Oregon draw, you can then easily check your chosen Oregon Lottery results online to see if you have become one of the lucky Oregon Megabucks winners.
You must be 18 years of age to be eligible to purchase a ticket for any of the Oregon State Lottery games including the Megabucks.
Some great news here for all USA Lottery players in Oregon...

The Multi State Lottery Association (MUSL) – who administer the POWERBALL game – and the Mega Millions consortium – who administer the MEGA MILLIONS game – have entered into an historic cross-sales agreement across the USA. All US Lotteries that had previously sold POWERBALL tickets are now ALSO able to sell players MEGA MILLIONS tickets.

This means that with effect from January 31st 2010 – in addition to the existing
POWERBALL – USA Lottery players in Oregon will now ALSO be able to buy lottery
tickets for the MEGA MILLIONS. You can still buy lottery tickets online, of course,
from anywhere around the world.
Click Here to PLAY Oregon Megabucks NOW
Click Here to PLAY Powerball NOW
Click Here to PLAY Mega Millions NOW
Oregon Lottery Megabucks

–

Information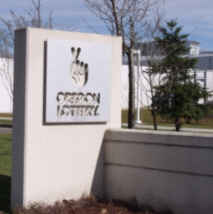 Oregon Lottery Megabucks tickets were first put on sale to the public back on November 20th 1985 at the same time the Oregon State Lottery originally launched as a company.
The matrix that is used by the Oregon Megabucks has been changed once or twice over the intervening years – the first of these changes took place in June 1986 when it was altered to a matrix of 6/42 from its original game playing configuration of 6/38.
The Oregon Lottery introduced a minimum starting jackpot for the Megabucks that was US$ 1 MILLION back in September 1986.
On June 3rd 1987, drawings for the Oregon Lottery Megabucks were doubled, increasing from once every week to twice a week.
Oregon joined the Multi-State Lottery Associaltion (MUSL) in 1988 which ran Lotto America, later morphing into the Powerball game.
The Oregon Megabucks matrix was changed again in April 1989 when it was turned into a 6/44 game from its latest matrix of 6/42.
In 1990, the Oregon Lottery Megabucks became the very first USA Lottery to offer players the chance to choose whether to take their winnings as a cash lump sum or an annuity if they won the jackpot.
On May 20th 2001 the Oregon Lottery moved away from the more traditional method of drawing its lottery numbers via a ball-drawing machine & started to use a Random Number Generator – (RNG).
The most recent matrix change to the Oregon Lottery Megabucks occurred on May 20th 2001 when it was altered from 6/44 to 6/48 which is just how the game play configuration remains to this day.
The number of Oregon Megabucks drawings were increased again to three times per week on the same day in 2001 with draws now taking place every week on a Monday, Wednesday and Saturday. 
Latest Oregon Lottery results can be found via the official Lottery Oregon website – oregonlottery.org – very shortly after each draw.
Oregon Megabucks

–

Odds of Winning

Your odds of winning on the Oregon Lottery Megabucks are competitive when compared to many of the US Lottery games, especially the Multi State Powerball and Mega Millions.
The chances of you winning a Oregon Megabucks jackpot prize are 1 in 12,271,512 for sucessfully matching all 6 of the numbers drawn. However, when you consider that you will have 2 separate lines of 6 numbers for each ticket that you purchase, the true odds of you winning the jackpot prize are even better at 1 in 6,135,756.
To win a 2nd prize on the Megabucks Oregon, you face winning odds of 1 in 48,696 for correctly matching 5 of the numbers drawn. Again though, with 2 lines per entry, true odds are 1 in 24,348.49.

The likelihood of you winning a prize on the Megabucks 3rd tier is 1 in 950 if you correctly match 4 of the Oregon Lottery numbers & if you calculate this using the 2 separate lines it is just 1 in 475. 
To win a prize on the 4th & final level, your odds are just 1 in 53 for successfully matching only 3 of the Oregon Megabucks numbers. This comes down to just 1 in 26.5 if using the 2 entries per ticket.

Overall odds to win any Oregon Megabucks prize are 1 in 25.53.
Oregon Megabucks

–

Record Jackpots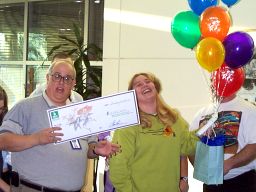 The largest jackpot ever that has ever been won to date on the Oregon Lottery Megabucks was a huge US$ 30 MILLION, won on November 15th 2004 by Art Brenner from Milwaukie.

An Oregon Megabucks jackpot was won on July 31st 1991 at US$ 23 MILLION making it the overall 2nd biggest ever to be won.
The 3rd biggest jackpot to have been won on the Oregon Lottery Megabucks was the July 30th 2011 win of US$ 21.8 MILLION.
February 10th 1999 saw the 4th highest win on the Megabucks Oregon so far when a US$ 18 MILLION jackpot prize was won.

A record for the Oregon Lottery Megabucks jackpot at that time was created on March 30th 1988 when the top prize reached the sum of US$ 14 MILLION making it the 5th largest jackpot to date.
By far and away the biggest ever overall Oregon Lotto jackpot win to date has been the staggering US$ 340 MILLION that was won on the Oregon Lottery Powerball on the October 19th 2005 draw. The winners were Jacksonville couples, Bob and Frances Chaney plus their daughter Carolyn West along with her husband, Steve.
Oregon Lottery

–

How Prizes are Paid


As an Oregon Lottery jackpot winner, you would have a choice in how you would like to receive your money. You could choose to receive either a single lump sum cash payment or an annuity prize paid in installments.
You will need to make the choice as to whether you wish to receive the cash lump sum payment or the annuity installment payments option within 60 days of validating your winning OR Lottery ticket. If you have made no decision at this point, after the 60 day period has passed, the jackpot will automatically be paid as an annuity.
In terms of value, if you chose to take the cash lump sum option, you would get approximately 50% of the jackpot annuity value that would otherwise be paid out to you in annual installment amounts.
If you choose to receive your jackpot prize as an annuity, it would be paid out to you in yearly installments over a period of 25 years.
If your Megabucks win is up to US$ 600 you will be able to claim your prize from any of the OregonLottery retailers across the state.
If your win is more than US$ 600 then you will need to make your winning prize claim at the primary OregonLottery office in Salem.
If you play lottery online however, whatever your win, this will not be a concern for you, as your accredited lottery ticket sales agency will take care of all details, be it TheLotter or any other company.
Oregon Lottery

–

An Unusual Relationship

The Oregon State Lottery has a very close relationship with the Oregon State Police and as a result of this relationship – which is not a usual one to say the least – it has a reputation amongst the Oregon public as providing an example of security and integrity.
Click Here to PLAY the Oregon Megabucks NOW