WI Lottery

–

Lottery Wisconsin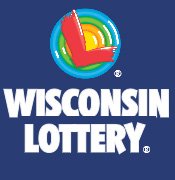 The WI Lottery was agreed in 1987 when state voters voted for the formation of their own in-state lottery with the intentions of generating revenue which would be put towards property tax relief within the state.
Hence the Wisconsin Lottery was then launched the following year in 1988 being run and operated by the government of Wisconsin's Department of Revenue for the benefit of everyone.
The very first lottery tickets that were sold to the public by the WI Lottery were for the Instant Game "Match 3" and the "Wisconsin Red" pull-tab which were launched on September 14th 1988.
The MUSL – (Multi-State Lottery Association) – the governing body charged with administering the massive Powerball lottery game includes the state of Wisconsin as a member.
Wisconsin Lottery has various different lottery games in its repertoire including the Wisconsin Powerball, Mega Millions, Supercash!, Badger 5, 5 Card Cash, Pick 3, Pick 4, numerous scratcher games and pull-tabs plus its own Wisconsin Megabucks which we will look at in detail here…
Wisconsin Megabucks

–

Overview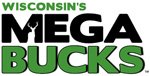 The Wisconsin Lottery launched its Megabucks game on June 18th 1992.
The Wisconsin Megabucks lottery is a traditional style of lottery – a six number, jackpot lotto that uses a 6/49 matrix and has a progressive jackpot with no upper limit.

WI Megabucks draws take place by the Wisconson State Lottery twice each week on both Wednesdays & Saturdays at 10.00 pm local time from its lottery headquarters in Madison, Wisconsin.
We are happy that we have carried out a detailed review of the Wisconson Lotto Megabucks & recommend that players take a good look at just how this premier lotto from Wisconsin works...

Wisconsin Megabucks

–

How it Works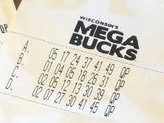 The Wisconsin Megabucks Lottery uses a 6/49 matrix which means that when playing the WI Lotto – you will need to select your 6 lottery numbers out of a range of numbers from 1 to 49. Should you select all 6 of the numbers you will win a WI Lottery jackpot.
In addition to the jackpot there are 3 other ways you can win – if you match 5 of the 6 winning numbers drawn, 4 of the winning numbers or even just 3 of the winning Megabucks numbers.
Wisconsin's Megabucks jackpot will start off at US$ 1 MILLION and for every draw that it is not won – it will produce a rollover – increasing in size with each draw until a winner is produced.
A Quick Pick facility is available when playing the WI Lottery Megabucks similar to the Lucky Dip option that is used in the UK National Lottery, Europe's EuroMillions or many of the other US Lotteries – which means that you can request the lottery retailer or computer to automatically pick your Megabucks numbers for you.
So – playing the Wisconsin Megabucks is simple – just select your own 6 numbers or request them to be randomly generated for you.
The cost of each entry into the Megabucks Lottery is the standard US$ 1.00 & you will get 2 plays – meaning 2 chances of winning!
WI Lottery

–

Random Number Generator

Along with just a few other USA Lottery games that make their lotto drawings using a Random Number Generator (RNG) – the Wisconsin Lottery numbers are drawn this way too as opposed to the traditional way of using numbered balls drawn from a drum.
Wisconsin Megabucks

–

Who Can Play?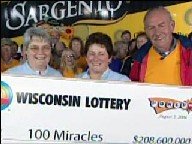 As with most US Lotteries – previously only citizens residing in Wisconsin were allowed to participate in any of the WI Lotto games including the Wisconsin Megabucks Lottery – you used to have to purchase your lottery tickets from an authorized retailer based in Wisconsin.
Nowadays though – with the welcome presence of authorized and accredited online lottery ticket sales companies like TheLotter you are able to select your Wisconsin Megabucks lottery numbers on the internet and purchase your Megabucks tickets without having to be concerned about where in the world you may be living.
This is good news of course if you are living outside of Wisconsin & the U.S.A. but want to play the Wisconsin Megabucks & ensure your entry into the next draw or want to have the convenience of being able to buy lottery tickets online from the comfort of home.

Once you have entered into the Megabucks draw – you can then easily check your chosen Wisconsin Lottery results online to see if you have become one of the lucky Mega Bucks winners.
You must be 18 years of age to be eligible to purchase a ticket for any of the Wisconsin State Lottery games including the Wisconsin Megabucks. However – it is permissible to purchase tickets for WI Lottery games for people under the age of 18 to be given as gifts.
Some great news here for all USA Lottery players in Wisconsin...

The Multi State Lottery Association (MUSL) – who administer the POWERBALL game – and the Mega Millions consortium – who administer the MEGA MILLIONS game – have entered into an historic cross-sales agreement across the USA. All US Lotteries that had previously sold POWERBALL tickets will ALSO now be able to sell MEGA MILLIONS tickets.

This means that with effect from January 31st 2010 – in addition to the existing
POWERBALL – USA Lottery players in Wisconsin will now ALSO be able to buy lottery tickets for the MEGA MILLIONS. You can still buy lottery tickets online, of course, from anywhere around the world.
Click Here to Check the WISCONSIN LOTTERY RESULTS

Click Here to PLAY Powerball NOW
Click Here to PLAY Mega Millions NOW
WI Lottery

–

Information & Background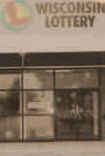 In 1989 the Wisconsin Lottery made the decision to become a member of the Multi-State predecessor to the Powerball lottery at the time – Lotto America.
Once Lotto America became the Powerball in 1992 – the Wisconsin Lottery began its own in-state lotto style game – Wisconsin's Very Own Megabucks.
Up until August 29th 2004 – the WI Lottery had drawn its lottery numbers in the traditional way by using numbered balls rotating around in a drum. From August 30th 2004 it changed this to the less widely used but more up to date method of using a Random Number Generator – lotto number picker – to conduct its draws.
August 5th 2006 saw the biggest lottery win in Wisconsin Lottery history when a massive US$ 208.6 MILLION Powerball jackpot was claimed by circa 100 cheese factory workers from Plymouth.
The WI Lottery results will be displayed on the official Lottery WI website – wilottery.com – soon after each draw has been made.
Wisconsin Megabucks

–

Odds of Winning


The odds of winning on the Wisconsin Megabucks Lottery are highly competitive when compared to many of the other US Lotteries – especially the Multi-State offerings such as US Mega Millions or US Powerball.
The chances of you winning a Wisconsin Megabucks jackpot are 1 in 6,991,908 – for these lottery odds you could be one of the Megabucks jackpot winners for matching all 6 of the numbers.
For one of the prizes on the second level – the odds of winning are 1 in 27,101 for picking 5 of the winning lotto numbers drawn.

The likelihood of winning a third tier prize is 1 in 517 for selecting 4 of the winning lottery numbers and for a prize on the fourth tier the odds come right down to 1 in 29 for choosing just 3 numbers. 
Wisconsin Megabucks

–

Record Jackpots

The biggest win to date in the history of the Wisconsin Megabucks has been the huge US$ 22.2 MILLION on May 30th 2015 – won by former schoolteacher John Rumpel from Milwaukee, Wisconsin.

The 2nd largest Wisconsin Megabucks jackpot won so far has been US$ 20.3 MILLION which was won on August 25th 2001 by Candy Zak from Menasha, Calumet and Winnebago Counties, WI.
The 3rd biggest Wisconsin Megabucks jackpot to have been won so far has been the US$ 16.5 MILLION top prize of May 1997 won by a lucky couple from Fort Atkinson, Jefferson County, Wisconsin.
The US$ 15.7 MILLION Megabucks jackpot won in 1994 which was split between 31 employees of UW-Oshkosh currently stands as the 4th highest WI Megabucks jackpot to have been won so far.
Wisconsin Megabucks

–

How Prizes are Paid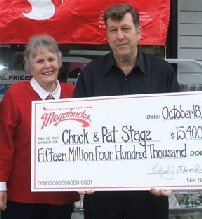 As a WI Lottery jackpot winner you would have a choice in how you wish to receive your winnings. You could choose to have either a single cash lump sum paid or an annuity prize.
You will need to make the choice as to whether you wish to receive the cash lump sum payment or the annuity installment payments option within a period of 60 days from validating your winning WI Lotto ticket. If you have made no decision by this point – the jackpot prize will automatically be paid to you as an annuity.
If you choose to receive your jackpot prize as an annuity it would be paid to you in yearly installments over a period of 25 years.
In terms of cash value – if you choose to take the option of the cash lump sum payment – you will receive approximately 50% of the value of the annuity that you would be paid in installments.
For any Wisconsin Lottery prize you have won – you will need to claim your prize within 180 days of the winning draw taking place.
If your win is up to US$ 600 – you will be able to claim your prize from one of the many Wisconsin Lottery retailers across the state assuming that they carry sufficient funds to cover the payment.
If your win is between US$ 601 and US$ 500,000 you will need to claim your prize at the WILottery offices in Madison or Milwaukee.
All prizes of more than US$ 500,000 – including a jackpot win – will need to be claimed at the Wisconsin Lottery office in Madison.
If you play lottery online this will not be a concern for you as your accredited lottery ticket sales agency will take care of everything for you – whether it is TheLotter or whichever company you use.
Wisconsin Lottery

–

Where the Money Goes

More than 95% of the money generated by the Wisconsin Lottery is returned in some form to Wisconsin citizens.
Apart form the prize wins that are paid out and the lottery running costs – the main recipients of revenue generated by the WI Lottery are Wisconsin tax payers who are eligible for property tax relief.
More than US$ 12.5 BILLION has been generated in revenue over the many years since the inception of Lottery Wisconsin in 1988.
Any WILottery prizes that remain unclaimed will also be added to the revenue fund for property tax relief in the State of Wisconsin.
Click Here to Check the LATEST WI Lottery RESULTS