MO Lottery

–

Lottery MO

The Missouri State Lottery came into existence in November 1984 when Missouri state voters first elected to have a lottery within their State.
Once this vote was formally approved – the Missouri Lottery became the 23rd US Lottery.
So – in 1985 the MO Lottery was created and from the outset its aim was to provide funding for causes beneficial to the whole State – with monies raised for the Missouri General Revenue fund up until 1992 and then for public education throughout the State.
On January 20th 1986 the Missouri Lottery sold its first ever lottery tickets – the game then being the Jackpot 86 instant lottery.
The Missouri Lottery is run and administered by the government of Missouri and is a member of the MUSL – Multi-State Lottery Association – and includes the mighty USA Powerball amongst its games on offer.
The Missouri Lottery offers a whole range of various lottery games including Club Keno, Show Me Ca$h, Lucky for Life, Pick 3, Pick 4, the Missouri Powerball Lottery, Mega Millions, scratchers and the game we shall be looking at here – the Missouri Lotto…
Missouri Lotto

–

Overview

The Missouri Lotto was the state's first and original traditional, lotto style jackpot game. The first Missouri Lotto tickets went on sale to the public on October 1st 1986.
The MO Lotto jackpot prize begins at US$ 1 MILLION and each draw that it is not won – a rollover occurs where prize monies are added on to the next draws' jackpot and this continues until it is eventually won – making for some rather large prizes available.
The Missouri Lotto game is a 6 number game which uses a matrix of 6/44. It differs slightly from many other USA Lottery games in that for your US$ 1.00 cost of entry – you actually get 2 plays!
Draws for the Missouri Lotto take place twice every week on both Wednesday and Saturday evenings at 8.59 pm local time.
We are pleased to have reviewed the Missouri Lotto game here and would recommend checking the latest Missouri Lotto results any time – first of all though take a look at how it works below…
Missouri Lotto

–

How it Works

The Missouri Lotto uses what is known as a 6/44 matrix meaning that when you play – you need to select 6 numbers out a range of numbers from 1 to 44 – if you match all 6 numbers drawn then you will be an MO Lotto jackpot winner. As you get 2 lines for each entry you will need to actually select 2 sets of 6 numbers.
As well as the jackpot itself – there are 3 extra ways in which you can win on the Missouri Lotto – with prizes to be won if you match either 5 of the 6 lottery numbers drawn, 4 numbers or even just 3.
A Quick Pick facility is available when you are playing the MO Lotto similar to the Lucky Dip option that is used in both the UK National Lottery & Europe's EuroMillions or many other US Lotteries. This means you can ask the lottery retailer or computer to randomly select all of your Missouri Lotto numbers for you.
So – playing the Missouri Lotto is simple – just select your own 6 numbers or request them to be automatically generated for you.
The cost of each entry into the MO Lotto is the standard sum of $1.00 – but for this as we mentioned earlier – you get 2 entries!
Missouri Lotto

–

Random Number Generator

Along with just a few other USA Lottery games that make their draws using a Random Number Generator (RNG) – the MO Lottery numbers are drawn this way too as opposed to the traditional way of using numbered balls drawn from a drum.
Missouri Lotto

–

Who Can Play?


As with most USA Lottery games – previously only citizens living in the State of Missouri were allowed to partake in any of the Missouri State Lottery games including the Missouri Lotto – you would have had to purchase your lottery tickets from a fully authorized agent or retailer based in the State of Missouri itself.
Nowadays though – there are a good number of online lottery ticket retailers such as TheLotter who are both authorized and genuine – you are able to select your Missouri Lottery numbers online and purchase your Lotto tickets without having to be concerned about whereabouts in the world you may be living.
This is great news of course if you live outside of Missouri and the U.S.A. but still wish to play the Missouri Lotto and check the latest Missouri Lotto results or you would just like to have the convenience & ease of being able to buy lottery tickets online.
You must be 18 years of age to be eligible to purchase a ticket for any of the MO State Lottery games including the Missouri Lotto.
Some great news here for all USA Lottery players in Missouri...

The Multi State Lottery Association (MUSL) – who administer the POWERBALL game – and the Mega Millions consortium – who administer the MEGA MILLIONS game – have entered into an historic cross-sales agreement across the USA. All US Lotteries that previously sold POWERBALL tickets can now ALSO sell tickets for the MEGA MILLIONS.

This means that with effect from January 31st 2010 – in addition to the existing
POWERBALL – USA Lottery players in Missouri will now ALSO be able to buy lottery
tickets for the MEGA MILLIONS. You can still buy lottery tickets online, of course,
from anywhere around the world.
Click Here to Check the MISSOURI LOTTO RESULTS

Click Here to PLAY Powerball NOW
Click Here to PLAY Mega Millions NOW
Missouri Lottery

–

Information and Background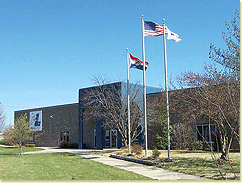 The very first Missouri Lotto jackpot winner was Ronald and Mary Ann Brinker from Pacific, Missouri who won US$ 1.136 MILLION on October 18th 1986.
The average jackpot amount to be won on the Missouri Lotto works out at US$ 3.4 MILLION.
Up until July 19th 2004 – the Missouri Lottery games were drawn using the traditional and more common method of using numbered balls rotating around in a drum. On this date – Missouri Lottery began using an automatic drawing machine known as a Random Number Generator (RNG) to select its winning lottery numbers.
The latest Missouri Lotto results can be checked straight after the draw in state newspapers, on the radio, television, at lottery retailers across the state and of course, online from the website where you had purchased your own Missouri Lottery tickets.
The latest MO Lottery results will also be displayed on the official MissouriLottery website – molottery.com – shortly after the draw.
Missouri Lotto

–

Odds of Winning

The odds of winning on the Missouri Lotto are very competitive when compared to many of the US Lotteries – especially the Multi-State offerings like the Mega Millions and Powerball.
The chances of you winning one of the Missouri Lotto jackpot prizes are 1 in  7,059,052 – for these odds you could be one of the MO Lotto jackpot winners by matching all 6 of the winning lottery numbers. In reality your chances per play are actually even better than that at 1 in 3,529,526 as you have 2 separate plays per entry.
For one of the prizes on the second level – the winning odds come in at 1 in 30,961 for matching 5 of the 6 winning numbers drawn.
The likelihood of winning a third tier prize comes in at 1 in 669 for picking 4 of the winning numbers drawn and for a prize on the fourth tier the odds are reduced right down to just 1 in 42 for successfully selecting only 3 of the winning lottery numbers.
The overall odds of winning any MO Lotto prize is about 1 in 20.
Missouri Lotto

–

Record Jackpots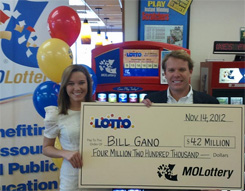 Phillip and Margaret McClurg of St. Louis are the winners of the largest jackpot to date produced by the Missouri Lotto – they won US$ 19 MILLION and decided to take the cash option from the lotto draw on June 10th 2000.
On July 26th 2006 – Mike and Susan Palmer of St. Genevieve became the first MO Lotto jackpot winners to have a 2nd jackpot win when they scooped US$ 5.5 MILLION on the Lotto Missouri.
The biggest ever lottery win experienced in Missouri to date has been a huge US$ 298.7 MILLION won on November 28th 2012 by a lucky couple from Dearborn in Buchanan & Platte counties.
The largest single ticket win in Missouri Lottery history to date was on January 24th 2007 when the Wilson family from St. Louis won the fantastic amount of US$ 254 MILLION on the MO Powerball.

The previous largest Missouri Powerball lottery prize so far had been US$ 130.6 MILLION won by Bill and Claudia Walkenbach of Hermann. They and a Pennsylvania ticket holder each shared 1/2 of the US$ 261.3 MILLION Powerball jackpot on July 9th 2003.
Missouri Lotto

–

How Prizes are Paid

As a Missouri State Lottery jackpot winner – you would have a choice in how you wish to receive your Lotto winnings. You could choose to have a cash lump sum payment or annuity prize.
You will need to make the choice as to whether you wish to receive the cash lump sum option or the annuity installment payments option within 60 days from the date of making your claim. If you make no decision – after the 60 day period – the jackpot will automatically be paid to you by the MO Lottery as an annuity.
In terms of value – if you choose to receive the cash lump sum payment as a Missouri Lottery jackpot winner – you would receive roughly 50% of the annuity that you would be paid in installments.
If you choose to receive your jackpot as an annuity – it would be paid out to you in yearly installments over a period of 25 years.
You will need to claim your Lottery MO winnings within 180 days of the draw taking place before your winning ticket is invalidated.
If your Missouri Lotto win is up to US$ 600 you will be able to claim your prize from any of the many Missouri Lottery retailers.
If your win is between US$ 600.01 and US$ 35,000 then you will need to claim your prize at any office of the Lottery Missouri.
All prizes above US$ 35,000 including jackpot wins must be claimed from the Missouri Lottery HQ in Jefferson City.
If you play lottery online however – whatever your win – this will not be a concern for you as your accredited lottery ticket sales agency like TheLotter will take care of all this on your behalf.
Missouri Lotto

–

Where the Money Goes

Funds generated by everyone who plays in the Missouri State lottery games are used to benefit citizens of the state – primarily going towards funding public education and higher education.
Since its beginning the Missouri State Lottery has contributed in excess of US$ 5 BILLION towards public education and the State.
Click Here to Check the LATEST Missouri Lottery RESULTS