Connecticut Lottery

–

CTLottery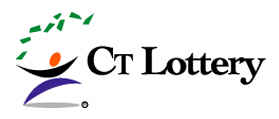 The Connecticut Lottery began back in June 1971 when the state governor of the time signed a public act to initiate its creation.
The very first Connecticut Lottery tickets sold were for a game called simply "The Lottery" and went on sale on February 15th 1972 across the state at 3000 lottery retailer locations.
The Connecticut State Lottery is run by the government of Connecticut and it was designed with the aim of generating the maximum revenue possible for the benefit of the state.
Profits realised from the CT Lotto are paid into the state's General Fund.
The Connecticut Lottery is a member of the Multi-State Lottery Association – the MUSL – and offers the huge Powerball lottery as part of its range of games.
Other games in the CT Lottery portfolio include the multi-state Mega Millions, various scratch-offs, Cash 5 and the company's main lottery game – the Classic Lotto which we are going to take a closer look at here…
CT Lottery

–

Classic Lotto

–

Overview

The origins of today's CT Lottery Classic Lotto began back in November 1983 when it was launched under the name "Want To Be A Millionaire?"
It started then with a matrix of 6/36 before spending some time with a matrix of 6/40. Today's version – the current Connecticut Classic Lotto – has a 6/44 matrix which began in September 1989.
Though the matrix has remained unchanged since then – the Connecticut Lottery Classic Lotto did not adopt its current name until May 1999.
Jackpots for the CT Lottery Classic Lotto begin at US$ 1 MILLION and rollover each time they are not won. That figure is then added onto the following draw's jackpot and increases in size each draw until somebody wins it when it will revert to the starting jackpot sum of US$ 1 MILIONS once again.
The Classic Lotto is drawn twice a week in Connecticut on Tuesdays and Fridays at 10.38pm local time.
We are happy to have reviewed the Connecticut Lottery Classic Lotto game and would recommend having a go to try out your luck. First of all though – take a look at how it works below…
CT Lottery

–

Classic Lotto

–

How it Works
The Connecticut Lotto – Classic Lotto – uses what's known as a 6/44 matrix - which means that when playing the Classic Lotto, you need to select 6 numbers from a pool of numbers from 1 to 44 – if you match all 6 numbers drawn then you will be a jackpot winner.
In addition to the jackpot itself – there are 3 other ways in which you can win on this CT Lottery game – for matching 5 winning numbers, 4 winning numbers or even just 3 winning lotto numbers.
A Classic Lotto "Quick Pick" facility is available when playing the CT Lotto – very much the same as the "Lucky Dip" option that is used in the UK National Lottery or Europe's EuroMillions or many other of the USA Lottery games – which means that you can ask the lottery retailer or computer to randomly select all your Connecticut Lottery numbers for you.
The cost of an entry into the Classic Lotto is the standard sum of US$ 1.00.
CT Lottery

–

Classic Lotto

–

Who Can Play?

Like with the majority of US Lotteries – previously only citizens living in the State of Connecticut were allowed to play in any of the Connecticut State Lottery games including the Classic Lotto – you used to have to purchase your CT State Lottery tickets from an authorized retailer based in Connecticut itself.
Nowadays though – there are a good number of online lottery ticket sales retailers such as TheLotter who are both authorized and genuine – you are able to select your CT Lottery numbers online and purchase your tickets without worrying about where in the world you may be living.
This is good news of course if you live outside of the USA and Connecticut but want to play the Classic Lotto and ensure your entry into the next drawing or just want to have the convenience of being able to buy lottery tickets online with ease for the Connecticut Lotto.
Once you have entered into the Classic Lotto draw – you can then easily check your chosen CT Lottery results online to see how you have done and to find out if you have become one of the lucky Classic Lotto winners.
You will need to be 18 years of age to be eligible to purchase a ticket for any of the CTLottery games including the Classic Lotto.
Some great news here for all USA Lottery players in Connecticut...

The Multi State Lottery Association (MUSL) – who administer the POWERBALL – and the Mega Millions consortium – who administer the MEGA MILLIONS – have entered into an historic cross-sales agreement across the USA. All US Lotteries that previously sold POWERBALL tickets can now ALSO sell MEGA MILLIONS tickets.

This means that with effect from January 31st 2010 – in addition to the existing
POWERBALL – USA Lottery players in Connecticut will now ALSO be able to buy lottery tickets for the MEGA MILLIONS. You can still buy lottery tickets online, of course, from anywhere around the world.
Click here to Check the CLASSIC LOTTO RESULTS


Click here to Play POWERBALL Now
Click here to Play MEGA MILLIONS Now
CT Lottery

–

Information and Background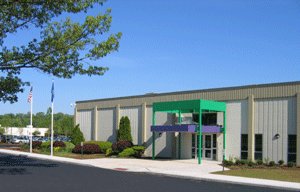 The Connecticut Lottery was the first USA lottery to become a public corporation on July 1st 1996. The company name changed and became the Connecticut Lottery Corporation. With this corporate structure, the CT Lotto gets no operational funding from the state.
The Classic Lotto game has undergone a few changes over the years and in its very first format it used a matrix of 6/36.
This was changed in April 1985 to a matrix of 6/40 before changing again in October 1989 to its current format of 6/44.
On November 28th 1995 – the Connecticut Lottery became a member of the Multi State Lottery Association (MUSL) and began offering its players tickets for the Powerball game.
In 1997 – the Connecticut Lottery introduced a cash option for jackpot winners of the Classic Lotto in addition to the annuity.
January 31st 2010 saw the Connecticut State Lottery start to sell Mega Millions tickets as a result of the cross-seeling agreement.

CT Lottery draws take place in studios of the WTIC-TV (Fox) channel 61 in Hartford, Connecticut with the CT Lotto Headquarters being moved in April 2008, to Rocky Hill.
Connecticut Lottery results can be checked by watching the Classic Lotto draws live on television at WTIC-TV (Fox) channel 61, WTXX-WB20 or by visiting the official website – ctlottery.org.
CT Lottery

–

Odds of Winning

The odds of winning on the Connecticut Lottery – Classic Lotto – are competitive when compared to many USA Lottery games, especially the Multi-State offerings of Powerball and Mega Millions.
The chances of winning a Connecticut State Lottery – Classic Lotto jackpot are 1 in 7,059,052 – for these odds you could be a Classic Lotto jackpot winner.
For a prize on the second level – the odds come in at 1 in 30,961.
The likelihood of winning a third tier prize comes in at 1 in 669 and for a prize on the fourth tier the odds are reduced right down to just 1 in 42.
The overall odds of you winning any prize in a Classic Lotto draw are a very reasonable 1 in just 39. These are healthy overall odds for a jackpot game that produces many cash winners week after week.
CT Lottery

–

Record Jackpots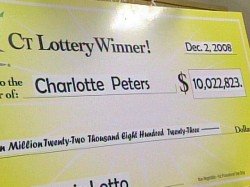 The largest jackpot produced to date by the Connecticut Lottery – Classic Lotto – has been US$ 28.5 MILLION which was won on January 1st 2002 by Mary Strange with a single ticket.
The biggest prize ever won on any Connecticut Lottery ticket was a US Powerball win in November 2011 that was a staggering US$ 254.2 MILLION won by the Putnam Avenue Family Trust.
At the time of writing there have been 5 Connecticut Powerball jackpot winners – the latest was on June 23rd 2012 – when Noel Peel from Seymour won a US$ 60 MILLION top prize.
CT Lottery

–

How Prizes are Paid

As a Connecticut State Lottery Classic Lotto jackpot winner – you would have a choice in how you wish to receive your winnings.
You could choose to have your jackpot winnings paid as either a single cash lump sum payment or an annuity prize.
You will need to make the choice as to whether you wish to receive the cash lump sum option or the annuity instalment payments option within 60 days of making your winning claim. If you make no decision – after the 60 day period – the jackpot will automatically be paid to you as an annuity.
In terms of value – if you chose to take the cash lump sum payment as a Connecticut Lotto jackpot winner – you would receive approximately 57% of the annuity value that you would be paid in installments.
If you choose to receive your jackpot as an annuity – it would be paid to you in equal yearly installments over a 21 year period.
If you win any prize on the Connectcut Classic Lotto you will have up to 1 year to claim your prize before your winning ticket becomes invalid.
If your Connecticut Lottery win is up to US$ 599 you will be able to claim your prize from any of the Connecticut Lotto retailers across the state.
If your win is between US$ 600 and US$ 5,000 then you will need to claim your prize at any CT Lottery High-Tier Claim Center or the Connecticut Lottery Headquarters.
If you've won any amount above US$ 5,000 up to a jackpot, you will need to make your claim at the CTLottery Headquarters in Rocky Hill.
If you play lottery online though – whatever the size of your win – your lottery ticket sales agency will take care of all this for you, so you needn't be concerned whether you use TheLotter or any other reputable online lottery ticket sales company.
CT Lottery –

Where the Money Goes

Monies generated by the CT Lottery go to the state's General Fund which supports many different areas of life in Connecticut including Conservation and Development, Corrections, Debt Service, the Department of Education and Health & Hospitals.
Other areas supported from CT Lottery revenue are Higher Education, Human Services, Libraries & Education Services, Medicaid, Mental Health & Public Health to name just a few.
Click Here to Check the LATEST CT Lottery RESULTS