Stake Your Place as a

YouPlayWePlay Affiliate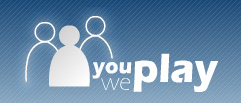 The popular and innovative online lottery syndicate system that is offered by YouPlayWePlay was launched on February 1st 2011.
YouPlayWePlay offers all lottery players the chance to vastly increase chances of winning lottery games by taking part in 4 major UK lotteries that each have their own separate lottery syndicates that you can participate in.
Unique among lotto syndicates – You Play We Play is the only lottery syndicate company that has syndicates available in the biggest Euro Lottery game – EuroMillions – as well as the 2 top games operated by the UK National Lottery – the UK Lotto and the Thunderball in addition to the local societies Health Lottery.

The YouPlayWePlay

Affiliate Program



In addition to the excellent lottery syndicate system run by YouPlayWePlay – there is also a generous and very lucrative referral opportunity available in the worldwide YouPlayWePlay Affiliate Program which is totally FREE TO JOIN.
As a lottery affiliate of YouPlayWePlay you are able to recommend people to the lottery syndicates available and earn commission every time they play or also join as an affiliate.
We have researched many different lottery affiliate programs in the past and firmly believe that the You Play We Play affiliate program is one of the best on offer – with very lucrative remuneration possible through the You Play We Play commission structure.
You can register FREE as a YouPlayWePlay affiliate TODAY and start building your team and business at any time you like.
YouPlayWePlay Affiliate

–

Paid Down 6 Levels!

At up to 42% commission on offer from YouPlayWePlay – we have not yet come across such a worthwhile lottery affiliate arrangement – one of the best in the lotto syndicate industry.
As a YouPlayWePlay affiliate – you would be paid down to an amazing 6 levels of referrals, which could add up to a great deal!
This means that you would not only get paid commissions for those people whom you refer to YouPlayWePlay yourself – but also on people that they refer – and so on down 6 levels in depth.
A great way to earn extra money and have fun at the same time…
YouPlayWePlay

–

Commission Structure

Here is the commission structure that is available to you as a YouPlayWePlay affiliate – we think you will find it impressive.
Level 1 referrals – 20% commission
Level 2 referrals – 6% commission
Level 3 referrals – 4% commission
Level 4 referrals – 4% commission
Level 5 referrals – 4% commission
Level 6 referrals – 4% commission
That calculates at an overall of 42% commission that is available to all members of the YouPlayWePlay lottery affiliate program.
YouPlayWePlay

–

How to Promote
So, all you need to do as a You Play We Play affiliate is to share the fact that people can play in either a EuroMillions Syndicate, UK Lottery Syndicate, Thunderball Syndicate or Health Lottery syndicate & greatly increase their chances of winning the lottery.
There are many different ways in which you can let people know about what a great lottery syndicate product you have your hands.
Let us just look at a couple of simple ways in which you can encourage people that you know – and those that you don't – to start playing the lottery as part of a YouPlayWePlay lottery syndicate and boost their chances of a substantial lottery win.
YouPlayWePlay Affiliate

–

Family & Friends

You can share this information by word of mouth – simply recommending YouPlayWePlay lottery syndicates to your family and friends – especially to those who already play lottery games.
Just show them your unique You Play We Play referral link – which you get after you register FREE as a YouPlayWePlay affiliate member – and they can then either click on your link or type it into their web browser and register themselves as a player or affiliate.
As soon as your referral has joined a You Play We Play lottery syndicate and bought lotto syndicate tickets for the EuroMillions, the UK Lotto, Thunderball or Health Lottery via your link – you will immediately become eligible for commissions for your work.
Of course they too can join with you as a FREE Affiliate of YouPlayWePlay and start earning the generous commissions.
YouPlayWePlay

Affiliate

–

Websites

If you own your own website or blog – you can also upload YouPlayWePlay creative material that will attract visitors and prompt them to click through to the You Play We Play site via your tracking link.
This holds no limits to the number of people you can potentially reach as your website will be seen right around the world – and lottery players from most countries can join a YouPlayWePlay lotto syndicate – in fact players from 132 different countries have already done so.
If you don't yet have your own website or blog you may have the knowledge to create one so that you can put up your YouPlayWePlay referral link and reach a wider audience.
YouPlayWePlay

–

Creative & Marketing Tools

There are many tools and creative material available for you as a YouPlayWePlay affiliate – all easily found in the members area – that will help you to promote your You Play We Play referral link to other potential lottery syndicate.
YouPlayWePlay have created numerous banners of various sizes that can be added to your website, blog or even used as an email signature for whenever you send out an email.
There is also a great Facebook application available to you that gives all affiliate YouPlayWePlay members a fantastic social networking tool that can be used to promote your You Play We Play referral link to every one of your Facebook contacts – and much more.
This application will fully integrate YouPlayWePlay into all areas of your Facebook profile – once again meaning that your referral link will be seen by as many people as possible.
Also available is a special Facebook Inviting tool from which you can send out either pre-written or personal YouPlayWePlay invitations to all of your friends on Facebook.
If all that isn't enough – there is also a revolutionary Share Tool that is available to You Play We Play affiliate members that gives the gives the whole offering a completely viral aspect
The YouPlayWePlay Share Tool allows you to share your content right across the internet making an easy task of sending your referral links and bookmarks to well over 300 social websites with the simple click of a button.
Anything you send through the Share Tool interface automatically contains your unique You Play We Play affiliate referral link.
YouPlayWePlay

Affiliate

Back Office

You can find out all the information you need to monitor just how you are doing within the various areas of the YouPlayWePlay members back office.
Here in the affiliate members area you will have at your fingertips – important information and data that allows you to keep track of your promotional campaigns.
You will be able to see exactly how many new players and/or affiliates that you have recommended to You Play We Play as well as what they have spent on lottery syndicate memberships and what commissions you are due.
As well as your own referred customers – you will also be able to see how the other referred YouPlayWePlay affiliates in your team are doing – how many referred customers they have brought in and what commissions you are due from these.
Also to be found in the You Play We Play affiliate section are numerous page links available that allow you to direct visitors to particular pages within your YouPlayWePlay website – this can be particularly useful if you want to send people to, say, a "Lottery Results" page or to the "Sign Up" page.
A full section on lottery results is also there where you can easily check any of the EuroMillions results, UK Lotto results, Thunderball results and Health Lottery results going back a long time.
Click Here to Join YouPlayWePlay FREE as an Affiliate Now
Click Here to Read More about YouPlayWePlay Syndicates
Click Here to PLAY in a YouPlayWePlay Lotto Syndicate NOW
Click Here to Read More about Lottery Syndicates
Click Here to Read about the BEST Lottery Syndicates

© Copyright 2009 - 2020 - Global-Lottery-Review.com All Rights Reserved
<! --- START WORLD LOTTO DROP DOWN BOX ---> <! --- END WORLD LOTTO DROP DOWN BOX --->
<! --- START WORLD LOTTERY RESULTS DROP DOWN BOX ---> <! --- END WORLD LOTTERY RESULTS DROP DOWN BOX --->
QUICK LINKS
<! --- === BUTTON 1 === ---> <! --- === BUTTON 2 === ---> <! --- === BUTTON 3 === ---> <! --- === BUTTON 4 === ---> <! --- === BUTTON 5 === ---> <! --- === BUTTON 6 === ---> <! --- === BUTTON 7 === ---> <! --- === BUTTON 8 === ---> <! --- === BUTTON 9 === ---> <! --- === BUTTON 10 === --->