Current Jackpot £ 500,000
Thunderball

–

Overview


After the UK Lotto, Thunder Ball is the next largest game that the UK National Lottery has to offer from its wide range of lotteries.
Thunder Ball was the third weekly UK Lottery draw to be introduced by Camelot. Initial expectations were to have weekly ticket sales of £4 Million.
The very first draw back in 1999, took place as part of "Winning Lines" – a Talking Telephone Numbers rip-off lottery show.
It was introduced in 7th June 1999, with the first draw taking place on 12th June – 4½ years after the National Lottery itself began.
On May 9th 2010 – the Thunder Ball jackpot was increased from £250,000 to a much more exciting £500,000 and this UK Lottery certainly offers the best odds of winning a £1/2 Million prize.
Thunderball

–

How It Works

Thunderball uses what's known as a double matrix of 5/39 and 1/14. In the first matrix here the main numbers are drawn out of a range of numbers ranging from 1 to 39 – then from the second matrix – the Thunder Ball is drawn out of a range of numbers from 1 to 14.
This means that when playing, you will need to select the 5 main numbers first from 1 to 39 and the Thunder Ball from 1 to 14.
If you match all 5 main numbers drawn plus the Thunder Ball, you will be a jackpot winner.
You can play Thunderball 4 times every week with draws taking place on Tuesday, Wednesday, Friday and Saturday.
There are 9 different ways in which you can win on this UK Lottery game including the jackpot itself. You can even win by matching NONE of the main numbers –  JUST the Thunder Ball.
A "Lucky Dip" facility is available when playing too, the same as with the UK Lotto, EuroMillions and the "Quick Pick" facility that is used in many USA Lottery games & Canadian Lotteries – which means that you can ask the lottery retailer or computer to randomly select all your Thunder Ball numbers for you.
UK Lotto-Thunderball-Euromillions Lucky Dip 
Random Number Generator - Click On the Buttons Below to Generate Some Numbers
Your numbers will open in the top left in a new small window. To generate more
numbers you
MUST
close
[X] this small window first.
Javascript must be enabled in
your browser for this widget to work, The buttons below will not work unless it is.
So, playing the UK Thunder Ball is easy…just select your own 6 numbers or request them to be automatically generated for you by a random number generator using the "Lucky Dip" option.
The cost of playing is just £1 per 6 number selection.
Thunderball

–

Who Can Play?

As with most British Lotteries – previously only citizens living in the United Kingdom were allowed to play in any of the National Lottery games - you used to have to purchase your tickets from an authorized retailer based in the UK itself.
Nowadays, though, there are a good number of online lottery ticket retailers who are both authorized and genuine  – such as TheLotter – you are able to select your numbers online and purchase your tickets without worrying about where in the world you are living.
This is great news of course if you live outside the UK and want to play the game and ensure your entry into the next draw or would like to have the ease of being able to buy lottery tickets online.
Once you have entered into the draw, you can then easily check the Thunderball results online to see how you have done.
As with the UK Lotto, there is a slightly lower age limit than for most countries - you only need to be 16 years of age to be eligible to purchase a ticket for any of the UK National Lottery games.
Click Here to PLAY Thunderball NOW

Thunderball Results



The drawings for the Thunder Ball take place 4 times each week on Tuesdays, Wednesdays, Fridays and Saturdays.
You can check the Thunder Ball Results in various ways to see if you have been lucky with the Thunder ball winning Numbers.
The Thunder Ball winning numbers will be published in numerous newspapers and also on the official UK Lottery website – national-lottery.co.uk – after 9.30pm on draw days.
You can also revisit Global Lottery review at any time to check on the very latest Thunder Ball Results.

Thunder Ball

–

Odds of Winning

The odds of winning this game are good when compared to many other National Lottery games around the world.
The chances of winning a jackpot and matching all 5 main numbers plus the Thunder Ball are 1 in 8.06 million – for these odds you could be one of the £1/2 Million winners.
For one of the prizes on the second level and matching the 5 main numbers, the odds are 1 in 620,046.
The likelihood of winning a third tier prize by matching 4 of the main numbers plus the Thunder Ball are at odds of 1 in 47,415 thousand and for a prize on the fourth tier for matching 4 main numbers, the odds are reduced right down to just 1 in 3,647.
To win a prize on the fifth tier and match 3 of the main numbers plus the Thunder Ball, you are looking at odds of 1 in 1,437.
Odds of a sixth level prize are 1 in 111 for matching 3 of the main winning numbers whilst 7th division odds are 1 in 135 for matching 2 of the main numbers polus the Thunder Ball.
Eighth tier prize winning odds come in at 1 in 35 for matching 1 of the main numbers plus the Thunder Ball and the ninth and final prize level has odds of 1 in 29.

The overall odds of you winning any prize in this game from the National Lottery are a very reasonable 1 in 12. These are great odds for a £1/2 million jackpot game that produces many cash winners every single week.
Thunderball

–

Record Jackpots

The jackpot prize for the Thunder Ball game remains constant at a Half a Million pounds.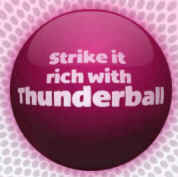 Thunder Ball

–

How Prizes are Paid

All UK National Lottery jackpots are paid in the form of tax free cash lump sums and that includes the top prizes in all its main games.
You will need to claim your lottery win within 180 days of the draw taking place before your entry becomes invalid and the money you would have won is given to relevant good causes.
Click here to PLAY Thunderball NOW