| | | | | | | | | |
| --- | --- | --- | --- | --- | --- | --- | --- | --- |
| <! --- = = = GLR BUTTON ON FB & TWITTER LOGOS ONLY = = = ---> | <! --- = = = END GLR BUTTON ON FB & TWITTER = = = ---> | <! --- = = = END EUROMILLIONS BUTTON = = = ---> | <! --- = = = END EUROJACKPOT BUTTON = = = ---> | <! --- = = = END MEGA MILLIONS FLAG = = = ---> | <! --- = = = END POWERBALL FLAG = = = ---> | <! --- = = = END LOVE MY LOTTO FLAG = = = ---> | <! --- = = = END YOUPLAYWEPLAY FLAG = = = ---> | <! --- = = = END GLR BUTTON ON FB & TWITTER = = = ---> | |
Lottery Netherlands – Nederlandse Staatsloterij
The Netherlands Lottery can trace its origins al the way back to 1726 when the Generaliteitsloterij (or Generality Lottery) was created to provide funds for the treasury of Holland.
Generaliteitsloterij was renamed as Nederlandse Staatsloterij in 1848 and so the Dutch National Lottery that we have today is now one of the oldest continuously operating lotteries across the world.
The Staatsloterij was run by the Dutch governmant right up until 1992 when an independent organisation was created to oversee operations – Stichting Exploitatie Nederlandse Staatsloterij.
The Staatsloterij today is run by the Nederlandse Loterij which was formed by the almalgamation of the 2 existing Dutch Lottery companies – Stichting Exploitatie Nederlandse Staatsloterij and Stichting de Nationale Sporttotalisator back on April 1st 2016.
The Dutch National Lottery is incredibly popular within the Netherlands with more than half the population regularly  playing.
At least 60% of all sales of the Staats Loterij go right back to its customers in the form of lottery prize money and Staatsloterij NL have in excess of 3,000 points of sale throughout the Netherlands where you can buy lottery tickets for Netherlands Lottery games.

There are numerous lotto games that players are offered by the Nederlandse Loterij including the Lotto NL – Netherlands Lotto – EuroJackpot, Miljoenenspel, Lucky Day, Toto, Krasloten (scratch cards) plus the Staatsloterij which we shall look at now in detail...
Nederlandse StaatsLoterij – Overview
The Nederlandse Staatsloterij is not a traditional draw type jackpot lottery as with most of the main world lotteries but is a sweepstake lottery raffle similar to El Gordo or Loteria Nacional of Spain.
The draw for the Staatloterij takes place 16 times per year on the 10th of each month between 6.30pm & 9.30pm CET plus there are 4 special Staats Loterij draws that occur on April 27th and December 31st.
These 4 additional draws made are known as the King's Draw –   Staatsloterij Koningsdagtrekking – which is on April 27th plus the New Years Eve Drawing – Oudejaarstrekking – which takes place on December 31st to celebrate both the old year & the new. Also there are the two Droomsalaristrekkingen – Dream Salary Draws – which take place each year on July 1st & October 1st.

The Nederlandse Staatsloterij offers players the biggest prize pool in Netherlands Lottery games – with more than € 400 MILLION in prize money available to be won throughout the calendar year!  
The Staatsloterij jackpot begins at a cool € 7.5 MILLION and it can rollover onto the following draw up to more than € 25 MILLION.
Whether or not the Staatsloterij jackpot will rollover and rise in size for the next draw is determined by the drawing of 1 coloured ball from 7 coloured lotto balls – 1 orange and 6 blue. If a blue ball is drawn the jackpot will rollover & be even bigger next draw but if the orange ball is drawn, the jackpot must be won in this draw. 
The Staatsloterij NL offers the best odds of winning out of all Netherlands Lottery games with an amazing 1 in 2 Dutch Lottery players who participate in all Staatsloterij draws winning a prize.
Playing with the additional Staatsloterij XL option will allow you to play with the same ticket number twice in the extra XL draw that is made where you can win even more prizes up to € 1 MILLION.
Nederlandse StaatsLoterij – How it Works
As we have already mentioned – the Staatsloterij is a sweepstake type of lottery & as such it uses lottery tickets each with a pre-printed lotto number.
Each of these lottery numbers is made up of 7 digits in total which are comprised of 2 LETTERS followed by 5 NUMBERS. This is your complete Staatsloterij ticket number.

You can buy lottery tickets for the Nederlandse Staats Loterij in WHOLE tickets or in PART tickets. A WHOLE ticket is called a Staatslot whilst a PART ticket is referred to as 1/5 Staatslot as the Staatslot is broken down into one fifths of the Staatslot itself.
Furthermore the Netherlands Lottery offers players the options of a Straatje – which is 10 x 1/5 Staatslot tickets and a Straat – which is 10 x WHOLE StaatsLot tickets. If you play with 10 tickets in this way, you will always have the final digits & are guaranteed to win!
If you want more tickets still, you can play the Boulevardje option which will give you 100 x 1/5 Staatslot PART tickets or even the Boulevard option where you get 100 x Staatslot WHOLE tickets. With both of these options you are also guaranteed to win a prize.
As mentioned above, an additional draw is also made which is called the Staatsloterij XL draw. You have the option to play the Staats Loterij & add the additional XL feature to allow you to win even more Staatsloterij prizes which can be up to € 1 MILLION.
The Staatsloterij XL number will also be 7 digits which are made up of 2 LETTERS plus 5 NUMBERS. The winning amounts when you play with XL are fixed and are additional to the main prizes.

The cost of playing is € 3.00 for a 1/5 Staatslot ticket + € 0.50 to add the XL option. A whole Staatslot ticket costs € 15.00 + € 2.50 to add the XL option. A Straatje costs € 30.00 + € 5.00 to add the XL option and a Straat will cost € 150.00 + € 25.00 to add the XL option. Finally the Boulevardje is € 300.00 + € 50.00 to add the XL option and the Boulevard is € 1,500.00 + € 250.00 to add the XL.
Nederlandse StaatsLoterij – Who Can Play?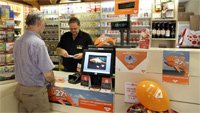 Unlike most of the major world lotteries that you can participate from anywhere around the world when you buy lottery tickets online from online lottery ticket sales organisations – it is only people who live in the Netherlands who are able to play in the Dutch Lottery – Nederlandse Staatsloterij.
The main online destination to visit for the purchase of Staats Loterij tickets is stasstloterij.nl – the official Netherlands Lottery website – which is run and operated by the Nederlandse Loterij.
Aside from the Staatsloterij istelf though – it is very possible for Netherlands Lottery players to play one of the other major Dutch Lottery games – EuroJackpot – from anywhere across the world.
The EuroJackpot lottery was first introduced in March 2012 and the great news is that you can easily Play EuroJackpot from wherever you are if you use an authorised company such as TheLotter that sells online lotto tickets in nearly all countries.
Similar to the Netherlands Lotto, EuroJackpot and most other world lotteries – you will need to be a minimum of 18 years of age to play any in of the Netherlands National Lottery games.
Nederlandse StaatsLoterij – Odds of Winning?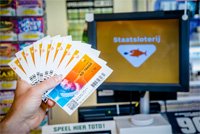 The Nederlandse Staats Loterij offers better odds of winning a prize than the majority of other world lotteries do.
As mentioned earlier – with in excess of 4 million prizes to be won in every Staat Loterij draw – 1 out of every 2 players will generally win a prize out of the Staatsloterij prize pot.
The odds of winning the many different levels of prize will vary with each drawing but the odds of you winning a Staatsloterij jackpot are approximately 1 in 2.7 million, better than most jackpot odds.

With so many hundreds of different ways to win various prizes on the Staatsloterij there is no wonder that it is so popular among all Dutch players who participate in Netherlands Lottery Games.
Nederlandse StaatsLoterij Results
The Nederlandse StaatsLoterij is drawn by the Nederlandse Loterij on the 10th of each month between 18.30 & 21.30.
There are numerous different methods you can check on to see the very latest StaatsLoterij results & find out if you have been fortunate with the numbers drawn in the Nederalndse Staatsloterij.
You can check the Staatsloterij results on the official website of the Dutch Lottery – nederlandseloterij – and the results are shown via the app and on Teletext page 555 after every draw is made.

Nederlandse StaatsLoterij – Record Jackpots
The biggest StaatsLoterij jackpot won to date has been € 38.4 MILLION – this huge win was achieved back in May 2013 by a player from Utrecht.
The 2nd biggest Staatsloterij prize won so far was in January 2015 when a massive € 30.3 MILLION was won by 5 x 1/5 Staatslot tickets. Each player won € 6.06 MILLION.
The 3rd highest prize won on the Staatsloterij to date has been a cool € 30 MILLION which has been won numerous times – by 2 winners from Gelderlond & Zeeland who both shared the prize in January 2017, by a player from Friesland in December 2013, also a lucky winner in December 2012 who came from Groningen & a winner from Breda in December 2011 in the New Years Eve Draw.
Other big Staatsloterij prizes to have been won include the 2019 win of € 27.8 MILLION which was won by a Reusel-de-Mierden player & the € 27 MILLION Staatsloterij win from March 2017.

This compares to other Netherlands Lottery games such as the Netherlands Lotto which has a record jackpot of € 36 MILLION won on October 16th 2010 and divided between 22 winners.
StaatsLoterij – How Prizes Are Paid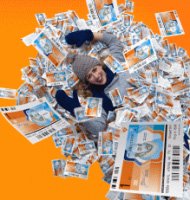 Any prize that you win on the Dutch National Lottery will be paid to you as a cash lump sum and all prizes including the Staatsloterij jackpot are tax free.
You generally have 365 days from the date of the draw in which to claim your Staats Loterij prize before the ticket will become out of date and thus invalidated.
If you have had a win of up to € 600 – you will be able to collect your winnings of from any of the Staats Loterij retailers who will be able to pay your prize in full at the time.

If your Staats Loterij prize is between € 600 & € 10,100 – you can also claim your winnings via selected Staats Loterij retailers but not directly in cash. The retailer will take your details and you will be paid within 7 banking days by the Nederlandse Staats Loterij.
If you have been lucky enough to win a Netherlands Lotto prize of more than € 10,100 including the jackpot prize, you will need to make an appointment to visit the Staats Loterij HQ in Rijswijk after which your winnings will be paid in 7 days by NederlandseLoterij.
If you have played other Netherlands Lottery games such as the EuroJackpot on a reputable online lotto ticket sales platform like TheLotter – you will not have to be concerned with any of these details as they pay you directly into your chosen bank account.
StaatsLoterij – Where the Money Goes
A minimum of 60% of all the monies raised by the sale of Staats Loterij tickets is returned to its lottery players in the form of lottery prize money – this is a higher percentage that ends up back in the lotto players pockets than from most other world lottery games.

Sometimes this figure is even higher as in 2009 when a huge 70% of Staats Loterij sales money was give back out in lottery prizes.
The remainder of the proceeds from Nederlandse Staats Loterij games goes towards the State Treasury after expenses and have included both the Lung Fund & Heart Foundation as beneficiaries.
Click Here to Read about the NETHERLANDS LOTTERY

Click Here to Read about the NETHERLANDS LOTTO
Click Here to Read about the EUROJACKPOT
Click Here to PLAY EuroJackpot NOW
Click Here to Check the Latest EUROJACKPOT RESULTS

Click Here to See the Euro Jackpot Mini-Website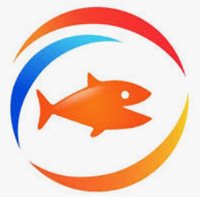 Return to Home Page from StaatsLoterij


© Copyright 2009 - 2020 - Global-Lottery-Review.com All Rights Reserved
<! --- START WORLD LOTTO DROP DOWN BOX ---> <! --- END WORLD LOTTO DROP DOWN BOX --->
<! --- START WORLD LOTTERY RESULTS DROP DOWN BOX ---> <! --- END WORLD LOTTERY RESULTS DROP DOWN BOX --->
QUICK LINKS
<! --- === BUTTON 1 === ---> <! --- === BUTTON 2 === ---> <! --- === BUTTON 3 === ---> <! --- === BUTTON 4 === ---> <! --- === BUTTON 5 === ---> <! --- === BUTTON 6 === ---> <! --- === BUTTON 7 === ---> <! --- === BUTTON 8 === ---> <! --- === BUTTON 9 === ---> <! --- === BUTTON 10 === --->