Current Jackpot ¥ 600,000,000
Japanese Lottery

–

Takarakuji

–

Loto Japan
The origins of Japan Lottery games date as far back as the 17th Century but Japan Lotto games as we would recognise them today began shortly after World War II in October 1945 when the Japanese government formed the very first state lottery and called it Takarakuji – 宝くじ – which when literally translated into English means the Fortune Lottery or the Treasure Lottery.
The first Japanese Lottery – Takarakuji – tickets were issued by the Japanese government & put on sale on October 29th 1945.
Early Japan Lottery – Takarakuji – games were so popular as the prizes on offer not only included cash but also essential items & supplies such as high quality cotton cloth, pocket watches, cycles, saccharin & sewing machines as well as whisky, cigarettes, dairy cattle, horses & even houses – much sought after post-war items.
A bit later on in the 1960s – Lottery Japan prizes even included such things as automobiles as well as luxury travel options.
In 1964 regional Japan Lottery organizations created the Japan Lottery Association which gave rise to the Japan Lottery – 宝くじ – games of today which are sold by 6 regional lottery companies.
Japanese Lottery games come in 3 main types – the raffle ticket lotteries such as the massive Japan Jumbo Draw, the number selection type such as Loto 6 and also the scratch card variety.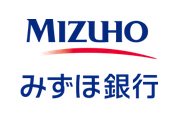 The Mizuho Bank of Japan has a special relationship with the Takarakuji lotteries and it is commissioned by the Japanese government to handle the organisation of all these principal Japan Lottery games.
Some of the major Japanese Lottery games available include the world famous Japan JUMBO Draw – known as the richest Asian Lottery – Numbers, MiniLoto – and the Takarakuji that we will be looking at more closely here – the very popular weekly LOTO6…
Lottery Japan

–

Loto 6

–

Overview
The Japan Loto 6 – Takarakuji – is a traditional jackpot lotto game from the Japanese Lottery and has been played across Japan for many years now – with the very first Loto 6 draw taking place back in October 2000.
Loto 6 Japan was introduced following the successful launching of other popular Japan Lottery games – Numbers which was first sold in October 1994 & then the MiniLoto which launched in April 1999.
Loto 6 jackpots start off at an impressive ¥ 200 MILLION and rise every week that they are not won right up to the maximum amount of ¥ 600 MILLION at which point the Loto 6 jackpot is now capped.
Loto 6 was in fact the very first Japanese Lottery to use a carry-over – or rollover – feature and was Japan's first jackpot lottery.
Drawings for the Loto 6 take place twice every week on Mondays & Thursdays from 18.45 and are held at Dream House in Tokyo.
Loto 6

–

How it Works
The Loto 6 from the Japanese Lottery uses a matrix of 6/43 – which means that when you play the Loto 6 you will need to pick your 6 numbers out of a range of numbers from 1 to 43. If you successfully match all 6 of the winning numbers drawn then you will be a Loto 6 jackpot 1st prize winner.
In addition to the 6 main numbers – a 7th number is also drawn – the Bonus number which determines winners on the 2nd level.
There are also 4 further ways that you are able to win on this Japan Lottery – with other cash prizes to be won if you match either 5 of the numbers drawn plus the Bonus number, 5 main numbers, 4 main numbers or even just 3 of the main numbers.
If no-one matches all 6 numbers correctly and there is no jackpot winner the Loto 6 jackpot will Rollover – or Carry-Over meaning that if the jackpot is not won it will be carried over to the following week's jackpot resulting in some huge Loto 6 jackpots produced.
A Quick Pick facility is available when playing Lottery Japan – Takarakuji – games. This means that you can get the computer terminal to select all of your Loto6 numbers for you if you wish.
So playing the Loto 6 – Takarakuji – from the Japanese Lottery is simple...…just select your own 6 numbers or let the computer pick them automatically for you by using a random number generator.
The price of playing in the Loto 6 is just  ¥ 200 for a single entry.
Loto 6

–

Who Can Play?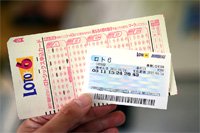 The same as with the majority of world lottery games – in the past it was only citizens living in Japan itself that were allowed to play in any of the Japanese Lottery games – including the Loto 6.
You had to purchase your Japan Lotto tickets from an authorized lottery retailer based in Japan – due to laws that restricted Japan Loto ticket sales to its domestic market.
These days though this is not a problem as there are numerous online lottery ticket sales companies such as TheLotter who are both authorized & genuine. They will purchase your lottery ticket on your behalf whether you are living in Japan or anywhere else.
This means that you are now able to select your Loto 6 numbers online & purchase your tickets wherever you live across the world.
This is great news of course if you live outside of Japan and want to play the Japan Lottery – Loto6 – and ensure your entry into the next drawing or simply want to have the ease and convenience of being able to buy lottery tickets online from your own house.
Once you have entered into the Loto 6 Takarakuji, you can then easily check the Loto 6 Results here to see how you have done and to find out if you have become one of the Takarakuji winners.
Click Here to PLAY the Japan Lottery – Loto 6 – NOW

Latest Loto 6 Results



There are an estimated 15,000 Mizuho bank Japan Lottery ticket retailers that are located all throughout the country.
You can see the latest Loto 6 Results in numerous ways to check if you are the holder of a winning lottery ticket.
Loto 6 results be broadcast on Japanese TV Asahi at 9.50 pm on draw days plus you can see them at Mizuho Bank Lottery Corner and they will also be published in various Japanese newspapers.

You will also be able to check the Japan Lotto results from any of the lottery retailers across Japan & also revisit us here at Global Lottery Review where you can find the results twice every week.
In addition to this takarakujinet – the official website of the Japan Lottery – will also publish the Loto 6 results following every draw.

Using this link you can even look for any Past Loto 6 Results to check on any previous draw that you may have otherwise missed.
Loto 6 Biggest Jackpots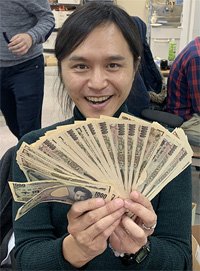 The Loto 6  jackpot starts off at a huge ¥ 200 MILLION and it will increase in size for each drawing where there has been no lucky jackpot top prize winner.
This rollover increase will raise the Loto 6 top prize up to a maximum amount of ¥ 600 MILLION which it does regularly.
The Loto 6 top prize is then capped at ¥ 600 MILLION at which point it will not get any bigger. It will now remain at this level until a winner is eventually found.

This massive Japan Lotto jackpot is won by players on numerous occasions throughout the year making it a exciting game to play.

Loto 6

–

Odds of Winning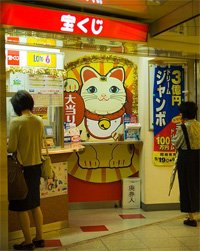 The odds of winning on the Japanese Lottery – Loto6 – are very competitive when compared to other world lottery games and there are 5 different ways that you are able to win Loto 6 prizes.
Your odds of winning a Loto 6 jackpot by correctly matching all 6 of the main winning numbers are 1 in 6,096,454.
For one of the prizes on the 2nd tier – for matching 5 of the numbers plus the additional number are 1 in 1,016,076.
For a prize on the 3rd tier you are looking at odds of 1 in 28,224 for matching 5 of the main lotto numbers and for a 4th tier prize for correctly matching 4 main numbers the odds are 1 in just 610.
To win a prize on the 5th and final level of the Loto6 – your odds are a very good 1 in just 39. The easy-to-read table below gives you complete details of the Loto 6 winning odds and prizes…
| | | | |
| --- | --- | --- | --- |
| Prize Divisions | By Matching Numbers | Winning Odds | Theoretical Jackpot |
| Jackpot | 6 Main | 1 in 6,096,454 | ¥ 200 > 600 MIllion |
| 2nd Prize Level | 5 Main Plus Bonus | 1 in 1,016,076 | ¥ 150 Million |
| 3rd Prize Level | 5 Main | 1 in 28,224 | ¥ 50 Million |
| 4th Prize Level | 4 Main | 1 in 610 | ¥ 9,500 |
| 5th Prize Level | 3 Main | 1 in 39 | ¥ 1,000 |
Loto 6

–

How are Prizes Paid?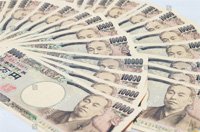 If you are the lucky winner of a Japan Lottery – Loto 6 – jackpot you will be paid your prize winnings in the form of cash lump sums. All Japanese Lottery prizes are paid out to winners as cash.
Winners of the Loto 6 can collect their prize completely free of Japanese taxes – tax exempt – so if you win on the Loto 6, you pay no tax whatsoever on your winnings.
You will need to claim your Loto 6 prize within 1 year of the day after the draw – if you do not claim your prize within this period your Japan Lottery ticket will then unfortunately become invalid.
If you have won less then ¥ 50,000 – you should be able to collect your winnings from one of the Japan Lotto retail establishments.
If you have become the lucky winner of a Japan Lottery prize that is worth more than ¥ 50,000 – you will need to claim your lottery winnings at one of the commissioned banks like the Mizuho bank.
Should you play lottery online you will not have to be concerned with any of this, as your authorized lottery ticket sales company – such as the TheLotter – will take care of all these details for you.
Loto 6

–

Where the Money Goes

Major areas that will benefit from proceeds realised by the sale of Japanese Lottery tickets – including the Loto 6 – are public works projects like the construction of welfare facilities & public housing.
All Japan Lottery profits are initially transferred to the local and municipal governments who issued the tickets – a percentage is put into the general accounts of major cities and each prefecture.
Takarakuji – Loto Japan – games have also raised funds for some major sporting events like the 1964 Tokyo Olympics, other events such as the 1970 Osaka World Exposition and to provide help with important programs of following natural disasters that may have occurred such as the terrible Great Hanshin Earthquake in 1995.
In the earliest days Japan Lotto games were used to generate much income for both local and national Japanese governments.
As well as providing great opportunities of winning large sums of money – these days the proceeds raised from playing any of the Japanese Lottery games – including the Loto6 – goes not only to the local government organizations but also to various charities.
Another beneficiary of Takarakuji proceeds in Japan is the Jichi Medical School for medical care promotion in rural areas plus welfare societies for the elderly through the Rainbow Lotteries.
Click Here to PLAY the Japan Lottery – Loto 6 – NOW