Greek Lottery – Lottery Greece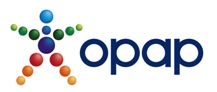 Greek Lottery games go back in time as far as 1958, when OPAP – the Greek Organization of Football Prognostics – was established on December 12th and today is the largest betting firm in Europe.

The first game to be offered by the newly formed company was PROPO – the prediction of football scores – which is still popular today and known as Propogoal.

The Greece Lottery is fully controlled and regulated by the Greek Government who awarded a 20 year license, giving OPAP the exclusive rights to organize and operate Greek Lottery games.

There are many games offered by OPAP and Lottery Greece including Kino, Propogoal, Proto, Joker, SUPER 3, EXTRA 5 and the Greek Lottery flagship game that we are going to look at here – the very popular Greece Lottery – Lotto 649…
Greece Lottery – Lotto 649 – Overview

The Greece Lottery – Greece Lotto 649 – was introduced by OPAP back in 1990 with the first Greece Lotto draw taking place just before Christmas on December 5th.
The Greek Lotto game has remained relatively unchanged since it started until 2009 when it underwent a makeover and a completely new prize category was introduced.
With effect from January 26th 2009, the prize categories were increased to 5 in total, with a new second division prize level brought in for players who matched 5 of the main numbers plus a new "Additional Number" that would now be drawn.
Prizes for this new second level prize are EUR 50,000.
The Lottery Greece – Lotto 6/49 – is a traditional jackpot, draw-style, lotto game and is the most popular game offered by OPAP, operators of the National Lottery in Greece.
Each time that the Greek Lottery jackpot is not won, it will "rollover" and the figure will be added onto the jackpot figure for the following draw, making for some much larger jackpot figures to be won.
Draws for the Greece Lottery take place twice each week on Wednesdays and Saturdays at 9.00pm Greek Time.
We are very pleased to have reviewed the Greece Lottery – Lotto 6/49 and would very much recommend taking a look at how it works below...
How It Works…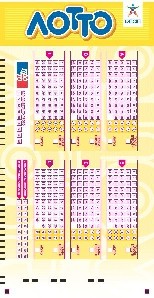 The OPAP Greece Lottery – Greek Lotto uses what's called a matrix of 6/49 which means that when playing the Greek Lottery, you will need to select 6 numbers out of a pool of balls numbered from 1 to 49.
If you match all 6 of the main numbers drawn then you will be a winner of the first division prize – the Greek Lottery jackpot.
After the 6 main numbers have been drawn, an Additional Number is also drawn from the remaining 43 numbers. This is used to determine prizes on the second level of the prize structure.
In addition to the jackpot itself, there are 4 other ways in which you can win on the Greece Lottery, which means that are a great number of prizes to be won twice every week for anyone who plays Lottery Greece.
A Random Number Generator facility is available when playing the Greece Lottery with OPAP very much the same as the "Lucky Dip" option that is used in the UK National Lottery or Europe's EuroMillions or the "Quick Pick" on nearly all USA lottery games – which means that you can ask the lottery retailer or computer to randomly select all your Lottery Greece numbers for you.
So, playing the Greek Lottery is simple…just select your own numbers or ask the random number generator to select your numbers for you by choosing the "Random" option.
The cost of entering into the Greece Lottery – Lotto – is a low price of just EUR 0.50 per line and you can purchase entries up until 30 minutes before the draw takes place.
Who Can Play?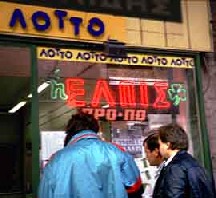 As with most of lottery games around the world, previously only citizens living in Greece were allowed to play in any of the games from OPAP including the Greece Lottery – Lotto – you used to have to purchase your Lottery Greece tickets from an authorized retailer based in Greece itself.
Today, though, this is not a problem as there are various online lottery ticket sales agencies like TheLotter who are both authorized and genuine - you are able to select your Greek Lottery numbers online and purchase your tickets where ever in the world you live.
This is great news of course if you live outside of Greece and want to play the Greek Lottery and ensure your entry into the next draw or simply want to have the convenience and ease of being able to buy lottery tickets online.
Once you have entered into the Lottery Greece draw, you can then easily check the Greek Lottery results online to see how you have done and to find out if you have become one of the lucky Lotto winners.
Click here to Play the OPAP Greece Lottery – Lotto - Now
Information & Background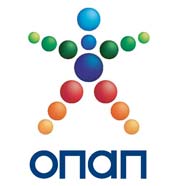 The Greece Lottery – Lotto – underwent a notable change on November 12th 1997, when OPAP introduced a new prize winning category for players who successfully matched 3 winning numbers.
Jackpots for the Greece Lottery – Lotto – are made up of 20.37% of the total monies spent on each Lotto draw and are paid out equally amongst winners of the Greek Lotto first division prize.
You can check the Greece Lotto results easily as they are broadcast live from the Greek TV Channel ET1. The Lotto results are also broadcast by Radio Station Sports Radio and you can see them on Teletext page 197 on ET1.
Other places that you can check the Greek Lotto results are by clicking the "Results" link at the bottom of the page or in various Greek newspapers.
What Are The Odds?

The odds of winning on the OPAP – Greece Lottery – Lotto – are very competitive when compared to many world lotteries and there are 5 different ways in which you can win, so this means there's a lot of prizes to be won twice every week.
The chances of winning a Greece Lottery jackpot by matching the 6 main numbers are 1 in 13.98 million – for these odds you could be one of the OPAP – Lotto jackpot winners.
For a prize on the second level, the odds come down to 1 in 2.33 million for matching 5 of the main numbers plus the Additional Number.
The likelihood of winning a third level prize is at 1 in 54,201 for matching 5 of the main numbers and for a prize in the fourth level the odds come right down to 1 in 1,032 for matching only 4 of the main numbers.
The chances of you winning on the fifth and final prize level are 1 in just 57 for matching just 3 of the main numbers drawn.
How Are Jackpots Paid?
If you are the lucky winner of a Greece Lottery jackpot, OPAP will pay your winnings in the form of a cash lump sum. All Lottery Greece prizes are paid out in cash.
If you have won any prize on the Greek Lottery, you will need to make your winning claim within 3 months of the draw taking place before your claim will become invalid.
Of course, if you are playing the Greek Lottery with a reputable online lottery ticket agency such as TheLotter you will not need to be concerned with this, as they will take care of everything for you when you play lottery online.
Where The Money Goes - How Greece Benefits…

Proceeds from the Greece Lottery go towards helping many different aspects of life in Greece, benefiting a wide number of its people.
For example, for many years now, OPAP and the Greek Lottery have been the main providers of funding for sport within Greece.