Greece Lottery
–
OPAP
–
Greek Lottery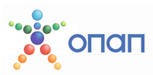 The company that is responsible for organising Greece Lottery games was founded back in 1958 by the State as a vehicle for raising funding for sporting endeavours throughout Greece by way of offering sports betting games – the first of which was Propo and was launched in 1959.
Greek Lotto games were first introduced into the OPAP – ΟΠΑΠ – portfolio in 1990 when ΛΟΤΤΟ was launched in December of that year with the range of beneficiaries being widened to include the important area of cultural development within the country.

Between 1992 and 2003 many more Greece Lottery games were brought out making for an exciting range of lotteries that players both at home and abroad could now participate in.

Numerous games of Greek Lottery games are conducted by OPAP (ΟΠΑΠ) including the widely played ΛΟΤΤΟ (Greece Lotto). Others include SUPER 3, EXTRA 5, ΠΡΟΠΟΓΚΟΛ (Propogoal), ΠΡΟΠΟ (Propo) and not forgetting the ΤΖΟΚΕΡ (Greece Joker) – the game that we shall be discovering more about here...

Greece Joker

–

ΤΖΟΚΕΡ

–

Overview


The Greece Joker – ΤΖΟΚΕΡ – was first launched on November 16th 1997 by OPAP to compliment the already existing and highly popular Greece Lotto – ΛΟΤΤΟ – which had then been running for almost 7 years.

The Greece Joker – ΤΖΟΚΕΡ – is a standard jackpot, powerball lottery type game and along with the Greece Lotto is one of the 2 flagship games produced by the National Lottery of Greece.

There is no limit as to how high the Greece Joker jackpot – ΤΖΟΚΕΡ ΤΖΑΚ-ΠΟΤ – can grow. Whenever the top prize is not won it will rollover and increase in size until a winner is produced.

Draws for the Greece Joker are maede by OPAP – ΟΠΑΠ – twice every week on Thursday at 10.10pm and Sunday at 10.00pm.

Now that we have reviewed the Greece Joker – ΤΖΟΚΕΡ – we would encourage you to take a detailed look at how it works...

Greece Joker

–

ΤΖΟΚΕΡ

–

How it Works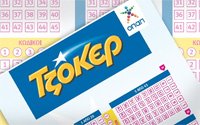 The Greece Joker – ΤΖΟΚΕΡ – uses a dual matrix of 5/45 + 1/20 meaning that 5 main numbers are firstly drawn out of a range of lotto numbers from 1 to 45 followed by 1 number – the Joker – out of a number range from 1 to 20.

Therefore when you are playing the Greek Joker – you will need to first of all select your 5 main lottery numbers out of that range of numbers from 1 to 45 and then your Joker number from 1 to 20.

If you match all 5 of the main numbers plus the Joker number drawn then you will be a winner of the 1st category prize – the Greek Joker jackpot – known as ΤΖΟΚΕΡ ΤΖΑΚ-ΠΟΤ in Greek.

As well as the jackpot itself – there are 7 further ways in which you can win on the Greece Joker – meaning that are many thousands of prizes waiting to be claimed twice each week.

A lotto number picker option is available when playing the OPAP Joker – ΟΠΑΠ ΤΖΟΚΕΡ – similar to the Lucky Dip option used with the UK National Lottery and the EuroMillions or the Quick Pick facility as is available on the majority of USA Lottery games.

Therefore – to play the Greece Joker is easy – simply choose your own lotto numbers or request that the computer terminal or lottery retailer automatically picks all your Greece Joker numbers for you using their random number generator.

Greece Joker

–

ΤΖΟΚΕΡ

–

Who Can Play?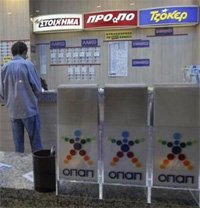 In the past it was only Greek residents who were allowed to participate in any of the OPAP produced games including the Greece Joker – ΤΖΟΚΕΡ – you would have had to buy your Greek Lotttery tickets from a retailer that was situated inside the country of Greece.

These days though this is not an issue as there are a number of online lotto ticket sales companies such as TheLotter that are legitimate and reputable – you can now secure your tickets from any computer terminal and from pretty much anywhere around the world.

This is good to know if you are living outside of Greece and wish to participate in the Greece Joker or even if you simply want to enjoy the simplicity of being able to buy lottery tickets online with convenience and even from the comfort of your own home.

It is a requirement of OPAP – ΟΠΑΠ – that all players are at least 18 years old before they can participate in any of their games.

Click Here to PLAY the Greece Joker – ΤΖΟΚΕΡ – NOW

Greece Joker Result
s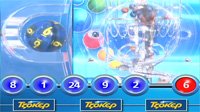 OPAP conduct the drawing for the Greece Joker – ΤΖΟΚΕΡ – two times each week on both Thursdays and Sundays at 9.00pm Greek time and there are numerous methods you can use to check the Greece Joker results.

For instance – you can see the latest Greece Joker Results on the ET1 – the Greek TV channel where they will be shown live plus on page 197 of ET1 Teletext and on the Sports Radio station.

The Greek Lottery results for both the Greece Joker (ΤΖΟΚΕΡ) and the Greece Lotto (ΛΟΤΤΟ) will also be shown on opap.gr – the website of the Greece Lottery – soon after the completion of every draw plus you can find them at all Greek Lottery outlets.

You are also welcome to come back to Global Lottery Review where you can see the very latest Greek Joker Results any time.

Greece Joker

–

ΤΖΟΚΕΡ

–

Odds of Winning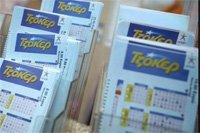 The winning odds for the Greece Joker – ΤΖΟΚΕΡ – rival many lottery games from right around the world and with a grand total of 8 separate ways that you can win there are thousands of prizes to be won on this Greece Lottery in every Thursday and Sunday draw.

The odds of you winning a Greece Joker jackpot – ΤΖΟΚΕΡ ΤΖΑΚ-ΠΟΤ – by correctly selecting all 5 of the main winning lottery numbers plus the Joker number are 1 in 24,435,180. For these lottery odds you could be one of the τζόκερ jackpot winners.

To win a 2nd division prize – your winning odds are much better at 1 in 1,286,062 for successfully picking just the 5 main numbers.

The chances of you winning a 3rd tier prize are 1 in 122,176 for picking 4 of the main winning numbers plus the Joker number and for a 4th division prize the odds come right down to 1 in 6,430 for correctly choosing only 4 of the main winning lottery numbers.

The odds you face for winning a 5th tier prize are 1 in 3,133 for picking just 3 of the main winning numbers plus the Joker number whilst 6 division prize odds are 1 in 165 for choosing only 3 of the main winning lottery numbers drawn.

For a 7th level prize you have odds of 1 in 247 for successfully selecting 2 of the main winning numbers plus the Joker number and for a prize on the 8th and final level the winning lottery odds are 1 in only 53 for picking just 1 of the main winning numbers plus the Joker number.

Greece Joker

–

ΤΖΟΚΕΡ

–

Record Jackpots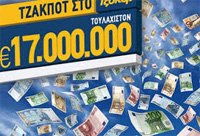 The biggest jackpot to have been won on the Greece Joker – ΤΖΟΚΕΡ – to date has been a huge €19.2 Million which was shared by 3 lucky winners in April 2010 after a long rollover streak.

The 2nd largest Greece Joker jackpot won so far was split by 2 lucky winners from Pella in Macedonia and Corinth in the Peloponnese when it reached €18.4 Million on November 6th 2014. The winning numbers drawn on this historic occasion were: 9, 14, 20, 24, 30 and the Joker number was 16.

The 3rd biggest ΤΖΟΚΕΡ jackpot won has been €15.5 Million which won by a single ticker holder on December 15th 2015 with the numbers 10, 27, 28, 31, 38 and a Joker number of 3.

The 4th largest ΤΖΟΚΕΡ jackpot has been the €14 Million claimed by 3 Greece Joker winners in 2006 whilst the biggest jackpot to have been won by a single lottery player and the overall 4th biggest has been the €11 Million won in January 2009.

Greece Joker

–

ΤΖΟΚΕΡ

–

How Prizes are Paid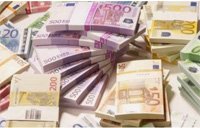 Should you become the winner of a Greece Joker jackpot OPAP – ΟΠΑΠ – will pay you a cash lump sum. Every Greece Lottery prize will be paid out to winners in the form of cash payments.

The time limit for making a winning claim for any Greek Lottery prize is 3 months. if you do not claim your prize within this period of time your win will become invalid.

When you play lottery online however with an authorised lotto ticket sales organisation like TheLotter – these details need not be an issue as your win will be paid to you directly and swiftly.

Greece Joker

–

OPAΡ

–

Where the Money Goes
For many years – from its inception in 1958 right up until the introduction of ΛΟΤΤΟ in 1990 – profits generated by OPAP games were directed towards sports throughout Greece.

During this time funding raised for Greek sporting projects has seen the building of football stadia, sporting arenas, sporting playgrounds, fitness halls, weightlifting halls as well as 120,000 seat stands, rowing and sailing facilities plus ski centres.

Since the 1990s proceeds raised by OPAP have also been diversified into the development of culture within Greece.
Click Here to PLAY the Greece Joker – ΤΖΟΚΕΡ – NOW