French Lottery - Francaise des Jeux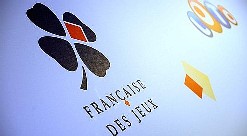 French Lotto games can trace their history back to 1936 when the Loto was introduced as a means of raising funds for the Government in France.

Today's French Lottery is run and organized by the Francaise des Jeux Groupe, a semi-public company which was formed in January 1993 to operate lottery games and games of sporting predictions and is regulated by the French Government who have a 72% stake.

The Loterie France is so popular amongst people in France that 98% of the population are familiar with it and from research carried out in 2006, 36% of French citizens played the French Lottery.

There are many French Lotto games that are offered by the Francaise des Jeux and the France Lottery including the European Lottery – EuroMillions – Super Loto, Keno, Joker+, Rapido, Loto Foot 7 & 15, Cote & Match as well as Instant Games, Internet Games and the Francaise des Jeux flagship game that we are going to look at here – the French Lotto – Loto Francaise…
French Lotto – Loto Francaise – Overview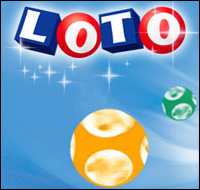 The France Lottery – Loto Francaise – was first launched way back in 1976 and is still going very strong today in France being operated by FDJeux and played by 15 million French people.
The French Lotto is a traditional jackpot, draw-style, lotto game and is the flagship game offered by Francaise des Jeuxl, the national lottery and gaming company in France.
The jackpot for the France Lottery begins at EUR 2 Million and there are 3 occasions on which this figure can increase each week.
Each time that the French Lotto jackpot is not won, it will "rollover" and EUR 1 Million will be added onto the jackpot for the next draw. The Loto jackpot can "rollover" up to 34 times making for some very large jackpot figures to be won!
Draws for the French Loto take place three times every week on Mondays, Wednesdays and Saturdays at 8.40pm CET.
How It Works…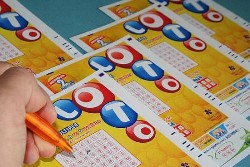 The France Lottery uses what's called a double matrix of 5/49 & 1/10 and each time the draw takes place, firstly the 5 main numbers are draw from a sphere containing 49 balls and then a "Lucky Number" is drawn from a second sphere containing 10 balls.
So, to play the French Lotto, you will need to select your 5 main numbers out of a pool of numbers from 1 to 49 and a "Lucky Number" out of a second pool of numbers from 1 to 10.
If you match all 5 of the main numbers plus the "Lucky Number" drawn then you will be a winner of the first division prize – the French Lotto jackpot.
In addition to the jackpot itself, there are 5 other ways in which you can win on the French Lottery, which means that are a great number of prizes to be won twice per week for anyone who plays this game from Francaise des Jeux.
A "QuickPick" facility is available when playing the France Lottery very much the same as the "Lucky Dip" option that is used in the UK National Lottery or Europe's EuroMillions or nearly all USA lottery games – which means that you can ask the lottery retailer or computer to randomly select all your France Loto numbers for you.
So, playing the French Lotto is simple…just select your own numbers or request them to be randomly generated for you by choosing the "QuickPick" option.
The cost of playing the France Lottery is EUR 2 per entry.
Who Can Play?
As with the majority of global lottery games, previously only citizens living in France were allowed to play in any of the Francaise des Jeux games including the France Lottery – you used to have to purchase your Loterie France tickets from an authorized retailer based in France itself.
Nowadays, though, this is not an issue as there are numerous online lottery ticket sales agents such as TheLotter who are both authorized and genuine – you are able to select your FDJeux lottery numbers online and purchase your tickets and it does not matter where in the world you live.
This is great news of course if you live outside of France and want to play the France Lottery & ensure your entry into the next draw or simply want to have the ease & convenience of being able to buy lottery tickets online for the Loto FR.
Once you have entered into the French Lottery draw, you can then easily check the French Loto results online to see how you have done and to find out if you have become one of the lucky Lotto winners.
You will need to be 18 years of age to be eligible to purchase a ticket for any of the Francaise des Jeux Lottery games including the French Lotto.
Click here to Play the French Lotto - Loto Francaise Now

<

Information & Background
Since the French Lotto was introduced in 1976, it has paid out over 4.4 Billion prizes – creating nearly 7,900 multi-millionaires in Franks and more than 196 multi-millionaires in Euros.
You can check the France Lottery results in various ways, either online by clicking the "Latest Results" link, or on the French Television channel – France 2 – in various French newspapers, on Teletexte or your Loto France reatailer.
What Are The Odds?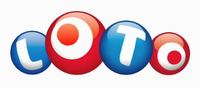 The odds of winning on the France Lottery are very competitive when compared to many world lotteries and with 6 different ways in which you can win, this means there's a lot of prizes to be won on the Loto FR from Francaise des Jeux twice every week.
The chances of winning a French Lotto jackpot by matching the 5 main numbers plus the "Lucky Number" are 1 in 19.06 million – for these odds you could be one of the Francaise des Jeux jackpot winners.
For a prize on the second level, the odds come in at 1 in 2.11 million for matching the 5 main numbers.
The likelihood of winning a third level prize comes right down to 1 in 9,631 for matching 4 of the main numbers and for a prize in the fourth level the odds are 1 in 224 for matching 3 of the main numbers.
For a prize on the fifth and level, the odds of you winning are 1 in just 16 for matching only 2 of the main numbers and for a prize on the sixth and final level, the chances of you winning are 1 in only 18 for matching NONE of the main numbers but just the "Lucky Number".
Record Jackpots...
The largest French Lotto jackpot to date has been a massive EUR 18.2 Million.
How Are Jackpots Paid?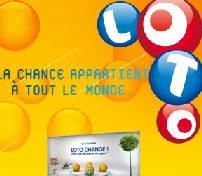 If you are the lucky winner of a France Lottery jackpot, you ill be paid your winnings in the form of a tax free cash lump sum. All Francaise des Jeux lottery prizes are paid out in cash and are tax free.
If you have won any prize on the French Lotto, you will need to make your winning claim within 60 days of the draw taking place.
If you have won up to EUR 500, you will be able to claim your winnings from any Loterie France ticket retailer.
If your prize is up to EUR 5,000, you will be able to claim your prize from any Loterie France retailer that has the facility to carry out a bank transfer.
For any France Lottery win of more than EUR 5,000, you will need to claim your prize at a Francaise des Jeux payment center.
Of course, if you are playing the French Lotto with a recognized lottery ticket sales agent such as TheLotter, you will not have any of these concerns as your ticket agent will take care of all these details for you as you play lottery online.
How France Benefits – Where the Money Goes…
Proceeds from the Francaise des Jeux Groupe and the France Lottery benefit many areas of life for the people of France with the main beneficiaries being sporting related activities and in particular the CNDS – the National Center for Sport Development.
Having provided funds for the development of sport within France for over 15 years now, the FDJeux now also provides lottery funding for the Health field within France.