Swiss Lottery - Loterie Romande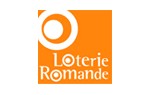 Swiss Lottery games are organized and run by the Loterie Romande which was established back in 1937.

The Loterie Romande is controlled by Switzerland's six French-speaking Cantons of Vaud, Fribourg, Was worth, Neuchatel, Geneva and Swore, and is also frequently known as the French-Speaking Lottery.

All Loterie Suisse games are run under by an alliance of these six Cantons and abide by the Cantonal laws and federal regulations with all profits going to each of the Cantons for onward distribution, after expenses, towards various good causes determined individually by each Canton.

Games offered by the Switzerland Lottery include Sporttip, Toto Goal, Banco, Le Plus, Le Joker, Loto Express, the great European Lottery, EuroMillions and the Loterie Suisse flagship game that we will be looking at in greater detail here – the Swiss Lotto…
Swiss Lotto – Overview

The Swiss Lotto 6/45 is a traditional draw-style, lotto jackpot game and is the flagship game offered by the Loterie Romande in Switzerland.
The first draw for the Swiss Lotto took place on January 10th 1970 and – having undergone various changes since it began – is ever popular today among lottery players in Switzerland and beyond.
Jackpots for the Swiss Lotto start of at a minimum of CHF 2 Million and can reach much larger sums.
Each time that the Swiss Lotto jackpot is not won, a "rollover" will occur where the jackpot will be added onto the jackpot for the next draw, making for some large jackpot figures to be won as there is no limit to how many times the Lotto can "rollover".
The Swiss Lotto is takes place twice every week and is drawn on Wednesdays at 7.00pm and Saturdays at 5.00pm CET.
How It Works…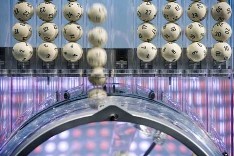 The Swiss Lotto uses what's called a matrix of 6/45 which means that when playing the Lotto CH, you will need to select 6 numbers out of a pool of numbers from 1 to 45.
If you match all 6 of the main numbers drawn then you will be a winner of the first division prize – the Swiss Lotto jackpot.
In addition to the 6 main numbers, a Supplementary Number is also drawn for prizes on the 2nd winning level.
In addition to the jackpot itself, there are 4 other ways in which you can win on the Switzerland Lottery, which means that are a great number of prizes to be won twice every week for anyone who plays the Loterie Romande.
A "Quick Tip" facility is available when playing the Swiss Lotto very much the same as the "Lucky Dip" option that is used in the UK National Lottery or Europe's EuroMillions or the "Quick Pick" on nearly all USA lottery games – which means that you can ask the lottery retailer or computer to randomly select all your Lotto CH numbers for you.
Using the Swiss Lotto "Quick Tip", you can either choose to select 5 numbers of your own and get "Quick Tip" to randomly pick the last number for you – or ask "Quick Tip" to randomly generate all 6 numbers for you.
So, playing the Switzerland Lottery is simple…just select your own numbers or request them to be randomly generated for you by choosing the "Quick Tip" option.
The cost of playing on the Swiss Lotto is CHF 1.50 per line and you are required to play a minimum of 2 lines.
Who Can Play?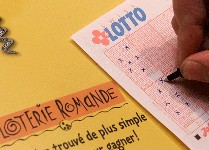 As with the majority of lottery games around the world, previously only citizens living in Switzerland were allowed to play in any of the Switzerland Lottery games including the Swiss Lotto - you used to have to purchase your Loterie Romande tickets from an authorized retailer based in Switzerland.
These days, though, this is not a problem as there are various online lottery ticket sales companies like TheLotter who are both authorized and genuine - you are able to select your Loterie Suisse numbers online and purchase your tickets no matter where in the world you live.
This is great news of course if you live outside of Switzerland and want to play the Swiss Lottery and ensure your entry into the next draw or simply want to have the convenience and ease of being able to buy lottery tickets online.
Once you have entered into the Austria Lottery draw, you can then easily check the Loterie results online to see how you have done and to find out if you have become one of the lucky Lotto winners.
You will need to be 16 years of age to be eligible to purchase a ticket for any of the Switzerland Lottery games including the Swiss Lotto. This is a lower age limit than is required by most world lottery games who require you to be 18 to play.
Click here to Play the Swiss Lotto Now

Swiss Lottery Bonus Game – "RePLAY"…

"RePLAY" is a bonus game from the Switzerland Lottery that you can play for free, every time you play the Swiss Lotto.
Every time you play the Swiss Lotto you automatically receive a free lottery entry into the "RePLAY" game which involves 1 number being drawn out of a pool of 11 numbers.
Your free "RePLAY" number is drawn by a Random Number Generator and is automatically printed onto your Swiss Lotto receipt.
The "RePLAY" draw takes place during the main live, televised Swiss Lotto draw and if the RePLAY number on your ticket matches the RePLAY number drawn, you will win up to CHF 49.50 all at no extra cost.
Swiss Lotto with…"PLUS"…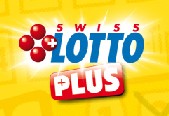 Swiss Lotto "PLUS" is an optional game that you can play along side the Swiss Lotto for an extra CHF 1, to increase your winnings.
"PLUS" is an add-on game providing a "Booster Fund" where 1 number is drawn from 3 and can only be played when also playing the Swiss Lotto.
At the same time as choosing your Swiss Lotto numbers, simply choose a "PLUS" number too and if you win on the main Lotto game, you will automatically win more with the "PLUS" option.
If you correctly match the "PLUS" number in addition to the main Swiss Lotto numbers you will win more still and should you win the jackpot, you will immediately increase your winnings by an extra CHF 1 Million.
Information & Background

The Swiss Lotto started off in 1970 as a Saturday game with a 6 from 40 configuration until it underwent its first matrix change to 6 from 42 on April 7th 1979.
It changed to its current format of a 6 from 45 matrix on January 4th 1986 and began a 2nd weekly drawing on Wednesdays on January 8th 1997, giving players an extra opportunity each week to win the jackpot.
On Saturday 7th February 2009, the Switzerland Lottery produced its 500th Millionaire when 2 lottery players became the 500th and 501st lucky people to win more than a million on the Swiss Lotto. They each scooped a jackpot of CHF 1.78 Million.
This fact alone, means that the Loterie Romande creates more millionaires in Switzerland than any other organization.
50% of all monies spent on Loterie Romande tickets are paid straight back to Switzerland Lottery players in the form of winnings.
You can check the Switzerland Lottery results on Swiss television, where they are broadcast after each draw, in various daily newspapers, on teletext, at the Swiss Lotto sales points or online by clicking the link at the bottom of the page.
What Are The Odds?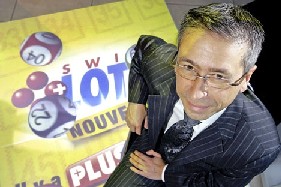 The odds of winning on the Switzerland Lottery – Swiss Lotto are competitive when compared to many worldwide lotteries and with 5 different ways in which you can win, this means there's a lot of prizes to be won on the Loterie Romande twice each week.
The chances of winning a Swiss Lotto jackpot by correctly matching the 6 main numbers are 1 in 8.14 million – for these odds you could be one of the Lotterien jackpot winners.
For a prize on the second level, the odds come in at 1 in 1.35 million for matching 5 of the main numbers plus the Additional Number.
The likelihood of winning a third level prize comes in at 1 in 34,808 for matching 5 of the main numbers and for a prize on the fourth level the odds are 1 in 733 for matching 4 of the main numbers.
For a prize on the fifth and final level, the odds of you winning are 1 in just 45 for matching only 3 of the main numbers.
How Are Jackpots Paid?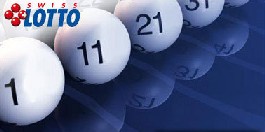 If you are the lucky winner of an Switzerland Lottery jackpot, you will be paid your winnings in the form of a cash lump sum. All Swiss Lottery prizes are paid out in cash including the Swiss Lotto.
If you are the lucky winner of a Loterie Suisse jackpot, you will need to claim your winnings no later than 6 months from the date that the draw took place.
This time limit applies to any amount that you may have won on the Swiss Lottery.
If you play lottery online however, whatever your win, this will not be a concern for you, as your accredited lottery ticket sales agency will take care of all this for you, whether it is TheLotter or whichever company you may use.
How Switzerland Benefits…
Proceeds from Switzerland Lottery games including the Swiss Lotto go towards numerous good causes that affect the population of Switzerland with hundreds of thousands of people benefiting both directly and indirectly.
Aspects of life in Switzerland that receive Swiss Lottery funding to further their causes include cultural and social issues, environmental and research areas, tourist promotion and the protection of the heritage.