Spanish Lotto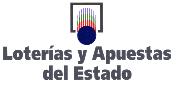 Loteria Nacional is the Spanish National Lottery and is run by Loterias y Apuestas del Estado – Loterias del Estado – the government of Spain and has been played since the year 1763 – which makes it one of the oldest and most respected lotteries in existence.

The Spanish National Lottery ensures that 70% of its funds generated through lottery ticket sales go right back to the people who paid for them in the form of prizes – this is the highest percentage of any lottery game in the world.

This achieves one of the main aims of the Spanish Lottery, which is to spread the wealth amongst as many of the people as possible and also means that the prizes to each ticket are very big, with approximately 35 out of every 100 tickets having a lottery prize of some sort.

The philosophy of the Loteria Primitiva is based on sharing the maximum number of prizes between players, so each player has many opportunities to recover their outlay at the same time as opting for a huge lottery prize.

The Spanish National Lottery – Loteria Nacional has various games in its portfolio including Bonoloto Daily 6/49, Sunday 5/54+1 (Gordo De La Primitiva), Saturday Primitiva 6/49, Thursday Primitiva 6/49, the National Lottery Special Draws of El Gordo, El Niño & San Ildefonso and the main weekly lottery that we are looking at in more detail here – the Spanish National Lottery itself…
The National Lottery - Overview

The Spanish National Lottery is one of the biggest lottery systems in the world and offers lotteries with some truly staggering prize pools to be won.
The Spanish Lotto is the most important and popular game in Spain and as a general rule, 1 out of every 3 tickets will have some kind of prize.
This lottery has such a wide appeal to lottery players around the world, that people from over 140 countries worldwide take part in it.
The very first draw for the Loteria Nacional - National Lottery itself took place way back in 1812.
Draws for the main Spanish National Lottery take place twice a week on Thursdays (at 22.00 CET) and Saturdays (at 13.30 CET).
Thursday draws have a prize pool of around €12 million and Saturday draws have a prize pool of around €42 million making this one of the biggest weekly lotteries in the world.
How It Works…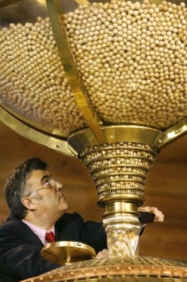 The Spanish Lotto - Loteria Nacional - draws are made in a slightly differently way from most traditional lotteries. Firstly, a numbered ball with a ticket number is drawn from one drum and then another ball with a prize value is drawn from a separate drum.
The ticket number on the ball drawn from the first drum is matched with the prize on the ball drawn from the second drum and ticket holders with that number are winners of that prize.
As with the way it is drawn, you actually play the Loteria Nacional Draws in a slightly different way to other lotteries too.
You aren't able to choose your own Spanish Lottery numbers but instead purchase a ticket that already has a pre-printed number on it. There are also series of tickets with the same numbers on.
For each weekly Spanish National Lottery draw there are numbers from 00.000 to 99.000
Series & Decimos…
The Loteria Nacional ticket system works like this…..each ticket number is available either 6 times or 10 times - meaning that either 6 or 10 lots of tickets with the same number will be printed. These are called "series".
For Thursday draws there are 6 "series" printed and for Saturday draws there are 10 "series".
Each of those "series" is actually one "whole" ticket which is called a "billette". This is normally too expensive for most people so each "serie" is divided into 10 smaller tickets called "decimos" (ie.10ths) costing a more affordable amount.
For Thursday draws a "decimo" costs anywhere from €3 to €6 with a whole "serie" costing from €18 to €36 – there are 6 "decimos" per "serie".
For Saturday draws a "decimo" costs anywhere from €6 to €12 with a whole "serie" costing from €60 to €120 - there are 10 "decimos" per "serie".
So, you are able to purchase either a whole ticket ("billette") or as many "decimos" (10ths) of a ticket that you wish.
Many families across Spain put their money together and share the cost of a whole "billette" as one of their lottery strategies to maximise their chances. Even some entire villages in Spain do this and Jackpots have indeed been won this way making a whole village rather wealthy in one go!
Play In The Spanish Lottery – Loteria Nacional Today

Who Can Play?
Normally, to play in the great Spanish Lottery – Loteria Nacional, you would have to be a resident of Spain but now that you can get online lottery tickets from global lottery ticket sales retailers such as TheLotter you can take part in the fun, no matter where in the world you live.
This is excellent news if you live outside of Spain but want to play in some of the biggest lotteries in the world and guarantee your entry into the next draw or just simply wish to enjoy the convenience of being able to buy lottery tickets online for the Spanish Lottery.
Once you have entered into the Spanish Lotto, you are then easily able to check the Spanish Lottery results online to see how you have done and to find out if you have become one of the lucky winners.
You must be 18 years of age to be eligible to purchase a ticket for any of the Loteria Nacional - Spanish Lottery games.
What Are The Odds?
As the Spanish Lottery is drawn in such a different way to most other world lotteries, the calculation of the odds involved also differs.
As a guide to the overall odds, the general rule here is that 1 out of every 3 tickets purchased will win a cash prize.
Fantastic odds there, i'm sure you'll agree and the likes of these are hard to find when searching through all the big lottery games around the world.
Monthly Superdraws – Special Draws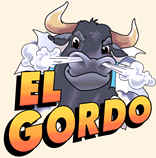 Also, included in the Loteria Nacional – Spanish National Lottery portfolio of games, are the SuperDraws – these are in addition to the weekly drawings that take place.
The Spanish Loteria Nacional Superdraws take place
once every month with much bigger prize funds again. There are 12 of these draws per year with a special emphasis on 3 in particular which offer some of the largest lottery prize pools in the world.
Each month except for the 3 incredibly big draws mentioned above, the prize pool stands at €84 million which is a great monthly sum.
The 3 draws that provide players with the some of the biggest prize pools in the world are the draws that take place in January, July and December….
The January draw is called El Niño & has a prize pot of €850 million


The July draw is the Summer El Gordo lotto called San Ildefonso & has a prize pot of €150 million



The December draw is the massive Christmas El Gordo lottery & has a staggering prize pot of €2.52 BILLION!

As you can see, there are not many world lottery games that offer sums as large as these Superdraws, making them hugely popular with players around the world and almost the entire population of Spain taking part in them each time they come around.