Daily Play – Overview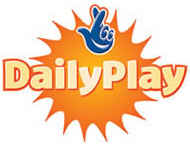 Daily Play became the UK lottery first daily game when it was introduced in 2003 by the UK National Lottery & Camelot.
Just as its name suggest, the UK National Lottery Daily Play game can be played every single day apart from Sundays and Christmas Day itself.
Most unusually, this game will let you win even when you don't match any numbers at all – you get a free Daily Play lucky dip entry.
The top prize for Daily Play is £30,000 and this can be won every day that the draw takes place.
How It Works…
The UK Lottery Daily Play game uses a more unusual matrix of 7/27 matrix. This means that when playing Daily Play, you need to select 7 numbers from a pool of numbers from 1 to 27 – if you match all 7 numbers drawn then you will be a top prize winner.
As well as the top prize itself, there are 4 additional ways in which you can win on the Daily Play, with prizes to be won if you match either 6 of the 7 numbers drawn, 5 numbers, 4 numbers and there's even a prize for matching no numbers at all!
A "Lucky Dip" facility is available when playing Daily Play, the same as the with Lotto game from the UK National Lottery and Thunderball or Europe's Euro-Millions - which means that you can ask the lottery retailer or computer to randomly select all your Daily Play numbers for you.
So, playing Daily Play is easy…just select your own 7 numbers or request them to be randomly generated for you by selecting the "Lucky Dip" option.
Who Can Play?

At the current time, only resident citizens of the United Kingdom are able to play the UK Lottery Daily Play game online. However, if you are purchasing a ticket on the streets in Great Britain, then it is possible for people who live overseas to play this game.
As with the UK Lotto and Thunderball, there is a slightly lower age limit than for most countries - you only need to be 16 years of age to be eligible to purchase a ticket for the Daily Play game.
Click here to Play Daily Play Now
Information & Background
Daily Play is the only ticket-based lottery game from the UK National Lottery that is not broadcast on the television.
The Daily Play results on Saturdays are recorded and are broadcast during the UK National Lotto live drawings.
You can also find the results of Daily Play on this website (see below) and on Teletext, Ceefax or at the National Lottery official website.
Entry into the Daily Play game costs the normal sum of £1.00.
What Are The Odds?
The odds of winning on the UK Lottery Daily Play are very good when compared to many of the larger lottery games such as the main UK Lotto and Euromillions.
The chances of winning a Daily Play top prize are 1 in 888 thousand, with odds for a second prize win of 1 in 6,344.
For one of the prizes on the third level, the odds come in at 1 in 223, with odds of a fourth tier win being 1 in just 23.
As mentioned earlier, you are even awarded a prize if you don't match any numbers at all – you are given a free lucky dip entry into the Daily Play game.
Record Jackpots…
The jackpot prize for the Daily Play game remains constant with £30,000 to be won every single day.
How Are Jackpots Paid?
All UK National Lottery jackpots are paid in the form of tax free cash lump sums and that includes the top prizes in the UK Lottery Daily Play.
You will need to claim your lottery win within 180 days of the draw taking place before your entry becomes invalid and the money you would have won is given to relevant good causes.