Kerala State Lotteries - Indian Lottery

The leading provider of India Lottery games - Kerala Lotteries - was established on September 1st 1967 with the dual aims of raising funds to further develop the State of Kerala and at the same time to control the operation of illegal Indian Lottery games in operation.

Kerala Lotteries and their Indian Lotto games come under the jurisdiction of the Kerala Department of Taxes having previously been administered by the Department of Finance in Kerala.

The very first Lottery India game to be introduced by Kerala Lotteries was launched on November 1st 1967 and offered a first prize of Rs. 50,000 - with tickets costing just Re. 1 and the first Indian Lotto draw taking place on January 26th 1968.

From these humble beginnings, Kerala Lotteries has grown from having just 1 Indian Lottery game every 1 or 2 months up until 1987 - to having an exciting 7 weekly India Lotto games, 2 Bi-Weekly games and 6 Bumper Indian Lotto games.

You can now even play Indian Lottery online with Kerala Lotteries via authorised online lottery ticket sales companies like YNotLottery.com which proves that Kerala Lotteries is definitely leading the way when it comes to Indian Lottery games and in particular - online lottery in India.

Kerala Lotteries has proved to be a shining example in the world of providing Indian Lotto games and India Lottery online – giving away lakhs of prizes every week and has encouraged many other States within India to commence their very own India Lottery games.

You can purchase India Lottery tickets from Kerala Lotteries' impressive network of retail agents numbering 35,000 plus approx. 100,000 retail sellers and these days even play Indian Lottery online via their authorised agencies such as YNotLottery.
Kerala Lotteries – Indian Lotto – Overview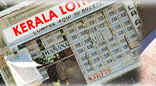 Kerala Lotteries run 7 different Indian Lottery games every week - a different game each day - as well as 2 Bi-Weekly Indian Lotto games and 6 Bumper India Lottery games - an impressive Lottery India portfolio.
The weekly lotteries offered by Kerala Lotteries are: Mega Win, Periyar, Win Win, Chaithanya, Kairali, Soubhagya, and Sun Fun. The Bi-Weekly games are: Twenty 50 and Kanakadhara. The huge Bumper games are Vishu, Thiruvonum, Pooja, X'mas/New Year, Monsoon and Sabari and you can play India Lottery online with all of these games.
The prices for the weekly India Lottery tickets with Kerala Lotteries are between Rs 10 and Rs 20. The Bi-Weekly games cost Rs 20 and the Bumper draws cost between Rs 50 and Rs 100 per ticket.
Kerala Lottery Games – How They Work…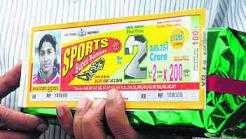 Kerala Lotteries Indian Lottery tickets are pre-printed with numbers beginning with 100,000 and each India Lottery ticket also having a 2 letter, alphabetic code.
The 1st letter of the alphabetic code denotes the Indian Lotto game that it relates to and the 2nd letter denotes the "Series". For example - with a ticket bearing the code "KL" - the "K" means the "Kairali Lottery" and the "L" means the "Series" of tickets involved.
7 separate drums in 7 separate colours are used to make the Lottery India - Kerala Lotteries draw. The 1st drum is used to draw the ticket "Series" and the rest represent Numbers from "Lakhs" place to "ones" (units) place.
A closed purse containing tokens with the "Series" code for that particular draw is then put inside the 1st drum. The 2nd drum contains a closed purse with tokens for the number of Lakhs involved in that particular Indian Lottery draw - to determine the Lakhs place.
The remaining 5 drums are filled with purses containing tokens numbered from 1 tom 9. Now, the India Lottery draw can take place.
After all the drums have been mixed, a token is taken from the 1st drum which marks the 1st place winning series. Each of the remaining drums then produce a number each which are written to the right of the "Series" code producing a alpha/numeric code declared as the winning lottery number…
…for example "KT 251418".
If this Indian Lottery number drawn relates to a ticket that has not been sold, Kerala Lotteries will repeat the draw until the prize goes to a ticket that has been sold.
Kerala India Lottery Online…
Online lottery in India is still fairly new at the moment. However, it is perfectly possible to play India Lottery online via an authorised lottery ticket sales company from whom you can buy Kerala Lottery tickets.
YNotLottery have been fully authorised by Kerala State Lotteries to promote India Lottery online and sell their Indian Lotto tickets over the internet - making them available to a much greater number of people around the world.
With YnotLottery - you can play lottery online India games from both Kerala State and the State of Sikkim - Sikkim Lotto - giving you many opportunities each week to play the Indian Lottery online. No other lottery ticket sales agency gives you such a wide choice of Lottery India games to choose from.
Click Here to Play Kerala Lotteries - Indian Lottery Online - Now
Who Can Play?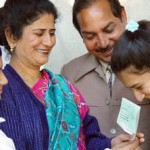 As with the majority of lottery games around the world, previously only citizens living in India - and in particular, Kerala - were allowed to play any of the Kerala Lotteries - Indian Lottery games - you used to have to purchase your Kerala India Lottery tickets from an authorized agent based in Kerala, India itself.
Today, though, this is not a problem as there are numerous India Lottery online lottery ticket sales companies such as YNotLottery who are both authorised and genuine - you are able to select your Lottery India numbers and play India Lottery online and purchase your tickets no matter where in the world you live.
This is great news of course if you live outside of India and want to play lottery online India and ensure your entry into the next draw or simply want to have the convenience and simplicity of being able to buy lottery tickets online.
Once you have entered into the India Lottery draw, you can then easily check the online Lottery India results to see how you have done and to find out if you have become one of the lucky Indian Lotto winners.
Further Information…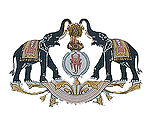 Kerala State Lotteries pride themselves on keeping their Indian Lottery draws as transparent as possible and allowing the public to take part in their drawings.
Therefore, all Kerala Lotteries - Indian Lotto - draws are carried out in different locations within the State of Kerala. You can find out where the draws are taking place from Kerala Lottery agents or through the media.
As well as being able to play India Lottery online and check the online Lottery India results at YNotLottery.com - you can check all Indian Lotto results in the daily newspapers the day after the draw and at all Kerala Lottery agents.
To give you an idea of how Kerala Lotteries have grown over the years - in their first year of operation - 1967- 8 - they generated Rs. 20 lakhs through the sale of Indian Lottery games…
…whereas in 2008 - 9 - this figure has grown to an incredibly impressive Rs. 484.57 crores!
What Are The Jackpot Prizes?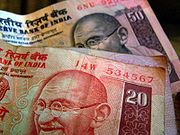 There are substantial Indian Lottery prizes to be won every day when you play the Indian Lottery online with Kerala lotteries.
For each game, you can win the following India Lottery jackpots…
If you are the lucky winner of a Kerala Lotteries - Lottery India jackpot, you will be paid your lottery winnings in the form of a cash lump sum. All Indian Lottery prizes are paid out in cash whether you play India Lottery online or through a retail seller in India.
If you have won any prize on the Lottery India - Kerala Lotteries - you will need to make your winning claim within 30 days of the draw taking place before your claim will become invalid.
If your Indian Lottery win is up to Rs. 1 Lakh, you can claim your prize from one of the District Lottery Offices.
If you are the lucky winner of any prize of more than Rs. 1 Lakh, you will need to claim your Indian Lotto prize from the Director of State Lotteries.
You can also claim your India Lottery prize through Nationalised, Scheduled or Co-Operative banks who then submit the claim to the Director of State Lotteries.
If you Play India Lottery online however, whatever your win, none of this will be a concern for you, as your authorised lottery ticket sales agency will take care of all this for you, whether it is YNotLottery or whichever company you may use.